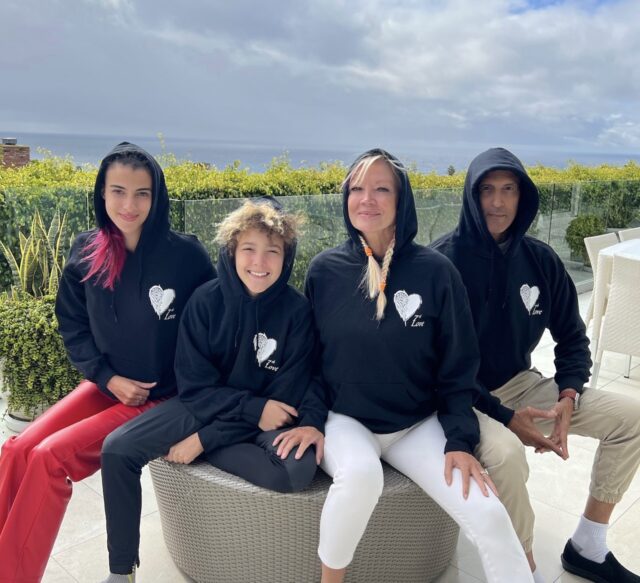 By Jenna Lebovits
PURIST: Your foundation works hard to ensure access and opportunity for historically disenfranchised youth and adults. Through what programs and initiatives do you achieve this mission?
David Belafonte: We have established multiple programs, and we keep developing. We are primarily focused on education, mentorship, food justice, mental health, arts and other areas that are needed to help a person reach their full potential. Yes, we are broad in scope, but very hands-on. We are currently working on implementing our vertical farming pilot program into food deserts starting in New York City. For the past three summers, we brought our martial arts mentorship program to campers from underserved communities in the Bronx. Martial arts as a lifestyle is an incredibly powerful way to find purpose and mental strength to become the best you can be for yourself and for others. It is much less about combat skills than about sense of self and mental survival skills. We are working to bring our program into established martial arts academies, as well as other nonprofits, and have served hundreds of kids and teens. We established scholarships for high school graduates in the poorest regions of the Caribbean, giving students a full ride to regional universities so they can dream big and create a future for themselves in areas that leave very little hope for young people. These are just a few of our programs.
PURIST: Tell us about your multigenerational approach to philanthropy and why it is important and effective.
Malena Belafonte: In order to fully grasp what is needed, and subsequently make a plan for change, you have to incorporate lessons from the elders with the current needs of the present, while honoring insights from the youngest of generations in order to incorporate the future. That is the essence of The Belafonte Family Foundation's multigenerational approach. By giving importance to the insight of this young inquiring generation, tuned in to current dialogues in ways that many adults too often are not, you create a multilayered foundation that is far more effective. This inclusion also gives us a more holistic approach to the future of our legacy. The ease with which a narrative can change when impostors try to insert themselves in history that does not belong to them, taking away the voices of those whose story it actually is to tell, is what fuels us to protect our legacy. We all have the responsibility to ensure that the work and sacrifices of those who have walked the walk are not minimized, sterilized or erased. And we are committed to inspire agents of change, support those who have historically been underserved, create opportunities for voices to be heard, and provide education so stories can be told.
PURIST: How does Harry Belafonte's legacy continue to live on and fuel the organization today?
Amadeus Belafonte: We are his family, and he obviously lives on in our hearts, our genes, our mindset. We have all been inspired by him on so many levels. My dad worked with Grandpa all throughout his career, and once he married my mom, she toured with them until Grandpa stopped doing live shows. He was very involved, lived with us for a few years, so we were basically fed activism from infancy. We took away our own unique lessons from Grandpa, and the BFF mission reflects that.
MB: The foundation is organized in pillars, each reflecting an area that our family has been deeply committed to. Harry's passion and work within social justice are well represented in many of the pillars. We added on to his areas, and established several others that are more in keeping with some of the areas that David and I are involved in, and those that his youngest grandchildren are passionate about. So throughout all of them is a red thread which is the legacy: past, present and future. We created malleable pillars knowing that the future would dictate where to expand, and when to add more. This foundation is not about us, it is about those we serve and future generations.
Sarafina Belafonte: Realizing how little our generation knew about all that Grandpa did fueled the need to expand on his work in order for his legacy to continue far into the future. The issues that he faced might have presented differently than issues that my parents face, or those that my generation face or will face. But the fierce commitment to combating injustice remains the same and because we expanded into a multigenerational foundation, the approach is ductile to the ever-evolving needs in today's world. We were all inspired by Grandpa, and now that the baton is in our hands, we have to run the race using a different technique.
PURIST: What role does each family member play in the foundation?
DB: I am the executive director, president of the board and a co-founder. Malena is vice-president of the board and a co-founder. Sarafina and Amadeus are junior co-founders and on our advisory board and committees. Amadeus is a big driver in our teen space and co-created a virtual safe-space concept for teens who have been bullied, and we are working on finalizing it for launch. Sarafina created a mobile legal concept that will go into at-risk and underserved areas, giving free legal advice to those in need. We are all 100 percent invested, which sometimes makes for some interesting dinner conversations.
PURIST: What motto do you and your family live by?
AB: I think we live by my mom's motto that she created for herself when she was very little: "No is not an answer, it's just someone else's opinion."
PURIST: Your Bright Road Farms initiative secures locally grown greens and herbs for those in need in underserved communities. Why is food justice an especially important movement?
SB: While New York City is often referred to as a melting pot of cultures, it is also a melting pot of accessibility. While the Upper West and East Sides provide residents a smorgasbord of fully stocked grocery stores with an array of fresh produce, and you can window shop for restaurants down Amsterdam or Third Avenue that provide all types of meals, other neighborhoods just a subway stop away do not receive the same "luxury." Whether due to redlining, divestment, or urban renewal, several ZIP codes are underinvested in, not only affecting housing or income, but food security as well. Because of a lack of resources, the financial access (food insecurity) and geographical access (food deserts) to nutritional food plummets. Those ZIP codes are not just for mailing addresses, but they create an invisible boundary. Our goal with Bright Road Farms is to tackle both of those problems by bringing produce and education to ZIP codes that are underserved. Bright Road Farms are vertical container farms supplied with high-tech equipment to allow for nutritional produce to be organically grown anywhere. Each farm can serve as a multipurpose unit, providing, first and foremost, produce to the community, while also creating the opportunity to give people an education in vertical farming and teach entrepreneurship to start their own businesses. Additionally, our farms are wheelchair accessible and we are creating a program for victims who have been disabled due to gun violence in inner cities.

PURIST: Congratulations on your upcoming inaugural gala! What are you most excited about?
DB: You begin with an idea in your head. You then bounce that idea off those whose opinions and perspective you value and trust. Then the feasibility due diligence begins, followed by the tedious steps to begin making that idea a reality. After living and breathing that process for three years, this upcoming gala represents our first opportunity to introduce all of those ideas that have become reality and those that are ready for launch to the world at large and hope the world finds in it the same compelling value that we have worked so hard to create. It is where the rubber meets the road.
MB: There is no denying that Harry's passing was extremely hard on us. We all loved him so much and with his passing so many emotions had to be dealt with. David worked with him for the majority of his life and I witnessed the importance of David's role in Harry's life as the man behind the man for all those decades. His reliance on David and vice versa. Most people would probably say that my father-in-law was not an easy man to please, but no one could make him laugh like his son. They had a special relationship. When the main purpose for the majority of your life was making sure your dad's life was in order, musically and otherwise, if I may simplify, it leaves a huge void, regardless of who your father is. We started a production company and a live show platform, doing work that we love. But the need to serve was so ingrained. BFF was such a natural step. As soon as we started, Harry was on board. David loved talking to his dad about BFF, and grandpa loved talking to the kids about the foundation. This gala is a testament to the impact that this amazing man had on our family, and the beginning of a new era—an era steeped in an incredibly important legacy that has to be expanded on. I am excited to stand next to my husband and children and show everyone what this multigenerational foundation is all about.
Join the foundation for its inaugural gala—a spirited evening filled with music, awards, performances, and food and drink—on October 24 at Sony Hall in NYC. belafontefamilyfoundation.org