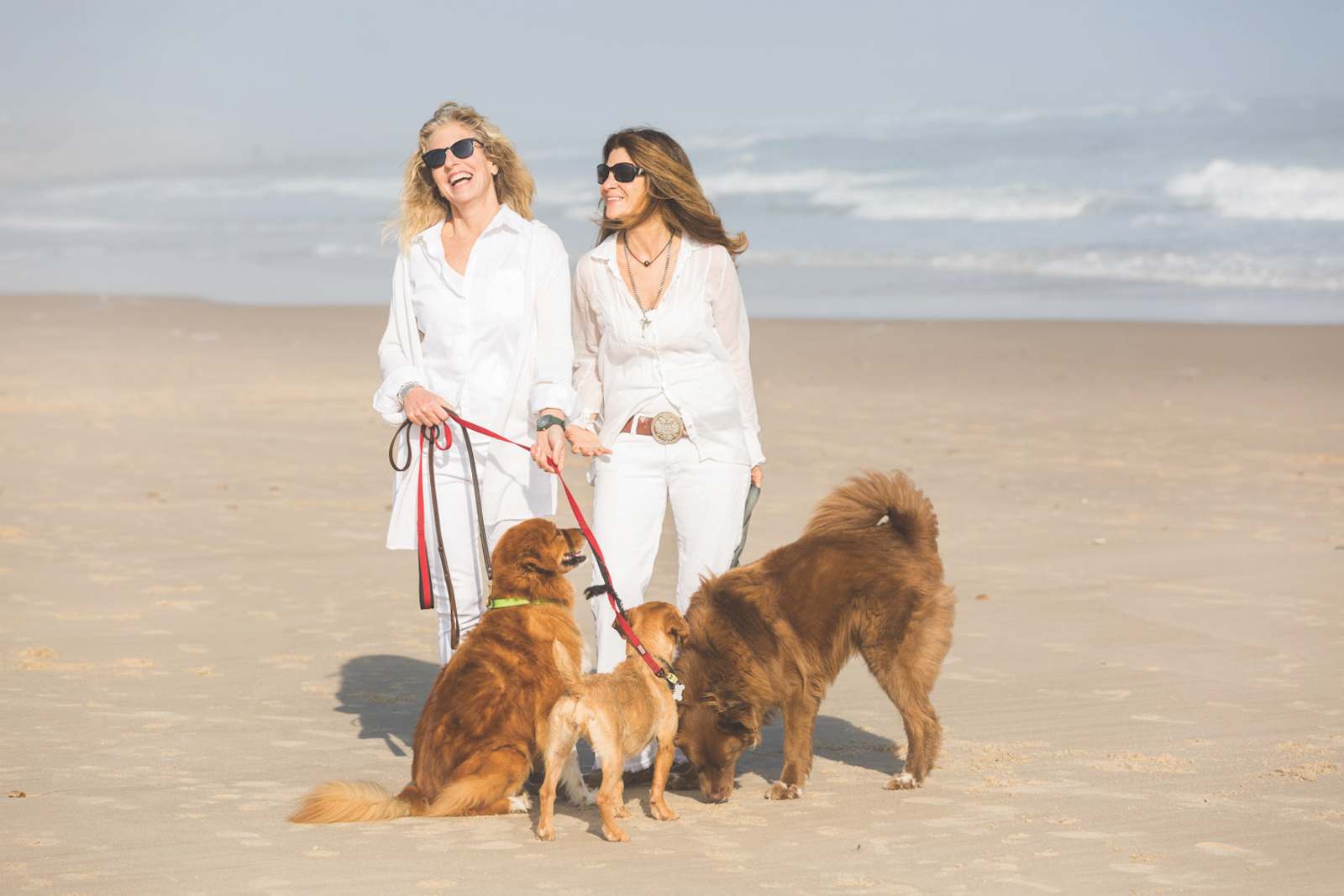 By Jim Servin
"She was sitting at her desk with wet hair, just out of the surf, wearing board shorts," recalls writer Lynn Blumenfeld of her first encounter, in 2002, with her future business partner and BFF, art director Jill Fleming. Remembers Fleming of that meeting: "Lynn had very perfect hair and high-heeled boots. She was more of an East Hampton girl, but now she's more of a Montauk person."
As Blumenfeld + Fleming, a Montauk-based ad agency, the award-winning duo create bold, often humorous, campaigns for businesses and institutions ranging from the Montauk Library and the Wellness Foundation, to Porsche of Southampton, BMW of Southampton and Chrysler Dodge Jeep Ram of Southampton."Totally Jawsome," reads their headline for a shark-themed promo for the Long Island Aquarium and Exhibition Center. For environmentalists Group for the East End, they devised a local-pride checklist under the headline "What Makes This Place So Amazing?" which includes: morning swims in the ocean, miles of trails, landing a striped bass. "An influence in our work is the natural beauty found everywhere out here," says Fleming.
The two women quickly discovered that, first impressions aside, they had a lot in common—both moved east after achieving success in advertising on Madison Avenue and living (unbeknownst to either of them) in Manhattan's East Village two blocks away from one another. Their creative chemistry, as demonstrated in their earliest advertisements for Hampton Marketplace, the Allegria Hotel and Gosman's, was undeniable, and earned them instant recognition. A profile in the New York Times opened the floodgates to more work, which the team parlayed into designing fulfilling, fun lives, while winning over 100 industry awards.
Fleming, a mother of two children in their 20s, likes to run trails with her dogs and listen to audiobooks like Kite Runner by Khaled Hosseini and Barbara Kingsolver's Flight Behavior, "so I'm quadruple multitasking," she says. Blumenfeld, a rocker at heart, fronts her own Lynn Blue Band, electrifying audiences at venues such as The Stephen Talkhouse, Wölffer Vineyard, Baron's Cove and Westlake Fish House. "It's a three-hour workout," she says of a repertoire that includes spirited covers of classics by Bob Dylan, Aretha Franklin and Joni Mitchell, "and it's a great hobby. Who gets to do a rock band in their 50s?"
The collaborators take a creative approach to their workdays, making time to renew mind, body and spirit with beach walks, bird-watching (recent sightings include a tiger heron, a sandhill crane and a pink-footed goose, which "birders come from all over the world to see," says Fleming), exercise and nutritious lunches: both adhere to an almost purely plant-based diet.
Maintaining a healthy work-life balance is key for them, and a plus for clients as well, as the pair selects projects they can be passionate about. "You go to a big agency and 80 percent of the time, you get some kid," says Blumenfeld."Then you come to us, and you get us. Big difference."