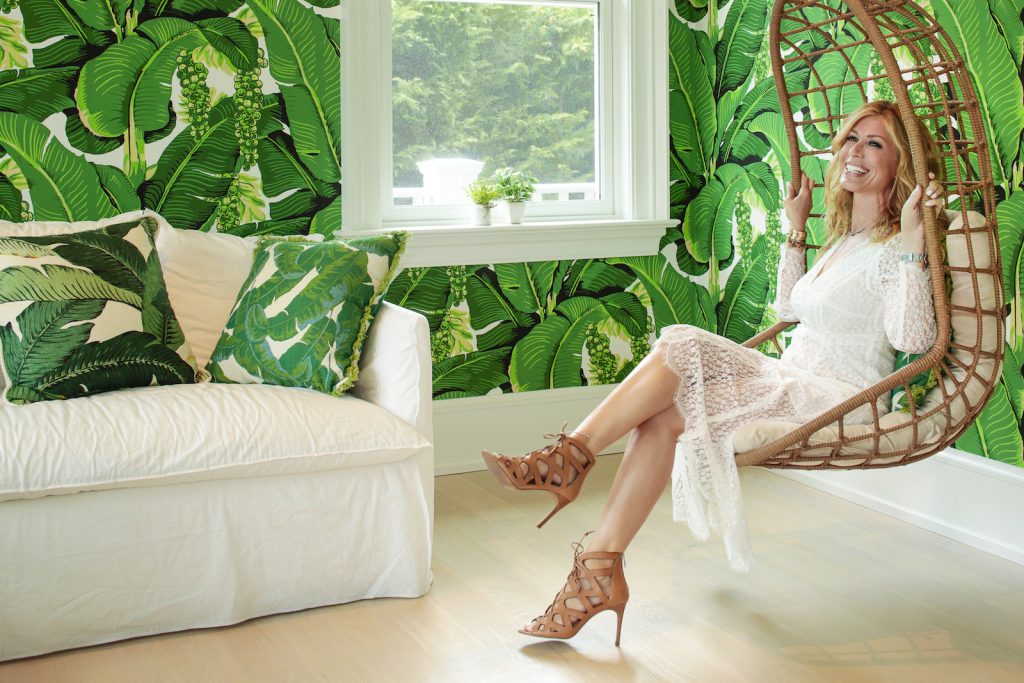 By Suzanne Gannon
"This is a shoe-free household—except when there's a photo shoot," laughs Jill Martin of her 5,400-square-foot, cedar-shingled home on a third of an acre in the heart of Southampton Village. She requests that her guests go barefoot or slip into a pair of the booties she buys in bulk on Amazon to keep her house immaculate while giving visitors a sense of comfort and informality.
Her own kicks (when she's wearing them) get a workout on the axis between West Chester, Pa., where she films her QVC segments for the G.I.L.I. fashion brand, and New York City, where she's known as the Today show's makeover maven for fashion and home decor. She's also Madison Square Garden's interviewer to the stars of basketball, whether they be Knicks players or celebrity fans like Larry David, Ben Stiller, Ron Howard and the omnipresent Spike Lee.
The home is a sanctuary for Martin, whose career has been characterized by two decades of constant motion. When she rolls into the driveway after a week on the road, ping-ponging between projects, she says she immediately exhales. She puts away her phone, puts on relaxing music, lights up some candles and gets a fire going. "It is truly my happy place; I eat better, sleep better, and I actually relax. I am my best and truest self here in this house, surrounded by everything and everyone I love."
Closing on the six-bedroom home on her 40th birthday, Martin celebrated the milestone with her parents and brother in the still-empty house, toasting with red plastic cups of wine. Every brick and piece of furniture represents a lifetime of hard work, she says. "It makes every overnight shoot and every seven-day work week worth it."
Martin has turned the home into a weekend playground for her loved ones. The home's pristine white floors, carpentry and marble exude tranquility. The banana leaf wallpaper was inspired by the walls of the Beverly Hills Hotel. It gives the home a splash of color that maybe only Dorothy Draper could have pulled off with her Brazilliance wallpaper while weekending with a friend in a cottage off Gin Lane.
The sportscaster says her perfect "at home" moment takes place in the 232-square-foot "Florida" room just steps inside from her backyard pool. As she watches the brilliance of the Hamptons sunset, the splash of color lights up the whole house. Martin says she is perfectly content in this one, very well-appointed room.
"I believe in finding calm in chaos," says the New York Times best-selling author of the style guide, I Have Nothing to Wear. "This room takes me right to where I want to be, and always wanted to be." The centerpiece is a cocoon-like swinging chair (from Pier 1, no less), in which Martin reads and daydreams. With her swing, Martin seems to be channeling Draper, who once said, "[Your home] should honestly be your own—an expression of your personality."
For more of Jill Martin's tips, and how to get the look, go to www.Today.com/Home