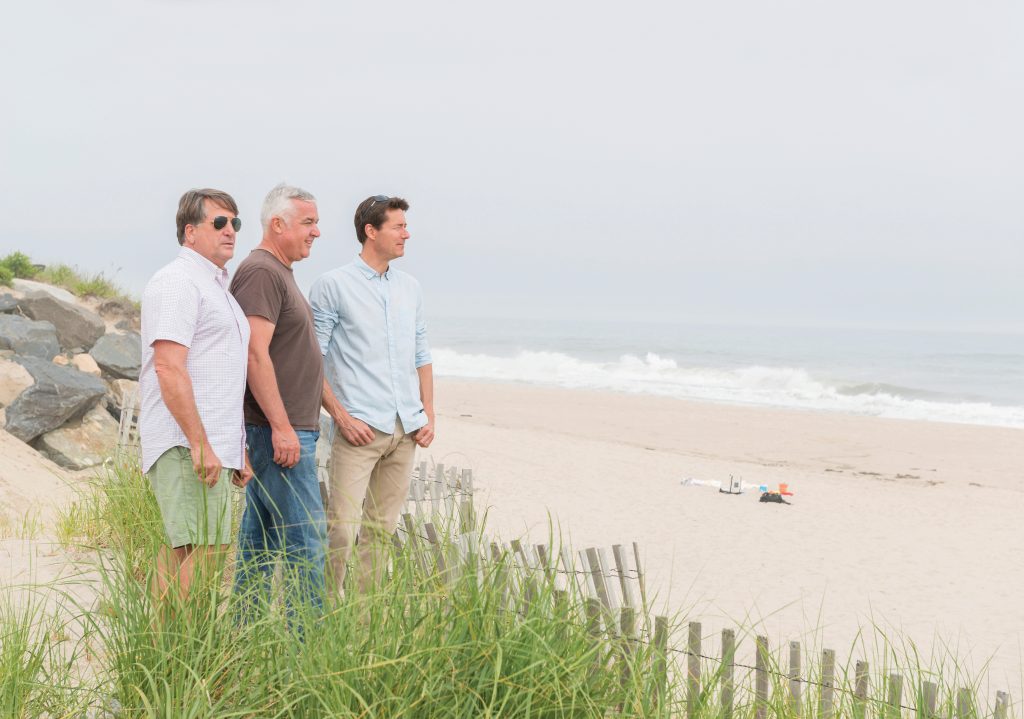 By Nancy Kane
It's 8AM—AKA "dawn patrol"—on a picture-perfect weekday in East Hampton and Ed Bruehl sends out a message: "It's firing at Georgica."
Mid-afternoon he receives a text: "It's on at Ditch Plains."
The above communication speaks of optimum surf conditions at local beaches on the East End. On any given day, another message will be sent: "Mariah's at Indian Wells." Or, "Gina is with the kids at Poles."
The above signals a parent is at a certain beach, so it's OK to drop your kids off there. And go surfing.
"What I love about this local dad contingency is we're all looking out for each other and looking out for each others' kids," says Bruehl.
"When conditions are wrong in East Hampton—based on the swell direction, tides and wind—they can be right in Montauk," says Bruehl, over tea at Harbor Kitchen and Market in Sag Harbor. A broker with Saunders Real Estate, the tall, handsome father of two girls has an easy, Jimmy Stewart-like demeanor, greeting a local friend at the counter with a handshake and a pat on the back. His wife, Mariah, is a long-time educator who now runs her own educational program called Playful Learning Studio.
Originally from Thousand Oaks, California, Bruehl honed his surfing skills in Malibu and Rincon, near Santa Barbara. He's lived out east full time since the early 2000s.
In the pre-cellphone era, surfers used more basic signals to communicate. "My earliest recollection of a surf report was getting a thumbs-up or thumbs-down from cars driving home on Decker Canyon Road," he recalls. "This road took us to Ventura County Line or Staircase—my two favorite local breaks at the time."
By the mid-'80s, "you'd call Surfline, a 1-800 number, from home—I think it cost a quarter." Surfline is now a downloadable app that Bruehl and his fellow surf dads use every day. "I check the Surfline Streaming cam at sunrise. When it's green and at least 3-feet-plus, then I throw my gear in the car. I know I'm going to surf that day," he said.
Typically, Bruehl reports in on East Hampton and fellow Saunders brokers Scott Bradley weighs in on Amagansett (his wife is 'Paddle Diva' Gina Bradley) and Chris Coleman and his family are in Montauk, near the breaks at Ditch Plains and the area the locals know as Poles. Kieran Brew "always has a pulse on the ocean in Amagansett," says Bruehl.
"Don't ask me for my favorite spots here because the locals would be very unhappy if I mentioned them by name," he says with a smile, "but I can tell you I love the jetties and the coves."
Getting out on the water on any given day comes down to a matter of timing. And lucky for Ed, he's got several clients to whom he's sold houses that he's remained friendly with. Many of their outdoor showers come in handy when he has an appointment following a surf session. "The folks with the outdoor showers—they love that I use theirs, and only ask that I send pictures of the ocean to them so they know what they're missing in the city!"