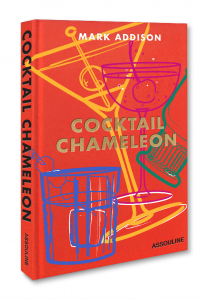 By Ray Rogers
Can you explain the concept briefly and tell us what inspired you to create this book?
Making cocktails can seem daunting to the uninitiated, especially when it's referred to as "the art of mixology." And that's the main reason I decided to write this book. I want to demystify cocktails by providing an understanding of the classics and showing how, with that foundation, everyone can join in the fun and excitement of creating their own signature drinks. That is the guiding premise of Cocktail Chameleon, in which each of the 12 classic cocktail chapters serve as a point of departure for 12 wildly diverse variations culminating in 144 signature cocktails.
These cocktails can be modified for many occasions. Of the 144 recipes in the book, do you have a personal favorite spin on a classic cocktail?
Out of the 12 chapters in the book, I feel that The Manhattan was the most challenging to spin into unique variations and therefore a personal favorite. Starting with the classic Manhattan proportions of 2 to 1 (spirit to vermouth) with a dash of aromatic and a singular garnish, I set out to design and name cocktails inspired by geographical locations to celebrate their respective national spirits with flavor profiles and garnishes to match. In this chapter, one travels from Manhattan to Vermont, Palm Beach and as far off as Santiago and Versailles.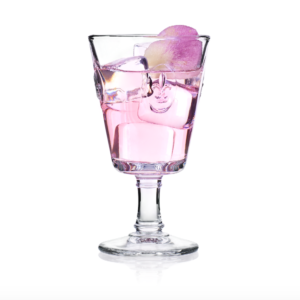 How did you conceive these recipes? Did you work with any noted mixologists?
When I am creating something "new", whether it is a new cocktail recipe, tabletop and barware products or an event for hundreds of people, I always start the process by consulting my extensive archive of resources spanning two centuries for inspiration. My sources of classic cocktail recipes are The Gentleman's Companion by Charles H. Baker (1939), The Savoy Cocktail Book by Harry Craddock (1930), and Jerry Thomas' Bartender's Guide: How to Mix Drinks (1862). Since looking back is so essential to looking forward, we can avail ourselves of a great wealth of inspiration that allows us to look forward with renewed intrigue and creativity.
Any tips on how to make cocktails a bit healthier for those concerned about sugar content?
Healthy cocktails are a bit of a contradiction, but there are ways to make cocktails better and more natural in terms of ingredients and sugar content. I start with the freshest of ingredients and never recommend processed ingredients such as juices, sodas and artificially flavored spirits. If a recipe calls for a flavored spirit, I give a recipe in the back to make your own such as orange vodka and rose liqueur. In terms of sweeteners, I always say taste as you go and balance the profiles to fit your sweetness preference. I often use natural sweeteners such as agave and honey and make homemade simple syrups, where I can control the volume of sugar. Several of my cocktails feature fresh-pressed vegetable juice such as the Greentini and the Green Mary for healthier takes on the classics.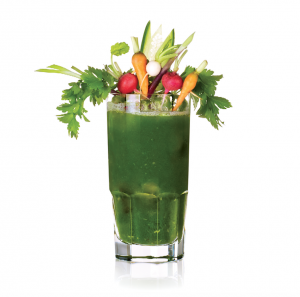 What's your go-to cocktail?
I have four go-to classic cocktails that I enjoy at home; Manhattan, Martini, Margarita and Bloody Mary. I find these four fit most occasions at home but I switch things up occasionally, when the mood, company and/or meal inspires a new variation. When I am out at a drinking establishment, I always choose something from the specialty cocktail list or ask the bartender to share one of their favorites to get their perspective on what is "good" or trending. I consider it "research," enjoying every sip of my "work."
Speaking from the vantage point as one of the top event designers and producers in New York, how does the right cocktail set the mood for a great party?
It's wonderful to be able to host a themed evening and mix up a batch of something tailored just to the occasion. I believe everyone should have a signature cocktail to share with family and friends when entertaining. Signature cocktails are part creative expression and part calling card, alluding to your style as much as your handshake or favorite perfume. The result is a signature cocktail that is as unique as you are. It also simplifies your stock of liquor and gets you out from behind the bar to enjoy your own party.
It's called entertaining for a reason…you get to have fun while you do it!
What do you find inspiring about making cocktails for friends and family?
My friends and family always request a Marktini or a Markarita when they come over to my house because it's now an anticipated part of celebrating with me. The Marktini was inspired by an evening at a friend's apartment in New York City where I was challenged to make a cocktail with the ingredients at hand, the drink was a huge success and the name stuck not only for the drink but it became my nickname as well. That is the spirit in which I created Cocktail Chameleon, to help people connect to their own inner mixologist, but it's more than just pretty pictures. Once the cocktail's history is understood and you mix your way through the recipes, you're all set to dream up your own signature drinks. And when the first one is perfected, whether it's shaken or stirred, it will be ready to share with the world!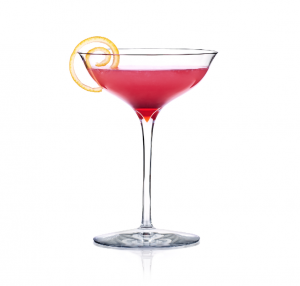 This Labor Day weekend, try out the patriotic Fireworks Margarita. Recipe below:
Ingredients
Red and Blue-Colored Salts* Plain kosher salt
1 lime wedge
3 oz blanco tequila
3 oz fresh lime juice
3 oz fresh lemon juice 3 Tbsp Simple Syrup* 1/2 oz grenadine
1 1/2 oz orange liqueur 1 oz blue curaçao
Glassware
12-oz insulated pilsner
Yield
10 oz, serves 1 or scale up for pitcher
Garnish
1 lime wheel
Bar Tools
3 small plates
3 shallow food-storage containers
Fork
Red and blue bendable straws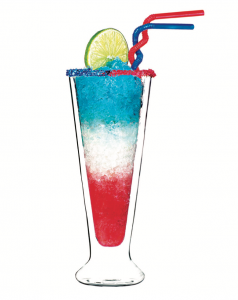 Directions
Spread a thin layer of red salt on a small plate; repeat with blue and kosher salts on remaining two plates. Rub the outer rim of the glass with juice from the lime wedge and roll a third of the rim in each of the salts
Red mixture: Combine 1 oz tequila, 1 oz lime juice, 1 oz lemon juice, 1 Tbsp Simple Syrup, 1/2 oz grenadine, 1/2 oz orange liqueur, and 1 oz cold water in a container
White mixture: Combine 1 oz tequila, 1 oz lime juice, 1 oz lemon juice, 1 Tbsp Simple Syrup, 1/2 oz grenadine, 1 oz orange liqueur, and 1 oz cold water in a container
Blue mixture: Combine 1 oz tequila, 1 oz lime juice, 1 oz lemon juice, 1 Tbsp Simple Syrup, 1 oz blue curaçao, and 1 oz cold water in a container
Freeze containers for 2 hours, breaking up with a fork halfway through. To serve, pour the red mixture in the bottom of the glass, followed by the white mixture, and then the blue. Garnish with lime wheel and serve with the straws.
*Colored Salts
Yield: 1 cup
1 cup kosher salt Liquid food coloring
Place the salt in a small resealable plastic bag. Add 3-5 drops of food coloring. Seal the bag and mas- sage the food coloring into the salt until evenly distributed. Store in an airtight container.
Signed copies of Cocktail Chameleon are exclusively available for purchase online at www.CocktailChameleon.com