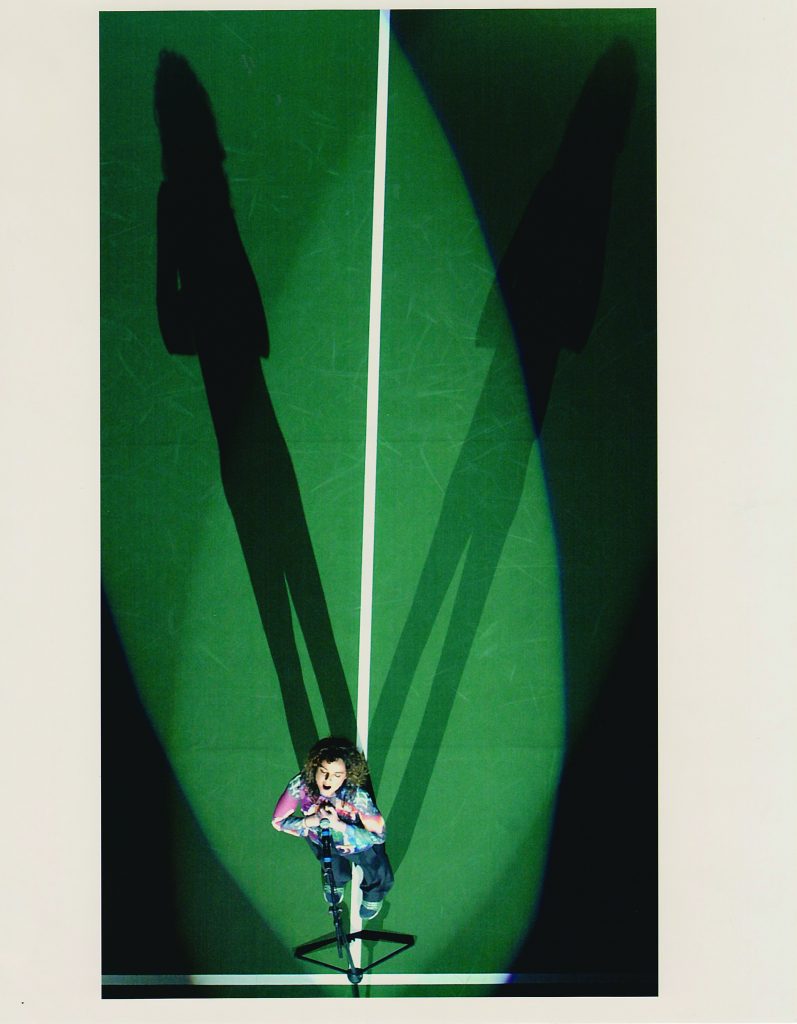 By Melissa Errico
It was green with white lines from the very beginning. Just over 20 years ago, I set foot in the world of professional tennis. I was 25 years old and had been set up to meet Patrick McEnroe, a boy I had grown up with and had known since I was 4. From the evening we met as adults, we were a couple; the chemistry was instant. He had been my older brother's best friend in grade school, and his mother (the majestic Kay McEnroe) had seen me starring on Broadway in My Fair Lady and had been telling Patrick, who was on the ATP tour, to look me up on his sojourns in New York City. She said, "Patrick, you should look up the Erricos—the Melissa daughter is an actress, went to Yale, she's always in the paper, you never know…" and so I have often told Kay that this is 'an arranged marriage' and she still shoots back with a confident (and, luckily, unhesitatingly happy) "Yes!"
What drew us together was neither the fancy stuff of Broadway or tennis fame, nor was it necessarily some kind of quaint Norman Rockwellian small-town familiarity and coziness. It was a harmony in the "opposites attract" zone, as well as a shared understanding of the highs and lows of our hobbies turned jobs. We understood each other and had fun straight out of the gate. The first time I went on the tour with him was the Australian Open, and I was about to star in a Broadway flop called High Society. He was about to meet an unknown named Carlos Moya. I made friends with Andre Agassi, Pete Sampras and Jim Courier, spent time with Brooke Shields and other actresses, rode the occasional private plane and had plenty of dinners. Over time, I met many more tennis girlfriends and wives from different countries, and I mildly cringed when I heard the term "AMW" applied to us all—that is, "actress, model, whatever." This is by no means an official ATP term, mind you, but there was a sassy, frosty-haired guy who said it and it stuck in my head. Brooke was no whatever and neither was any other gal I met, but I watched the scenes play out. Traveling men, women who juggled home and this life on the road. Winning and losing, setting up camp in a new country and possibly leaving in the morning after a tough first-round loss. I saw plenty of tanned male players from France, Spain and Eastern Europe, and their girlfriends sitting in the players' lounge before the matches with hair blown out straight, nice jeans, and usually very nice legs. I possess curly hair, shapely legs and often wore bohemian dresses and large hats, as if I was still somewhat attached to my Broadway persona, Eliza Doolittle. I watched TV often enough to know that the AMW script was to be the face that the camera cuts to during key points, cheering when the beau is winning and grimacing when he is down a break.
During Patrick's match with Carlos Moya, Patrick won a few points and I thought that my melodically vocalized cheering could win him the match and in front of 25,000 people, my dear husband-to-be turned to Miss Doolittle in her wide-brimmed blue straw hat over Victorian curls and hurled a strong "SHHH" looking straight into my eyes, finding my eyeline within the crowd in a split second. I was sure at that moment that he would break up with me, never mind marry me a year later. I was also sure I was on television as a too-exuberant AMW. No matter. I'm still here.
Tennis is poetic. It's a seemingly repetitive sport with no repetition in it. I have loved being in it and finding my spot as one of the three Mrs. McEnroes of this generation, honored for the slightest titular relation to the truly great matriarch. There are plenty of tennis stars and you all know their names, but I have also spent a lot of my time with names you don't know. Men and women who play that game day in and day out, who win and lose day in and day out, who pack bags and move onto the next town. I'm a tennis mom now too, with one kid who has the fever to compete and play with honor. I'm not the only gal out there who has many hats to wear—there's whatever one that gets put on our heads by virtue of being a wife and then the parent hat. For me, there's Eliza's hat, and whatever else I will look to be in the future. I got something from the game and from the many sportsmen that have been loved and followed, as I have loved and followed Patrick. ATP boys love the game, they play point by point, they don't all win. But the endgame is to tour. I learned that home can be a kind of motion.