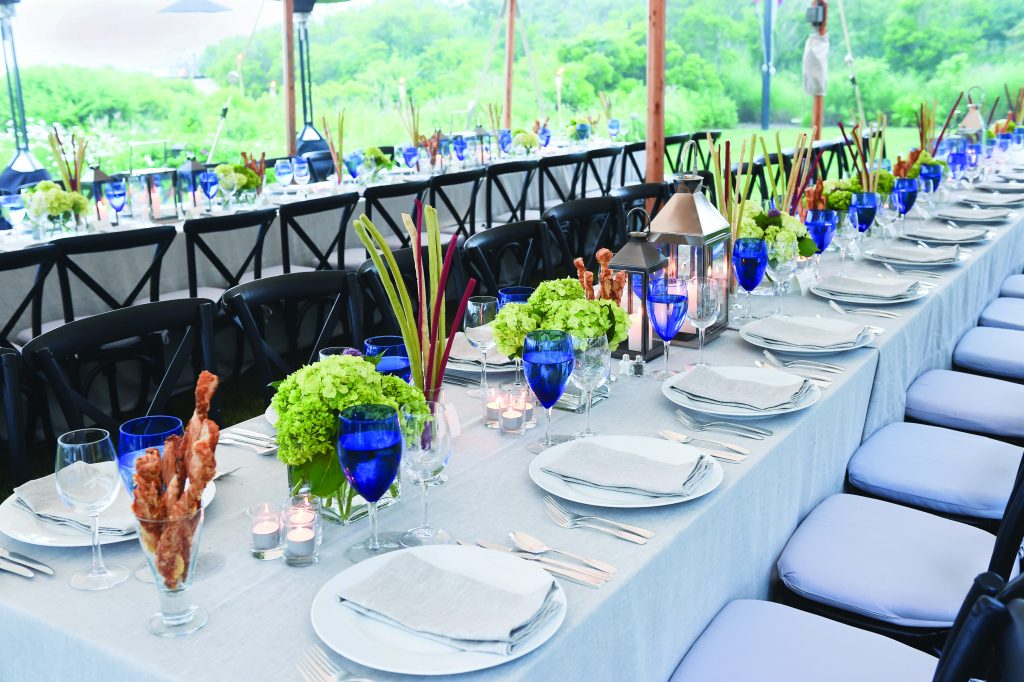 By Ray Rogers
"Everything in life can be done artfully—even how you set a table," says Galerie magazine founder Lisa Cohen. At her annual School's Out fete benefiting LGBTQ students at Hetrick-Martin Institute, that meant light green hydrangeas and a subdued color scheme to the table linens so the Majorelle blue glasses ("a color that always makes me happy") could stand out.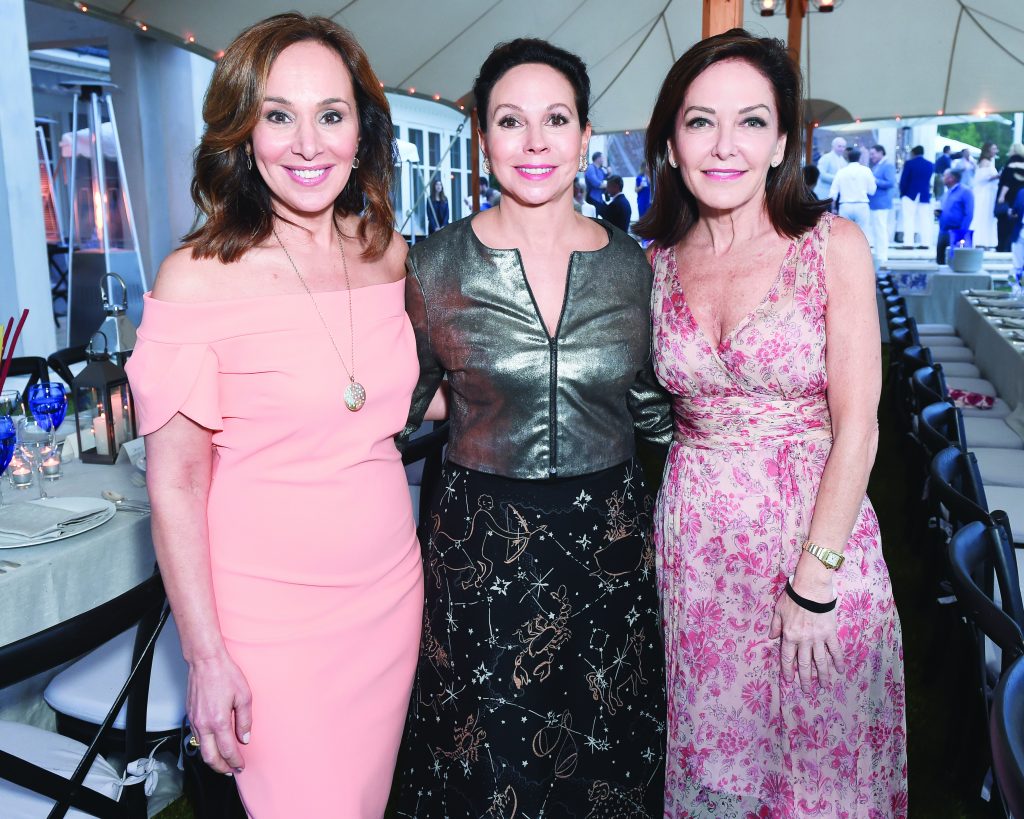 For a showstopping entrée, she had a superstar assist from her Lily Pond Lane next-door neighbor, Martha Stewart, who brought along her personal chef and even helped cook the evening's meal herself. "Paella's perfect for large groups outdoors," Stewart tells Purist. "It's easy to make. You can cook the entire dish in less than 25 minutes, and it's fun and theatrical."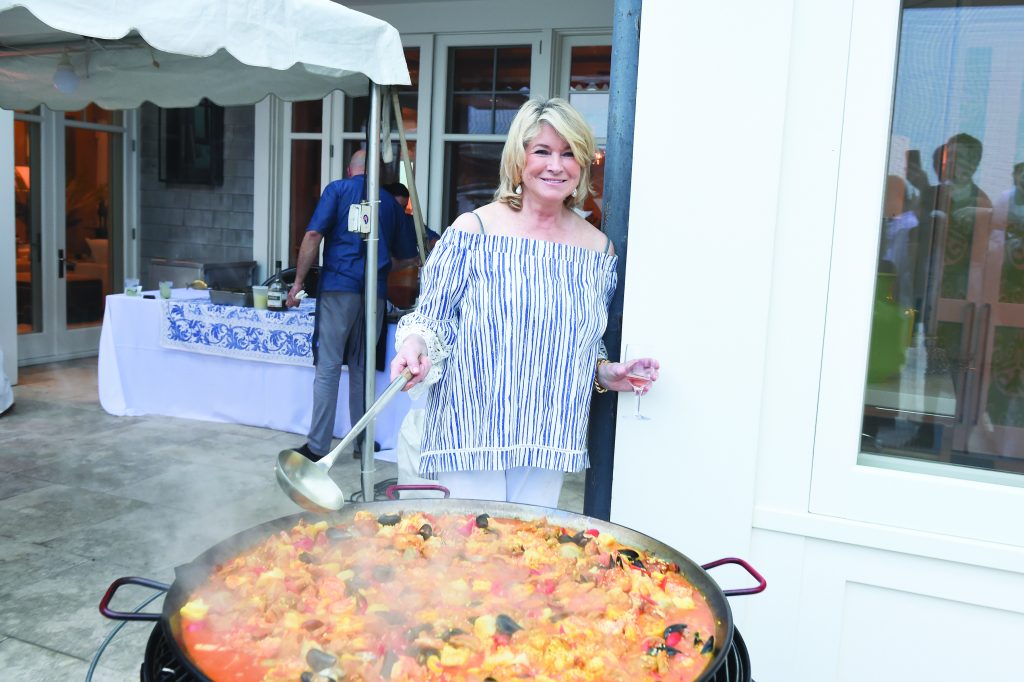 Martha Stewart's Paella Gigante
To make this paella you will need a 28-inch paella pan. The amount of stock you need will vary depending on whether you cook the paella on a stove or over a fire.
SERVINGS: 45
INGREDIENTS (note that seafood choices can be altered to taste)
6 lobsters (1 1/4 pound each)
4 whole chickens, each cut into 10 pieces
1 1/2 cups extra-virgin olive oil
4 tablespoons paprika
6 tablespoons coarse salt
4 pounds boneless pork loin, cut into 1-inch cubes
3 pounds chorizo, cut into 1-inch pieces
2 cups diced onion (1 large onion)
1 cup minced garlic
4 pounds squid, cleaned and cut into 1-inch rings and tentacle sections
4 pounds medium shrimp, peeled and deveined
3 pounds (about 3 dozen) sea scallops, muscles trimmed
6 green bell peppers (about 4 1/2 pounds), seeded and ribs removed, cut into 1/4-inch strips
2 pounds asparagus, trimmed and cut into 1-inch pieces
4 cups fresh peas
4 cups peeled, seeded, and coarsely chopped tomatoes, (about 3 pounds)
3 dozen small mussels, scrubbed and debearded
10 to 12 cups homemade chicken stock, or low-sodium canned
10 cups long-grain rice (4 pounds)
2 cups cognac
2 tablespoons Spanish saffron threads
Freshly ground pepper
1/4 cup freshly squeezed lemon juice
DIRECTIONS
1. Coat chicken with 1/2 cup oil, paprika, and 2 tablespoons salt; let sit for 2 hours. Meanwhile, bring a large pot of water to boil. Cook lobsters for 4 minutes, and drain. When cool enough to handle, remove tails from shells, and cut into bite-size pieces. Cut claws in half, leaving meat in shells. Discard bodies, or save for use in a seafood stock.
2. In a 28-inch paella pan, heat remaining cup olive oil over four burners set on medium heat, or over a hardwood fire (place grid 3 inches from fire). Cook chicken in the oil, turning occasionally until browned, about 4 minutes per side.
3. Add pork to pan with chicken, sprinkle with 1 tablespoon salt, and cook until browned, 3 to 4 minutes, stirring occasionally. Add chorizo, and cook for 2 minutes. Add onion and garlic; cook for 3 minutes more. Add squid, stir to combine, and cook 1 minute.
4. Add lobster, shrimp, scallops, green peppers, and asparagus, and saute for 5 to 7 minutes; add peas, tomatoes, mussels, and 4 cups chicken stock. Cook for 2 minutes. Sprinkle rice evenly over the whole pan, and stir until combined. Add 4 cups stock and 1 cup brandy. With a mortar and pestle or spice grinder, combine saffron with remaining 3 tablespoons salt. Transfer to a small bowl, and combine with 1 cup stock and remaining 1 cup brandy. Pour over rice. Season with ground pepper.
5. Reduce heat to medium low, and cook until most of the liquid is absorbed and rice is al dente, about 20 minutes. If liquid is absorbed before rice is al dente, continue adding remaining stock 1 cup at a time. Stir in lemon juice, and serve.