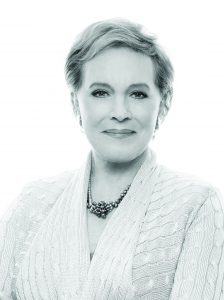 By Cristina Cuomo
CRISTINA CUOMO: You have a quote on your personal website: "The amateur works until they get something right—the professional works until they can't go wrong."
JULIE ANDREWS: It was something that was taught to me by my singing teacher many years ago, and I've never forgotten it.
CC: Is that a motto to live by?
JA: It's certainly something to aim for if you want to be a part of this wonderful thing called show biz. Opportunities will come when you least expect them, so do your homework. If you want to be good, then keep working at it, and be ready.
CC: What has been the best surprise in your career?
JA: My first big break was a big step. I was a young singer, just learning how to sing, but I had a rather unusual range, and the first show I ever did in London catapulted me into public awareness. It was just a revue in a London theater, but it did bring me to everyone's attention. The next big step was going to Broadway, which was a huge learning experience. And then the third step was going to Hollywood. They seemed to come in those categories; I didn't mix them all up at once. I toured endlessly around England when I was a kid, and then my teens. Then six years or more on Broadway. And then, very fortunately, Disney came calling, so to speak.
CC: Has there been a preferred medium?
JA: No. If you think about it, on stage all of you is present and showing, and you start at the beginning and finish at the end of every performance. In film, it's close-ups and medium shots and long shots, and you can film out of sequence. In fact, one always films out of sequence. They are very different mediums, but both are hugely delicious and satisfying. I love working with an audience, because that's something you do literally for the one performance, and it's shared between you and that particular audience. They don't know that you—hopefully—were good the night before, or might be good the night after. They want that particular performance for themselves, and so that's the kind of shared thing you do. Film is probably a lot more careful, but a lot more of a gamble. You don't have the chance to run it through from start to finish, and you pray that you've made the right choices. But it is exciting.
CC: Of the films you've made, what are your favorites?
JA: I loved making Victor/Victoria because it was such a breakthrough at the time. I loved making S.O.B., a very dark comedy that my husband also wrote and directed, and a little film he made called That's Life!. An early film I made about the war, The Americanization of Emily, was written by Paddy Chayefsky and shot in black and white. But obviously, you can't not include The Sound of Music. Thoroughly Modern Millie was wacky and adorable to make.
CC: How do you feel about being a legend?
JA: I don't think about it. Truly, I don't. I'm a mum most and foremost. I have five kids and 10 grandchildren and three great-grandchildren, and that keeps me pretty busy. I just feel very fortunate. I'm a very lucky lady, with a lot of hard work thrown in.
CC: "My Favorite Things" is one of my favorite songs. What are some of your favorite things?
JA: Oh, easy. Believe it or not, pruning my roses in my garden, my lovely two dogs that keep me company and take care of me, my family. Not in any order. Music of all kinds—I love classical most of all, but I love jazz and I love my own songs, anything with Jerome Kern, Stephen Sondheim.
CC: You have a rose named after you.
JA: It's a small, very English rose and it doesn't do well in America, sadly—the climate is not suitable, or something. Thank God that didn't apply to me.
CC: What lasting impact do you hope to have?
JA: As you grow, as you age, as you learn, I think I've discovered that it's the giving that matters. I don't think about lasting impact. That's for other people to decide, but what I do is give, and make people feel great. That's my delight.