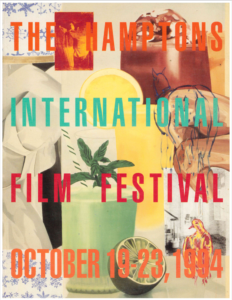 GARY WINICK (producer, who passed away in 2011, as quoted in the HIFF 15th Anniversary catalogue): The first year of the festival, I had the privilege of showing my film Sweet Nothing, starring Michael Imperioli and Mira Sorvino. In 1988, my next film, The Tic Code, starring the late Gregory Hines, won the Audience Award. And in 2000, I showed one of the first DV feature films ever made, Sam the Man, with Fisher Stevens and Annabella Sciorra. The film was the impetus for the creation of my film production company, Indigent. This was the most important turning point of my career, and the HIFF was part of it. What stands out most fondly in my memory of the festival was back in the early years, when [Nick & Toni's] Jeff Salaway would stand in front of the UA Theater all day, taking tickets. Jeff Salaway and Toni Ross created the HIFF out of their love for the movies, the people who make them, and the people who watch—they knew how much this festival would enrich their community.
FISHER STEVENS (actor, producer, director): Gary Winick and I were kind of enfants terribles around the festival in 2009, when we screened our film Sam the Man [which Winick directed and co-produced]. We were wild and crazy guys, so it was quite fun, full of fond memories and beautiful women. What was even cooler, I stayed at Gary's parents' house in the Hamptons. It was so local.
JANET O'BRIEN (owner, Janet O'Brien Caterers + Events): All the first parties were beautiful big tents and live bands in the parking lot at Nick & Toni's. I had just started my catering company. The festival was really catching on, so I offered to do the hospitality, which at the time was at the Palm, out on Main Street. I'd get there really early in the morning and do bagels, set up coffee and muffins and croissants and things like that. I have this vision of me running across Main Street with baskets of bagels, against the traffic—the bagel queen.
MICHAEL CINQUE (owner, Amagansett Wine & Spirits): We've been the official liquor sponsor-supporter from day one. It's funny, because Jeff and Toni were friends. I'll never forget them calling and saying, "Would you mind putting up a couple cases of white and a case of red, and a few bottles of vodka?" I said, "Sure." Next year, it was like 10 cases of white and five cases of red and five cases of vodka. Twenty-five years later, it's like half my warehouse.
AUSTIN HANDLER (co-founder, Mabley Handler Interior Design): My wife [Jennifer Mabley] and I are huge film fans. We moved out here from the city 15 years ago, so as soon as we realized there was a film festival here, 10, 12 years ago, we attended. Five years ago the festival asked us to design the VIP green room, and the stage setups for the post-film Q&A sessions. That was fantastic. We are thrilled to be able to bring our expertise and support the festival.
JANET O'BRIEN: For at least the past six years, we've been blessed to be the guardians of the green room at Guild Hall. We do a light bar with wine, and very minimal, beautiful food—tiny little sandwiches, beautiful cheese boards. It's like I'm on this fabulous work vacation at Guild Hall for four days. After all the years of running with bagels, I'm in the green room and I'm there to have the loveliest of times.
AUSTIN HANDLER: Last year, I was in the green room in between films, and Aaron Eckhart was there waiting to leave for the airport to get a flight back to London. We ended up chatting, he and I and a couple of other people in the room, for over an hour. It was a casual, flowing conversation about real estate, design and travel. It was a really nice experience of connecting with someone in the film industry, who you see on screen, in a way that felt very natural.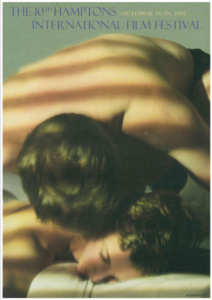 BILL COLLAGE (screenwriter): For me, there are two simple questions for anyone who wants to build a life in the film industry, while living full-time on the East End of Long Island: First, is there a sustainable community of people who will nurture, inspire and challenge each other? Second, is there a passionate group of patrons who would support such a community? Without the Hamptons International Film Festival, the answer to both is no. You can live and work out here in the film industry, but you're disconnected without some sort of nexus. The Hamptons International Film Festival is a nexus of people who want to create film on the East End of Long Island with passionate consumers and critics of cinema.
ANNE KEATING (consultant, corporate philanthropy/projects, Bloomingdale's): The HIFF is an important cultural event that brings together not only the local community and the summer residents, but national and international visitors to the East End. In the years Bloomingdale's has been supporting the Festival, 2009 was a highlight. We had a "Lights Camera Fashion" marketing campaign that included five shorts (BFlix) that we produced with Young Indies Films. The short films, created by up-and-coming directors and writers, were shown at the Festival with a talkback with the directors including Barry Jenkins, Antonio Campos, Amy Redford, Emily Abt and Andrew Hunt. Some of course went on to be amazing, successful filmmakers—a proud moment for Bloomingdale's.
GEOFFREY LYNCH (President, Hampton Jitney): I am proud of Hampton Jitney's support of the Hamptons International Film Festival over the past 25 years. We support the festival today for the same reason we did 25 years ago—it's an event outside of the summer season that brings people to this region, and helps provide a bump in business activity just before the onset of the winter months.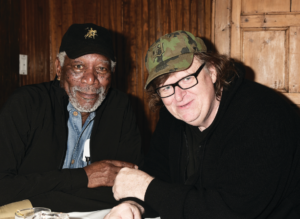 BILL COLLAGE: The festival has expanded, so it's not just one weekend in the fall. There's year-round stuff going on that people can plug into—both as creators or as consumers. For over a decade, I've been involved with the Screenwriters Lab, which happens in April. They asked me to be a mentor. Every year there are mentors—there's a contest, and if you win, you get to spend a weekend with professional screenwriters. The mentors review the work, and those screenplays go on to have a life. I was lucky to mentor Sara Colangelo, who wrote a script called Little Accidents, which she was going to direct as her first feature. When she made the movie, starring Elizabeth Banks and Boyd Holbrook, she invited me to see a cut and give some thoughts. It was great to see the whole creative process, starting with her having an idea, the execution of the idea, then making it a film, through post-production, and then the great reception she's had for it. The Hamptons International Film Festival literally incubated and brought that movie out.
JANET O'BRIEN: Another year, Anjelica Huston had an amazing movie that she directed, Bastard Out of Carolina. As I walked out of the theater, she happened to be walking right beside me. Both of us having been brought up in Ireland, we went straight into this deep conversation as we walked only 10 steps, right beside each other. That was a brilliant experience for me, just to bond with her for about 10 seconds over such a strong movie. Of course, the minute she started talking to me, her Irish accent came home.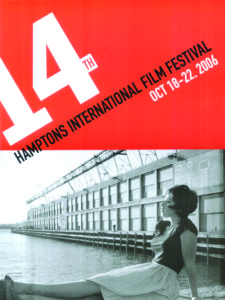 ED BURNS (actor and filmmaker): Being a Long Islander, and specifically having spent a ton of time in the Hamptons, it was very special for me to bring my second film, She's the One, there in the summer of 1996 for an outdoor screening. It was especially poignant being embraced by the East End cultural arts community.
BOB BALABAN (actor and filmmaker): The festival was still inching forward on baby steps in 1994 when my film The Last Good Time opened the festival. I remember being surprised and excited when it won best film. It rained the whole time. The awards were given out in a large white waterlogged tent. Mostly I remember it was so wet and muddy in there, I nearly killed myself sloshing and sliding up to the dais to accept mine.
ED HARRIS (actor and filmmaker): Having the opportunity to film portions of Pollock at the Pollock-Krasner house and getting to screen the film at the Hamptons International Film Festival remains a highlight of my professional life.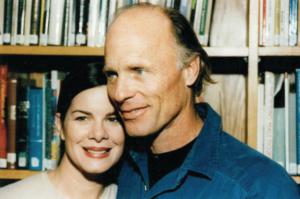 RICHARD KIND (actor): They have script readings, which bring out really great talents. One year, I was able to act with Melissa Leo. That's just thrilling to me. She'd won the Academy Award, she's a great actress, and we had an exciting script. Later on, I worked with her on a TV show [I'm Dying Up Here]. Of course a lot of those scripts don't go anywhere. But you read something, go wow—maybe somebody's in the audience who might take an interest in it and might produce. It's all a you-scratch-my-back, I'll-scratch-yours, type of thing, and work can come from it.
FISHER STEVENS: Screening The Cove in 2009 at the HIFF was a turning point for me, because that's when I started to focus much more intensely on producing and directing documentaries. The Q&A with Alec Baldwin for The Cove at Guild Hall was memorable. I remember being shocked at the knowledge and the homework he did to get the audience riled up to support the cause of the film. He pretty much had the entire audience donating to the Oceanic Preservation Society by the end of the screening. At last year's festival, my screening of Before the Flood was amazing—the Hamptons audience was so engaged.
CHRISTIE BRINKLEY (model, actor, author): Seeing Oscar-winning movies like Slumdog Millionaire and one of my favorites, The Artist, with other movie lovers…hearing from the actors and directors themselves, like my friends Bruce Weber and Alec Baldwin, who spoke in fascinating detail about their careers…bumping into friends who love the same movies as you…all combine to create a glorious event that makes HIFF the place to be each fall.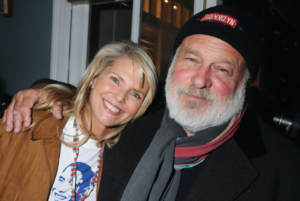 BILL COLLAGE: One year I was talking with Bobby Flay, who was a judge that year, and he didn't realize just how many movies he was going to have to see. I think it was probably a little exhausting.
FISHER STEVENS: The international aspect of HIFF is cool—I've hung out with directors from other countries, and they're blown away by the beauty of the Hamptons. The local people, the volunteers, are so into the movies, and taking you around. It's nice to spend the weekend hanging out on Main Street in East Hampton, amongst filmmakers and local people.
AUSTIN HANDLER: The festival does a panel of short films. I always try and take our sons to see the short films aimed at a younger audience. So we were heading to see it one year—three or four years ago—and as we're walking past the red carpet area, the step-and-repeat where they photograph the filmmakers and directors, my youngest son, Wesley, saw it and said, "Dad, Look! Famous people paper!" He recognized that it's the backdrop that's always behind actors and filmmakers at parties and red carpet events. I took a photo of them in front of the "famous people paper." They felt like they were stars themselves. It's just something about that magic of bringing a Hollywood-esque red carpet event to what's a somewhat sleepy town—at least in October it is—to the point where a little kid feels like he's at a Hollywood premiere.