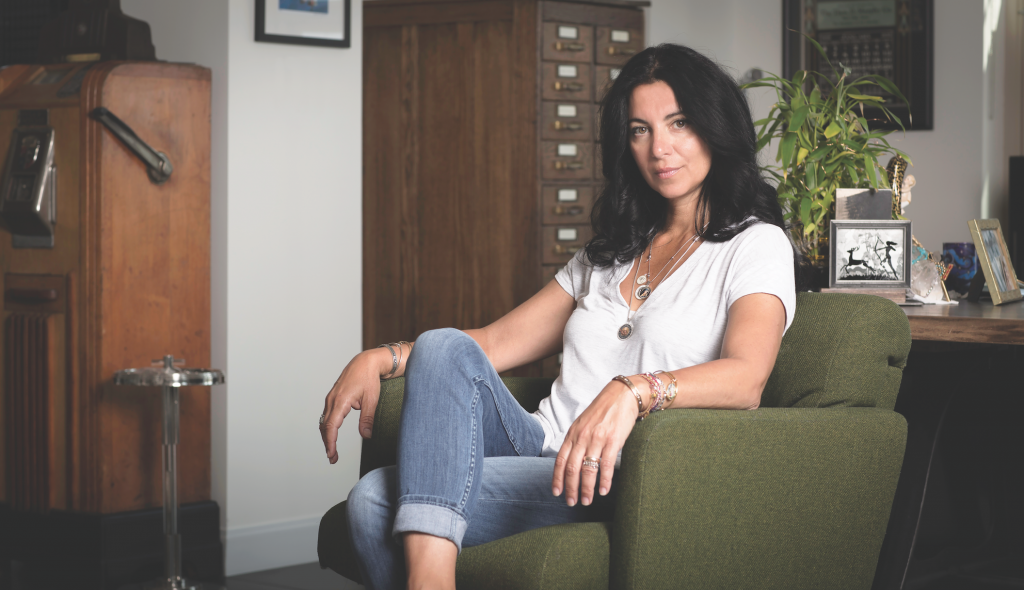 By Cristina Cuomo
Alex and Ani founder Carolyn Rafaelian became a household name after landing on the cover of Forbes' prestigious The Richest Self-Made Women issue this past June—not that the Rhode Island- based designer, who grew a $1.2 billion business from humble beginnings in her father's factory basement, ever defined success by gender. "My three sisters, brother and I were never raised as if your gender meant anything different," she says. "So when I think of my own daughters—and I have three—I don't even want to think in those limitations." She may have had nothing to prove, but her statement pieces of imaginatively crafted, eco-friendly jewelry—think armfuls of bangles and loads of rings, all with charms and cards explaining their symbolism—have generated revenue jumps from $5 million in 2010 to more than $500 million in 2016, according to Forbes. Savvy partnerships with Disney and Wonder Woman have given Rafaelian the go-ahead to open stores nationwide. "I'm in this great flow, and puzzle pieces are coming together," says the visionary leader. "I'm just paying attention." –Abby Tegnelia
CC: Women supporting women: That's what Alex and Ani is about, right? What women have inspired you?
CR: My impressionable years were in the '70s, when I was watching Bionic Woman and Wonder Woman and Isis—all these wonderful shows where women were more empowered than any normal human on Earth. That was in my DNA. My imagination was bigger than life, and that kind of stuck with me.
CC: You're an amazing purveyor of positivity, which has an incredible effect on the client when they're buying your jewelry.
CR: I make my decisions based on: Is what I'm going to say right now unifying or dividing? Is this something that is going to push the needle in a positive direction, or am I pulling back? Good, bad or indifferent, you create the outcome that you truly desire by your own means. And that could be just with words or a facial expression—or sometimes for me, it's just a giggle.
CC: What made you couple this passion for spirituality with jewelry?
CR: When we get into what happened with me and the jewelry and the symbols, it was a lifetime of being born into an Armenian family, of having a really solid childhood, and my father. The year I was born, he opened up the jewelry factory, so I was in the business, I was in the industry.
CC: Your dad's jewelry was from a different time, and was very different than yours. Did he have any spiritual messaging in his?
CR: Can you believe he did mood rings back then? He was a pioneer. I actually found an old catalogue on eBay from [his company] Cinerama, circa 1970-something, and it said, "jewelry with meaning." I almost died when I saw it.
CC: It's in your blood.
CR: I watched this beautiful industry flourish as a child and then over the years, I watched it diminish. I watched beautiful factories and companies go out of business here and move overseas, and I was fortunate enough that my father had no desire to do any of that. He was very true to his manufacturing roots here—money was never his driving force. Me, I wanted to put tons of people to work, but not just work: I wanted them to be in a beautiful environment. All of our desks are beautiful artisan tables that I had a local Providence guy make, there's music pumping, there's a cafeteria that's farm to table. We get to use our minds and artistic abilities, and we converse, and we see the outcome. Those are the things that you can't put a measure on.
CC: You have a third daughter, who was born after you named your company for your eldest two daughters.
CR: It's funny, because I'm opening up a restaurant in Newport. She doesn't know it yet, but everybody wants to name it Alivia, so I gave it the OK the other day. It's very cool, right in the heart of Newport on Main Street, an old bank building that was built back in 1880, I think. It's just gorgeous.
CC: The town must love you for all these renovations and improvements.
CR: Rhode Island is a treasure. We call it the jewel of New England because it's rich with so much history.
CC: How important has the idea of everything being made in America been to you? Your father had his factory here.
CR: My parents were very big into having a strong work ethic, so we all went to work at the factory, although we hated it when we were kids. When I walked back into the factory [as an adult], it wasn't as robust as it could've been. I started doing my own little thing there with very little expectation, and I remember jumping in the car with five rings I had just made that I loved. I called a bunch of showrooms—God knows why I ended up with a meeting with Barneys. Next thing you know, they realized here's a girl who has a whole factory behind her that's still intact. I was born and raised here and I feel a certain amount of pride and responsibility, and I'm thrilled to do it. Our light fixtures are made from recycled metal, because we wanted to support an American company. I'm responsible for the economy around me, and if I can support my neighbors here of course I'm going to do that.
CC: License deals with some huge companies have helped propel your business to the next level.
CR: When I started doing these partnerships, it was very Americana-themed: what we do as our national pastime, what we do for fun, where we enjoy life with family and friends. Disney became a huge partner for us, because it's a simple, easy product to wear.
CC: Tell us about the evolution of your groundbreaking philanthropy arm, Charity by Design, which donates a percentage of certain items to charity.
CR: The more you have, the more you have to give. It started five, six years ago, and it just kept evolving. Because Charity by Design happened as organically as it did, it became our blueprint, and also a new model of doing business. I would always reference that a major percentage of proceeds would benefit a certain charity, and everybody went along with it. We started hitting numbers like 10 million, 20 million, then 30 million dollars. You [multiply] that by 50 other national organizations and foundations who are doing exactly what they need to do to move the needle and all of a sudden, you've got this new model of doing business. That is not anybody writing a check, but supporting something they would anyway. For instance, we made a butterfly that we knew was going to sell like crazy. I decided to give that butterfly to a very small organization that works with addicts. Lo and behold, a million dollars went to the charity.
CC: The only present my daughter has ever bought me was an Alex and Ani bracelet on Mother's Day, and the impression that your brand made on her at 10 years old was really important.
CR: That's the best thing we can teach our children: to have a mind that's creative enough, and a heart that's fulfilled enough.