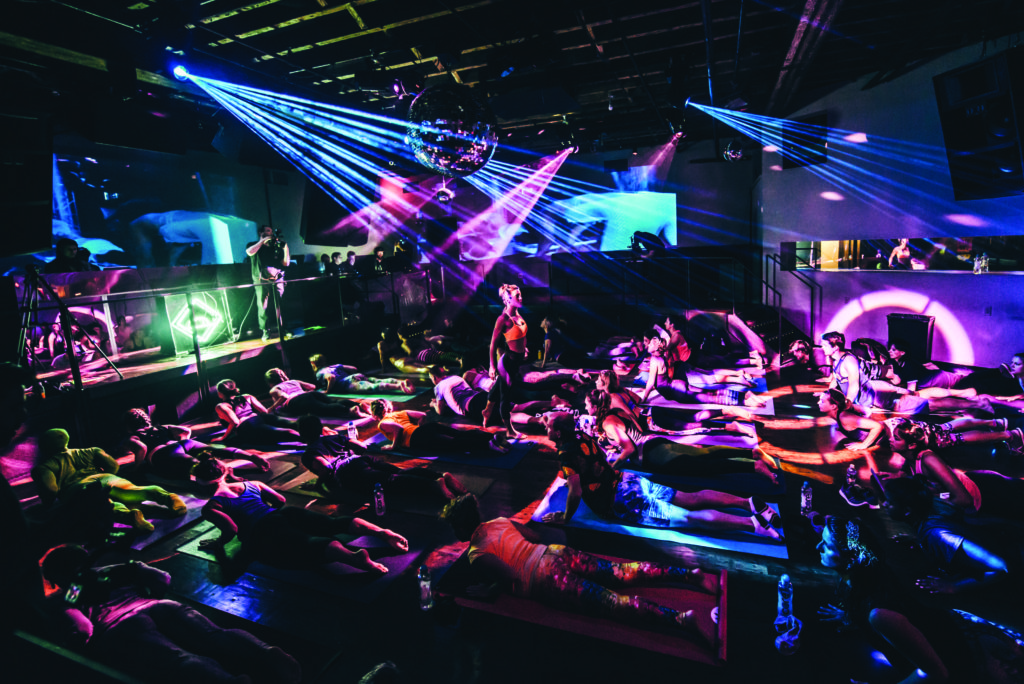 By Matt Diehl
It's 6AM, and the dance floor is jammed to capacity with Hollywood's beautiful people—hands in the air, sweaty and clearly loving life in the moment. But for once the ecstasy isn't methamphetamine; there's no ear-blasting EDM coming through the speakers. Instead, the room is eerily quiet, with the partygoers all wearing headphones, lost in music.
Here, the energy comes not from drugs or alcohol, but the collective embrace of wellness, spirituality and sober living. It's the kind of scene you'll find at one of the booze-free "silent disco" events thrown across America's major cities by the Daybreaker collective. It's more proof of the dynamism of the new "sober social" scene—buzzworthy alcohol-free events and environments that even merely "sober-curious" tastemakers are embracing for their coolness.
The wittily named Bender—another purveyor of wellness events—offers "an urban playground for body and soul"  creating "experiences that blend yoga, dance, fresh music, art and culture." The group's hipster-healthy happenings are designed in collaboration with top DJs, yogis and wellness gurus. Meanwhile, for LA's woke foodies, there's also the booze-free, spirit-nurturing Conscious Family Dinner series.
Sober social events seem to have a hybrid slant to them—possibly influenced by their founders' experiences at multifaceted communal celebrations like the Burning Man. The Shine Movement (in LA, New York and London), for instance, is an all-volunteer, nonprofit, semi-quarterly, alcohol-free "inspirational variety show" featuring film screenings, meditation and healthy cuisine.
When asked what he considers the hub of L.A.'s sober social scene, Moby—the pop icon, vegan activist, and a pillar of sobriety for a decade—cites Café 101, a late-night diner in a Hollywood Best Western. His own excellent vegan restaurant, Little Pine, serves wine but is a magnet for those with a passion for wellness. "Los Angeles just isn't a drinking city like New York or London," he says. "Social life in L.A. revolves more around farmers' markets and hiking."
To that end, you're likely to find sober meetups at the hiking trails of Runyon Canyon or Griffith Park, or the trendiest restaurants and coolest watering holes. Though they still serve alcohol, many of L.A.'s most esteemed restaurants like A.O.C., All'Acqua, Paley, The Wallace, Delilah, Connie and Ted's and Cassia have adopted ambitious "mocktail" programs. Even LA's original temple of the new mixology movement, The Varnish, offers enticing craft mocktails like its famed artisanal pineapple ginger beer.
In New York City, the curated alcohol-free event series Club Soda NYC came about via a partnership between meditation guru Biet Simkin and Ruby Warrington of The Numinous (a self-described "Now Age" platform for "where Céline shoes and the Celestine Prophecy could exist in beautiful harmony.") Club Soda offers various gatherings as a "social experiment" to fill the dearth of "high-end, high-vibe events where alcohol is off the menu"—a distinct rarity in the city that never sleeps.