By Jim Servin
Tailored yet relaxed Malibu chic was the order of the day when a hedge fund manager and his wife celebrated a newly empty nest by making a surprising move into a larger, grander home. The couple declared that for their next act, their five-bedroom, six-bath, 7,000-square-foot compound at The Oaks, a gated community in Calabasas, would offer a clean slate, design-wise.
"They didn't want to take any furniture with them from the old home, which was done in more traditional burgundies and browns. They wanted something lighter. They wanted to start an art collection," says Malibu resident Janette Mallory, who for 21 years has built a loyal following in the Greater Los Angeles region of the Golden State with her trained eye for comfortable sophistication. "This home is true to my personal taste," Mallory says. "It's a mix of traditional and contemporary, classic and sophisticated California style."
Opting for a palate of neutrals, mixing whites and creams with dove gray—"but I didn't want to do it too muted. I like to bring in color on the rugs, pillows and accessories"—Mallory anchored rooms with striking graphics and statement pieces (like the sea urchin chandelier in the breakfast room and backgammon-inspired stair runners, both by Kelly Wearstler) and well-curated antiques and artifacts.
"I don't like clutter," Mallory says of her highly edited rooms, where natural elements like the bonsai tree in the living room, in a vintage planter from Vietnam are juxtaposed with antiques from her sojourns to Europe and, closer to home, trips to La Cienega Boulevard. In the music room, a selection of pillows in vintage fabrics on leather and linen-covered chairs from Peter Dunham's Hollywood at Home mix harmoniously with porkpie hats and musical instruments, all assembled with great care.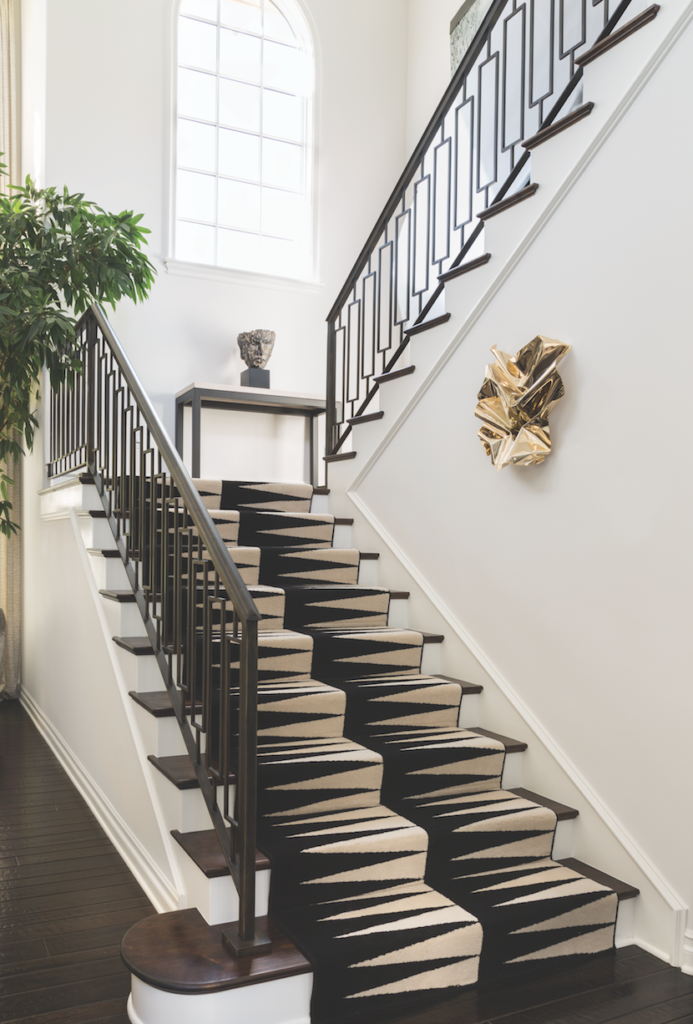 "I agonize over this," says Mallory of her editing process. "I will not put anything on a shelf or in a room unless I love it. Along with focal-point pieces, I like to add in the natural, whether it be a plant or a crystal, with unique books, artwork and sculpture. I mix it up so it makes sense, is well balanced, and makes people feel good."