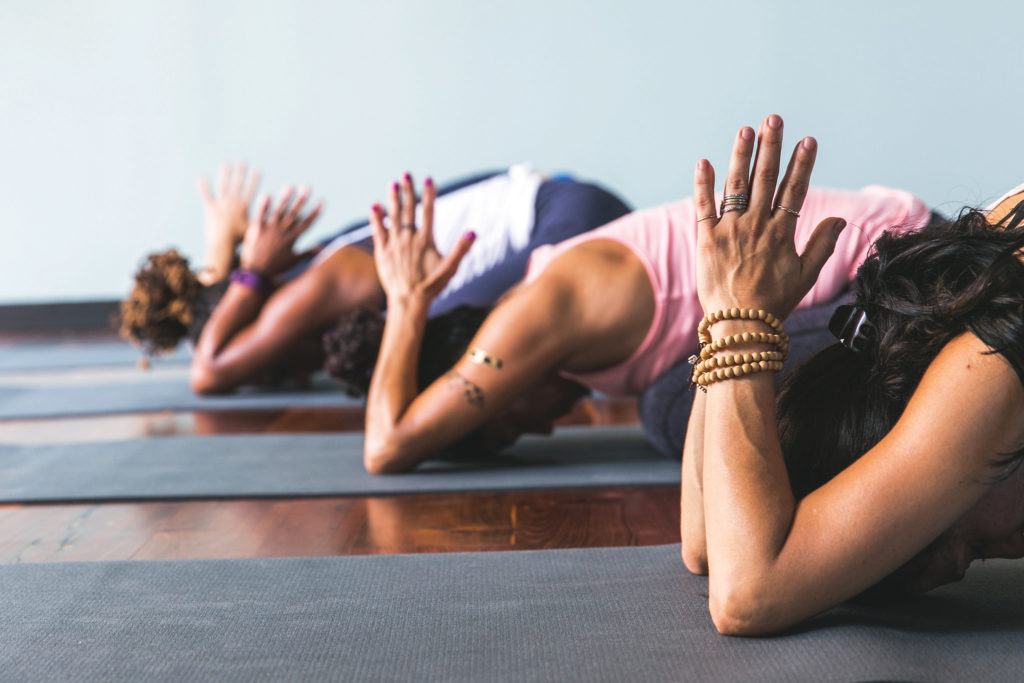 By Charlotte DeFazio
Founders Jeff Krasno, Schuyler Grant and Sean Hoess have created a safe, healthy space for Angelenos that seems to keep expanding. Aside from the yoga classes and teacher trainings typically offered at any other studio, Wanderlust Hollywood supplies healthful cuisine at the Wanderlust Cafe; supports local charities with its Trailblazer program; and hosts a variety of events and workshops.
In November, the Cafe's kitchen was taken over by professional vegan chef Rachel Carr, who has been whipping up delicious items to add to the menu like vegan, gluten-free waffles. There's outdoor and indoor seating options available, unless you'd like to grab a Wake Up Kale or Cocoa Motion juice for on-the-go.
For an added supplement to your yoga practice, participate in the meditation and breathwork sessions offered, or check out the monthly sound bath and tapping workshops.
Follow your bliss to the Kundalini Workshop, Invoke the Giver in Us All, hosted by famed yogi, author and pioneer in the field of prenatal yoga Gurmukh Khalsa and her daughter, Wah (January 15). Wanderlust first-timers should check out the new student special of one-month unlimited yoga and meditation for $45. And for those outside of the LA area, visit wanderlust.com for all upcoming Wanderlust Festivals held around the world. 1357 North Highland Ave.; wanderlusthollywood.com
NAMASTE, LA
Five places to quiet the mind in California's most populous city.
PEACE AWARENESS LABYRINTH + GARDENS
Geometric walking paths called labyrinths are said to assist one's consciousness and promote relaxation. With an outdoor stone labyrinth, serene meditation gardens and wellness workshops, Peace Awareness is a true sanctuary for city dwellers. 3500 W. Adams Blvd., peacelabyrinth.org
POINT DUME STATE BEACH
Some people are better able to silence their busy minds while staying active in nature. The Point Dume bluff-hiking trail provides just the right blend of beauty and physical exertion—and from December to April you might witness the whale-watching season. For ocean therapy, head two miles down to neighboring Zuma Beach, one of L.A.'s best surf spots. Cliffside Drive and Birdview Avenue, parks.ca.gov/pointdume
SELF-REALIZATION FELLOWSHIP LAKE SHRINE TEMPLE
The temple, founded in 1950 by Indian guru Paramahansa Yogananda, is home to the world's first monument erected in honor of Mahatma Gandhi—a portion of his ashes are even enshrined there. After viewing the monument, visitors may attend monastic-led meditations or Satsanga. 17190 Sunset Blvd., lakeshrine.org
SHAMBHALA MEDITATION CENTER OF LOS ANGELES
Shambhala tradition practices what it calls "Basic Goodness: the inherent wisdom, compassion and courage of all beings." The Center is a safe haven for people of all faiths, offering retreats, dharma gatherings, open meditation sitting, group schedules (family/ children, addiction recovery, queer pride, people of color) and more. 963 Colorado Blvd., la.shambhala.org
UNPLUG MEDITATION
Unplug claims to be the world's first drop-in, secular meditation studio and has clients ranging from 6 to 96 years old. Add the benefits of meditation to your child's life while you explore the variety of classes (such as sage-healing breathwork, stress-relieving hypnosis and tapping). 12401 Wilshire Blvd., unplugmeditation.com