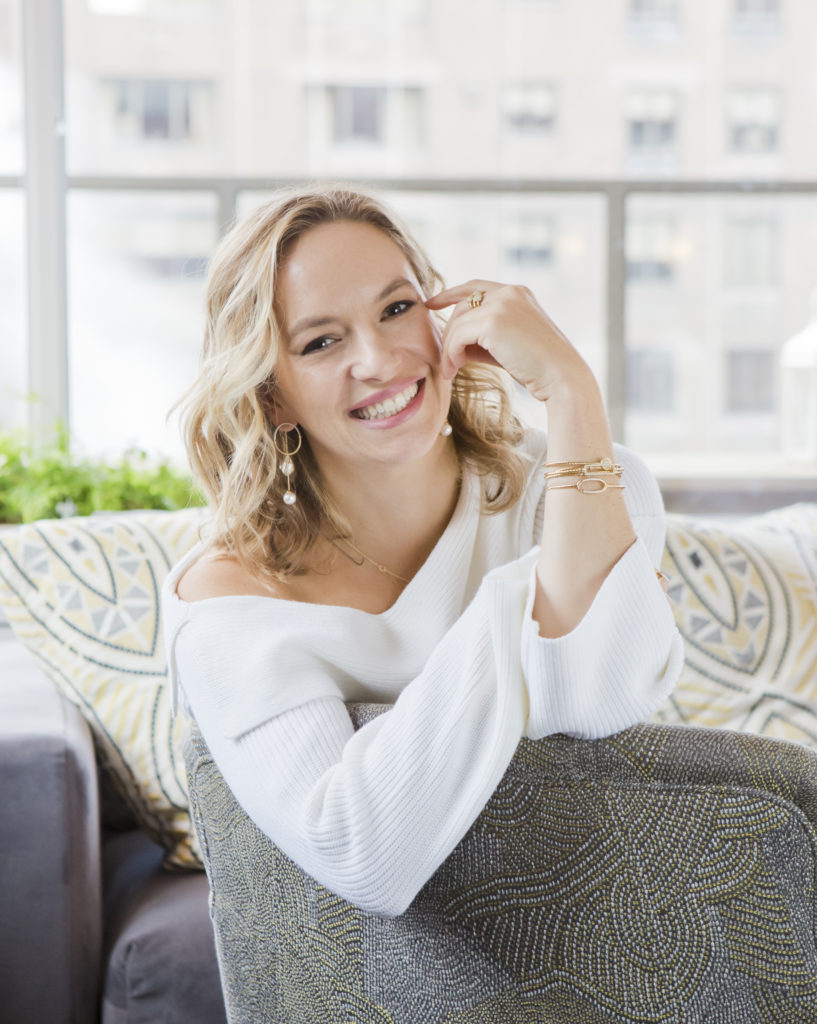 Coralie Charriol, creative director and second generation of Charriol, the luxury jewelry and watch brand, is embarking on a new quest with her namesake line. The New York-based mother-of-three is a walking wellness billboard: In her spare time she surfs in Southampton and Costa Rica, races cars with her father, Philippe, and runs a not-for-profit, React to Film, founded with her husband, Dennis, to curate socially conscious films for audiences who can affect change. But the giving back continues in her design work where she creates jewelry meant to elevate a woman's confidence and femininity. Her latest Charriol collection, Le Fil d'Or, means "the golden thread," translated directly from French, her mother tongue.
The new gold collection consists of 50 sleek and modern pieces made of 18K gold cable and everything is priced under $2,000, meant for everyday wear. A combination of Coralie's French upbringing (her father founded the company and her mother was a super model), her background in luxury jewelry design (referencing the classic Charriol cable twist), and her innate understanding of today's modern and dynamic woman's lifestyle, make this collection truly magical (Coralie was born in Hawaii, grew up in Europe, and has travelled the world over).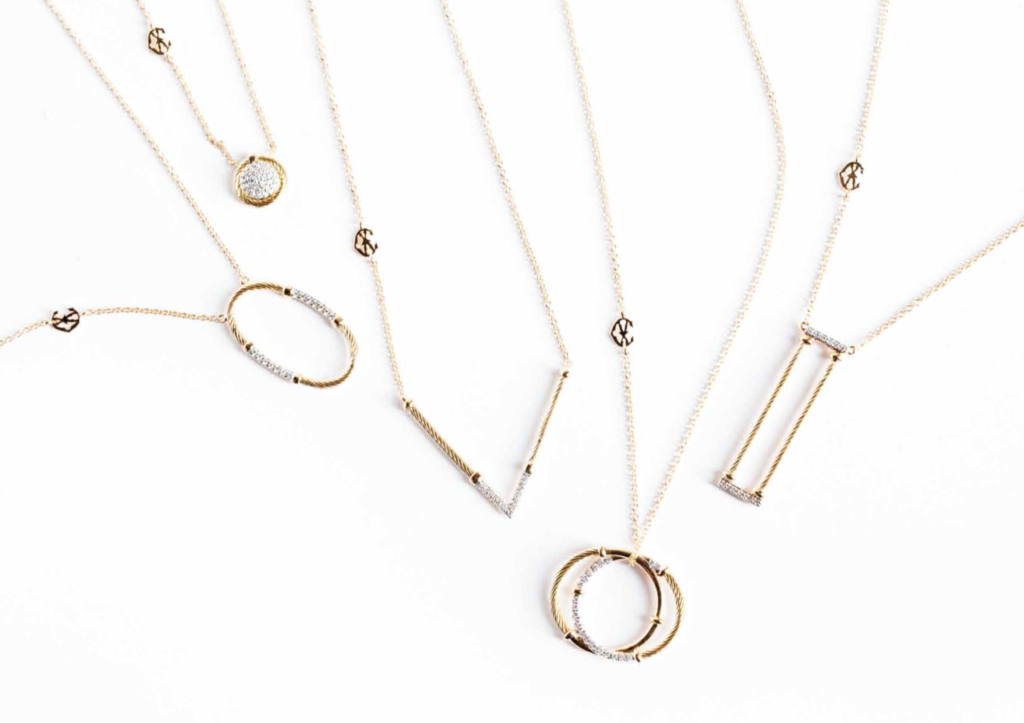 The mythology-inspired Le Fil d'Or collection has a distinct and highly feminine French flavor. Pieces are extremely delicate, light and whimsical, some with a touch of pave for added sparkle. All are handcrafted with the highest level of quality and attention to detail in keeping with the Charriol standard. But at these price points and with their easy, adjustable and personal designs, this jewelry is meant to be worn day to day—either mixing, matching or stacking, depending on your mood. There are multiple signature bangles to choose from, various pendants in adjustable lengths, personalized rings and symbolic charms that can be added to earrings for an extra personal touch.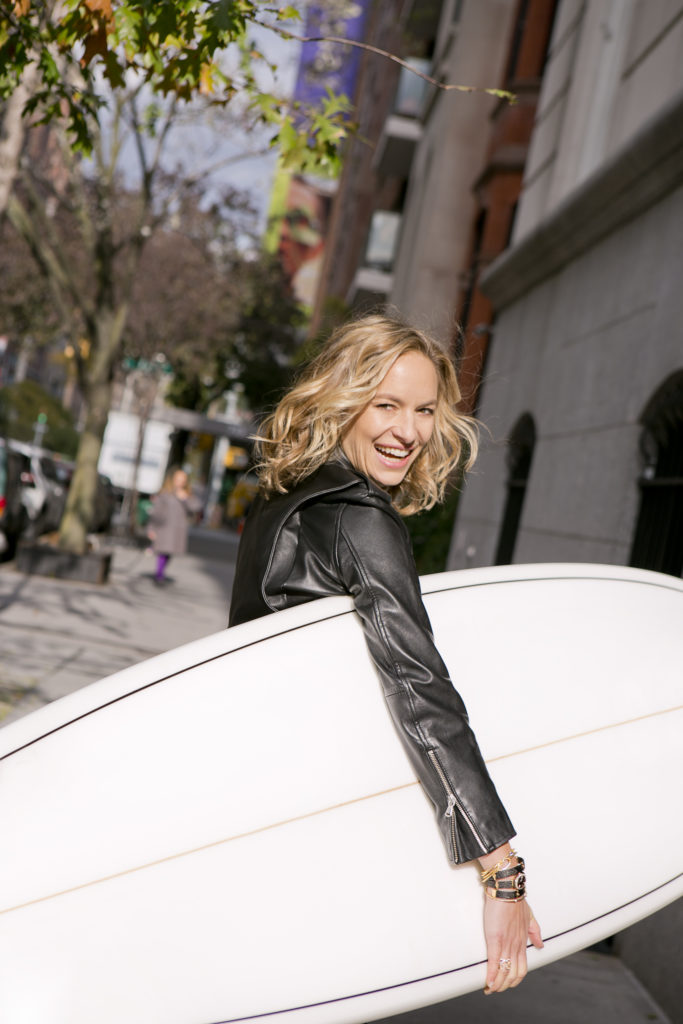 PURIST: How do you juggle running two businesses, managing three children's schedules, and finding time to surf and race cars?
CORALIE CHARRIOL: How do I juggle it? Imperfectly! I try my best not to forget something, but I usually do. Thankfully, it's never too important. There is no mystery—you just have to jump in and do your best. It's especially challenging when they are very small, but I always try to remember that it's such a passing moment. They will grow up and you will still have your passion that you can go back to.
What inspired you to create the Le Fil D'Or collection?
I wanted to use the signature Charriol twisted cable motif, but add a little more luxury by elevating the materials. I've always layered Charriol pieces but wanted an alternative that was a bit more delicate and feminine. Charriol had 18K gold many years ago and it was time to reinvent it and bring it back to the foreground.
How is this collection a new twist on the signature Charriol cable collection?
First and foremost, the materials. Our traditional cables are made with stainless steel, so this is an update—and upgrade. I have used the stainless steel cable for so many years, I thought that if I make it in 18K gold it would be totally different yet keeping the same Charriol DNA. The stainless steel works really well in the more sturdy designs, but for the gold I wanted a softer touch.
In this classic collection, the cable theme is pervasive in most of your designs. Why cable?
It goes back to the first Charriol pieces. My father was originally inspired by ancient Celtic jewelry, but so many ancient designs use the twisted motif. It's a nice nod to the past. Our cable bangle is the updated and contemporary design of a 2000 year of bangle. Cable is Charriol DNA and it's what makes us unique and recognizable. We have used it on all our products from watches and jewelry to pens, belts and bags.
Why 18k gold?
Why not? These are timeless pieces you will wear everyday and hopefully pass down to your daughter. Such heritage and familial bonds are an important part of owning and wearing jewelry and I think it's worth owning special pieces made from the best materials. It's the metal that I love the most!
You've captured "dynamic energy" in this collection. How was the design and execution instrumental in putting that positivity in your pieces?
I think some of that is captured in the design details that differentiate each piece—hearts, squares, Xs and Os. The pieces are on the whole a bit more dainty and collectable than our classic Charriol designs. I think that energy comes in the way that I—and hopefully our customers—wear them. I love how they fall and clink on my wrist. The drop earrings are also really fun and sway lightly as you move your head. They are small touches but it's nice to be subtly reminded of the special pieces you are wearing throughout the day. I'm a person with lots of energy and I need jewelry that goes with my personality.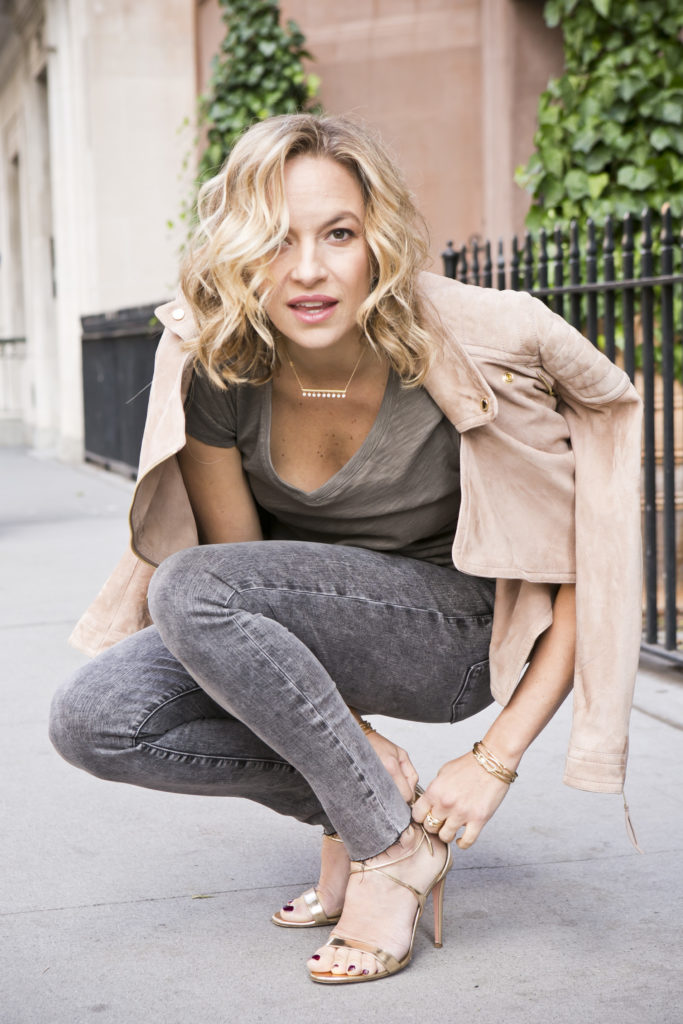 Your father started the Charriol company in 1983. Charriol is rooted in heritage and history. How have you continued that message in your new collection?
The collection needed to have the Charriol imprint, so we began with the twisted cable. In keeping with our heritage, each piece is created from the twist of solid gold wires instead of cast with a mold. It's an important artisanal detail which adds to the value of the product.
This collection is inspired by mythology—A golden thread weaving through place and time, a symbol of life, prosperity and excellence. A celebration of 18k gold as a universal standard for value and prosperity. Describe it's early historical origins.
Most jewelry in the ancient world used some form of filament and cables—Egyptians, Vikings, Greeks and Romans. As we were considering the story of the collection, we realized that it was a great unifying thread that grounded the modern design details (hearts and Xs and Os). The name of the collection is "Fil d'Or" because it's so fine it reminds you of gold thread. Gold thread that was used in rich fabrics, that could be seen as the thread of life. I love the myth of the three sister deities from Greek mythology thought to determine the fate of humans: one who spins the gold thread, one who measures the gold thread and one who cuts the gold thread. Now you get to wear this thread as a symbol of destiny and life.
As the Creative Director and designer of Charriol and "Gold Thread," what is your goal with the new collection?
I hope women invest and enjoy beautiful pieces that they can wear day in and day out. This is truly transitional jewelry designed for the realities of the modern woman. I hope they love them as much as I do. I want every women to own a piece. This is not an elite piece of jewelry, but rather one that suits all.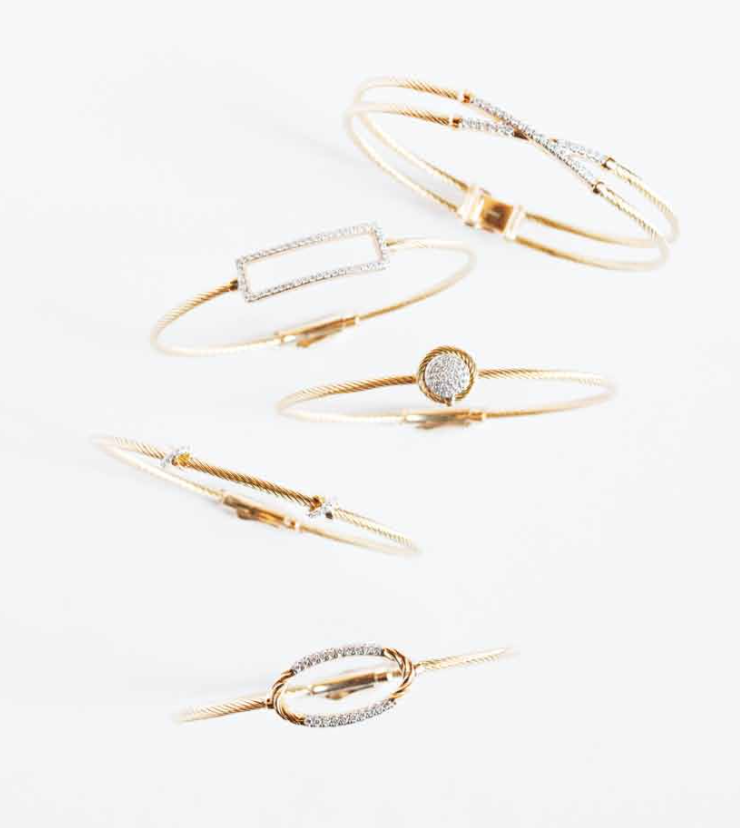 How do you want it to make you feel?
The best jewelry makes you feel sexy and fashionable. When she wears these pieces, our customer knows that she is wearing something classic of simple elegance, but still on trend.
Where is it available?
The Fil d'Or de Charriol collection is available exclusively online at www.charriol.com.
Which pieces are must-have accessories?
I would say the "must-haves" are the thin bangles that you can collect and then stack on your wrist. Right now, I am loving the hoop earrings where I can swap out the charm—it's fun and easy to create new earrings with a simple switch.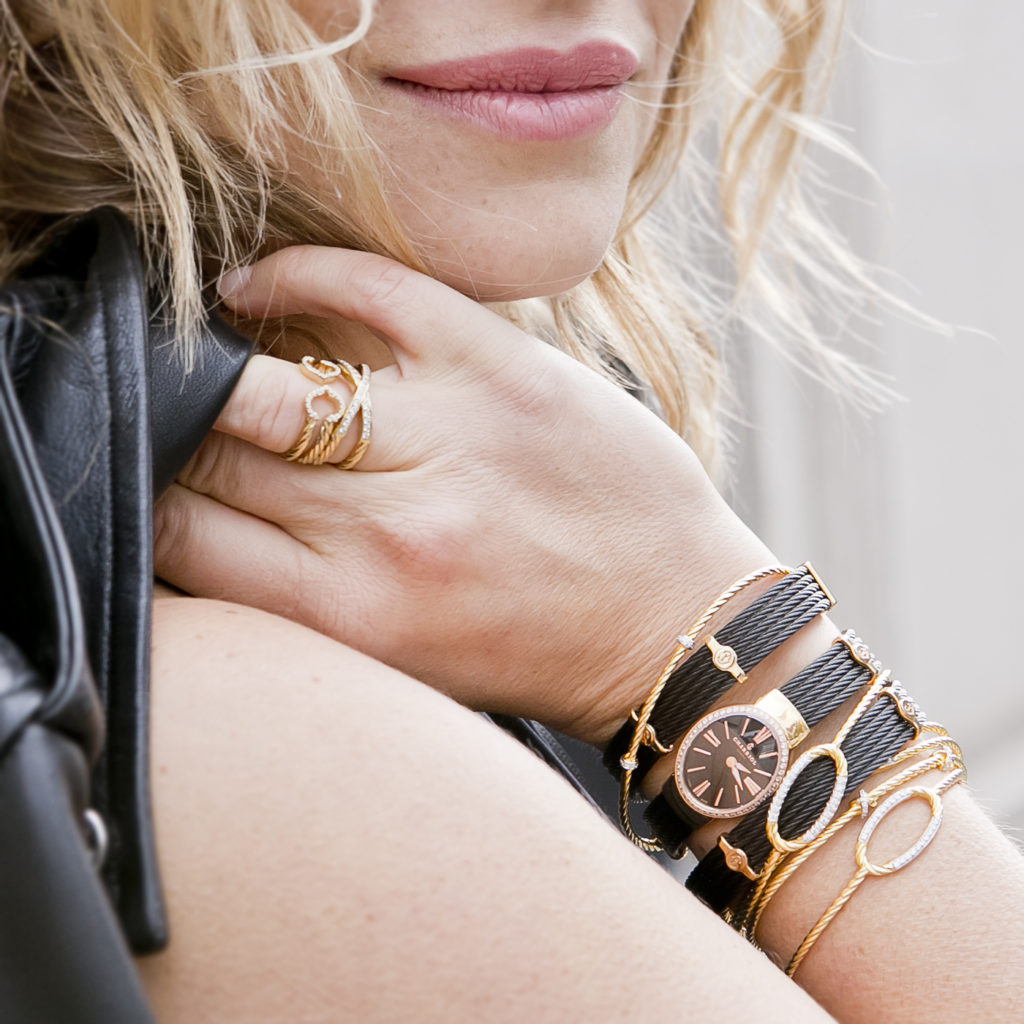 What do you wear every day? What is your uniform for comfort?
I never leave home without a watch. I have many watches and like to coordinate them to my outfits (same with jewelry). However, with this new Fil d'Or line, I never have to take the pieces off! It's so light and delicate. I sleep in my jewelry! I never take off my circle necklace or thin bangles.
What is the most fulfilling thing about designing? About being a mother?
Two moments that are the most fulfilling and exciting are when you first come up with an idea, and then when you cross a stranger in the streets wearing your creations. Nothing is more satisfying than seeing someone bought what you made, something they thought was beautiful. On being a mother of three, the most fulfilling moment is when your kids tell you they love you without any prompting. Melts my heart! Also when someone tells you that your child was polite, charming and lovely, makes you so proud to be raising decent human beings. Having both family and career completes me. I am not defined by one or the other, but fulfilling multiple layers of myself.
How do you face the challenges each day to come up with new ideas?
Coming up with new ideas is sometimes hard and sometimes easy. Once you are plugged into the trends and you have your signature material, you get new ideas all the time. I love this part—the brainstorming, the research, the sample making. Sometimes you are repeating a design but with a new little twist. I would say the most important lesson I have learned is that for everyday jewelry, people like simple. www.charriol.com