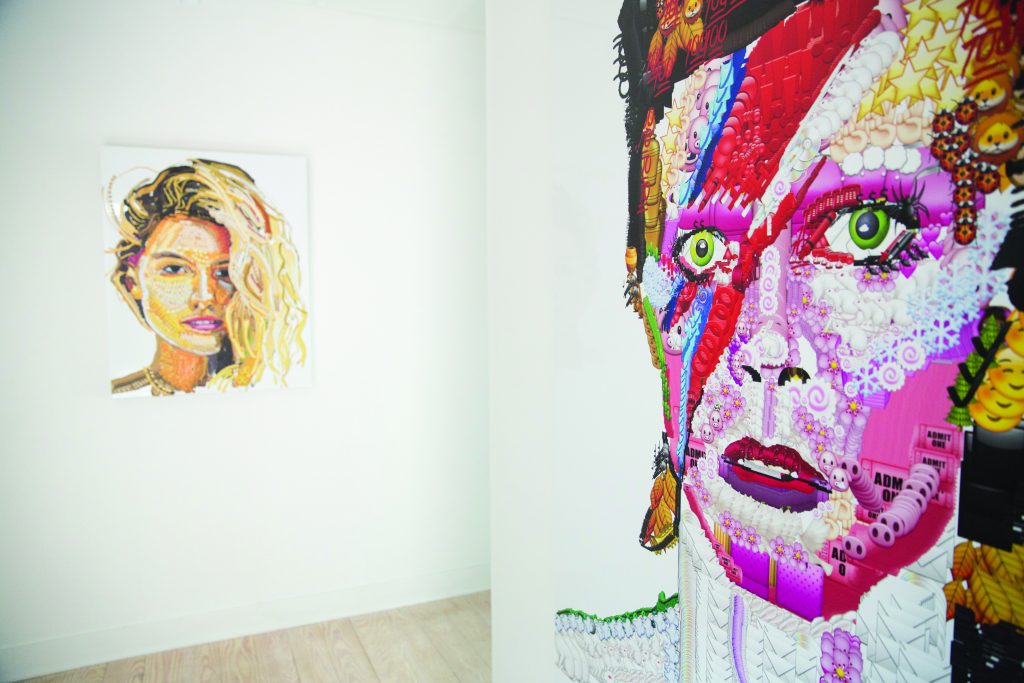 Katherine Bernhardt, NYC-based visual artist
KB: Who are your favorite artists or major influences? Do you like Archibald? Gustav Klimt? Or Elizabeth Peyton?
YJ: It's impossible to name all of my influences, because everything I've ever interacted with has influenced me to some degree. Here are some well-known influences that I find important: Louis CK, Kanye West, Avatar: The Last Airbender, [Carl] Jung, [John] Baldessari, [Cy] Twombly, Richard Long, Chris Burden, Chief Keef, Lil B, Pendleton Ward, Rocket Power, Hey Arnold!, South Park, Doug, Kirby 64: The Crystal Shards, 2 Chainz, Paul Thomas Anderson, [Alfonso] Cuarón, [Alejandro] Iñárritu. I am especially inspired by people who create in a variety of ways and share their gifts however they feel.
KB: Are your works inkjet on canvas or metal or paper?
YJ: The works are UV-cured ink on dibond. [Gallery owner] Tripoli Patterson and I chose this technique based on quality and archival properties. Since the works are created digitally, it is important that we use high-quality techniques available to produce these unique works.
KB: Did going to CalArts influence your way of making art? How?
YJ: CalArts was very influential. It was there where I departed from traditional oil painting to a career in interdisciplinary digital art under the name Yung Jake. It opened a mental door for me to create however I wanted to.
KB: How does living in L.A. influence your art?
YJ: Living in L.A. has made me work without the underlying pressure of art needing to be sold, or in competition with other artists. That is how I felt in New York.
KB: Can you make your art anywhere if there is a computer?
YJ: Yes, I make art anywhere.
KB: Did you make a drawing app?
YJ: My business partner Vince McKelvie created the app Emoji Ink, which allows users to paint with emojis. It was his concept. I just happened to be good at it.
KB: What are you working on next?
YJ: Aside from commercial/client work I do with my company Tight Corp., I am working on a clothing line, a store and a couple things for TV.
Alicia G. Longwell, Chief Curator of the Parrish Art Museum
AL: Saw your terrific Emoji Portraits show today and thought about the first time I saw your work at the Fireplace Project a few years back—also portraits. Struck by the similarities although certainly different approaches to the genre. How do you see the work evolving?
YJ: I think this series will continue as is until I get bored of it. I have plans to start doing the portraits while the subject is present, and maybe have a more controlled studio setting to get a consistent look for source imagery.
AL: …instead of from photos. Interesting! Look forward to seeing those.
David Rimanelli, writer/Artforum contributor
DR: Congrats on your current show. What is the motivation behind your choice of subjects?
YJ: Thx David. They're mainly celebrity. In this series I look to create iconic imagery so general fame helps this. Some of the more esoteric subjects are iconic in a whole other way people will feel connected to, because they feel part of a singled-out crowd.
Mary Heilmann, NYC-based contemporary artist
MH: Hi Jake. Mary here. Just wondering: Do you have a paintbrush?
YG: Hi Mary. No, I don't own a paintbrush.