By Cristina Cuomo
Among three friends in their forties, all-natural beauty has become a religion. For actress Naomi Watts, nourishing her skin is as much a part of her life as nourishing her mind and body. It was only befitting that she partner with childhood friends, fellow Aussie Sarah Bryden-Brown and New Yorker Larissa Thomson, on their quest to make healthy products a part of every person's daily regimen.
CRISTINA CUOMO: Tell me about the indie film that you're starting next week.
NAOMI WATTS: It's called Luce, and it's about a family who adopts a 10-year-old boy from West Africa, a child soldier. There are so many important themes going on in the film. It's about trust, identity, adoption, racism, refugees…it's a very timely, provocative conversation.
CC: And you are doing another one on the tail of that?
NW: Yes, another tiny, weeny film called Wallflower, about a woman who has agoraphobia. It's tricky, tense stuff. She never leaves the house, which I can identify with at times. [laughs]
CC: Well, everything comes to your home now, so you don't have to leave your house.
NW: Exactly. But that one's set in the '70s, where you really did need to leave the house.
CC: True. I find that wellness is pervasive in every decision we can make, and I was thinking about how you've chosen to shoot films and TV series in New York—you've spent a lot of time here. Is that a conscious choice?
NW: Absolutely, and it's predominantly guided by the fact that I have kids in school, and it's really difficult for me to travel and it was important to Liev [Schreiber, the father of her boys] and I to create structure and routine as much as we could.
CC: And roots.
NW: And roots, yeah. Both of us come from a background that was relatively unrooted, which meant lots of moving around and a lack of structure. And now, of course, our family dynamic is a little different, but we're still trying to keep it together in the most regular possible way, and that means co-parenting, staying in one city. The kids go to public school for now, which is great, and they're exposed to a lot—exciting, adventurous and privileged things—so it feels good. The public schools in New York are fantastic.
CC: A big part of our conscious choice to be wellness-focused is because of our children. That certainly is how it was for me. What was the defining moment for you?
NW: I'm someone who's been drawn to healthy food and healthy living all my life, but I like to have fun as well. And I'm not here on a soapbox saying this is how it should be done, by any means. That said, my mum—I grew up in the '70s—was making brick bread and crunchy food, and I actually crave that kind of food. That's the way I've always loved to eat, and they didn't call it organic or wellness food—it's just how we lived. The same with exercise. I like to keep healthy and yeah, approaching this age, you do start feeling like you want to take the best possible care of yourself. We start off fairly pure…why not try and end it as close as possible? Not that I'm saying, by any means, that we're at the finish line now. I feel energized by the fact that we are able to look back on how we've lived—now let's take care of the way we look forward.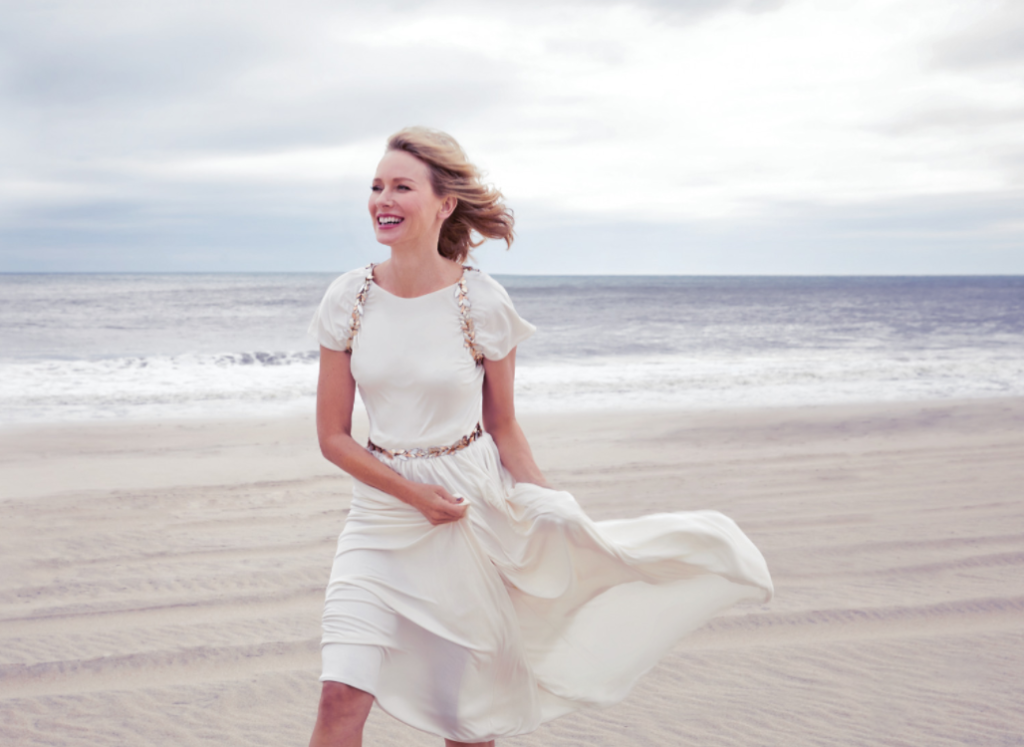 SARAH BRYDEN-BROWN: For me, it was approaching 50. My 18-year-old daughter was already on the wellness track; she was already way ahead of me, so I think that made it a lot easier for us to do it as a family.
CC: What about you, Larissa?
LARISSA THOMSON: I've always been attracted to the wellness lifestyle. I've been trying to exercise, eat right and continue down that path for a long time. First everyone started changing the way they ate, and then it was changing their cleaning products. It just seems like a natural progression to move into other areas—right now, it's beauty products.
NW: These products, in all the different variations that they come in, feel nice, smell nice and my skin has been responding really well to them. That's not to say that I don't ever want to put another chemical on my face again—if something feels right, then I'll do it. But going off the set and into my bathroom, and putting on these three or four—maybe more sometimes, maybe less—products after that kind of day of bright lights, heavy makeup, applied over and over again, it feels good to strip it away and put on something that you know has been living, and it's just there on your skin. It feels good.
CC: That's a good point. How long have you all known each other?
LT: I met Naomi about 12 years ago. She had just started dating Liev, and Liev and I went to high school together here in the city, at Friends Seminary, where my son goes now. I remember the night we met. They were on a date at Da Silvano.
SBB: Naomi and I met when we were teenagers, about maybe 15, 16.
NW: We went to school together in Sydney, in Australia.
CC: And how did you two meet?
NW: Larissa had been in the industry for a long time.
LT: Yeah, I was in fashion magazines for 24 years. I knew I wanted to do something in the wellness arena and I decided that natural beauty was the direction I wanted to go in. About a year and a half into it, I realized that I really needed a partner with an opposite skill set—I'm the creative and product person. One night, out of the blue, Naomi texted and said I think you should really come over and meet my friend Sarah, so I ran over there and had a drink.
SBB: And she ate Vegemite.
LT: I did, and loved it and that was the night…
SBB: I had been a magazine editor in Australia and then moved into digital and to startups—I was working on my third, and had been talking to Naomi about it. We took what I had built and we turned it into Onda Beauty. The infrastructure of everything that I created became the bones of this business.
NW: And I was looking for a side passion.
SBB: You're a very good connector.
CC: Yeah, that's very impressive.
NW: I have got a good track record in certain ways.
CC: Well, Malcolm Gladwell says there are connectors and influencers in the world. I know that you mentioned to me before that once you started using the all-natural products, everything changed—your skin changed, you felt different.
NW: Yeah, and again, I'm not poo-pooing other brands or chemicals. Dr. Colbert does my skin as well. Every now and again I go; he has a three-step process called the Triad Facial, and it does really brighten and lasts for a while. My skin is really sensitive, probably because of my age, and I really abuse it by putting makeup on. I find that it just can't handle things that it used to be able to handle.
CC: Do you think that working in films, being in hair and makeup everyday, is taking a toll on you?
NW: 100 percent.
LT: One of the important things that people don't realize, and probably what Naomi is experiencing, is they often don't look at products that they put on their skin as food, and really it is food for your skin, food for your hair. So if you nourish your body and nourish your skin properly with non-toxic products, you're going to see the benefits by having radiant skin and fuller hair—because really, what you're doing is feeding your body from the outside and you're feeding it properly.
CC: Like with those unpronounceable ingredients—if you can't say it, you shouldn't be putting it on your skin or in your body. But what are some of the ingredients that you are finding to be beneficial?
LT: Hyaluronic acid, which we all produce naturally—but as we grow older, it breaks down and we don't produce as much of it.
NW: Retinol.
LT: The gentle retinol, a Vitamin A derivative, is very effective. The one ONDA carries is safe.
NW: I swear by that one.
LT: Vitamin C for brightening and feeding your skin is also really effective…it's an antiaging powerhouse when mixed with ferulic acid. And as you get older, you don't produce collagen as much.
SBB: The Beauty Chef does that.
CC: And The Beauty Chef is one of your brands?
LT: Yes.
SBB: All of us love The Beauty Chef. Your body produces collagen, but the Beauty Chef elixir is fermented. All of the ingredients in the collagen elixir help your body produce more collagen faster.
CC: What's the philosophy behind the name ONDA? I know it means wave. As a surfer girl, I get it.
LT: The beach is my religion. I've been going to Tulum [Mexico] for about 24 years. It's a very calming, special place for me. When I was about a year into this business and trying to think of names for it, I was walking down the beach and I saw a sign that said "onda" and I just liked the way the letters looked together graphically. A friend of mine who lived down there said it means "wave," but not really like ocean wave. More like flow or flow of energy, flow of events or ripple. It seemed to resonate with me, because my life was transitioning and flowing forward. It felt right and I liked the way the word looked, to be honest.
SBB: And sounds.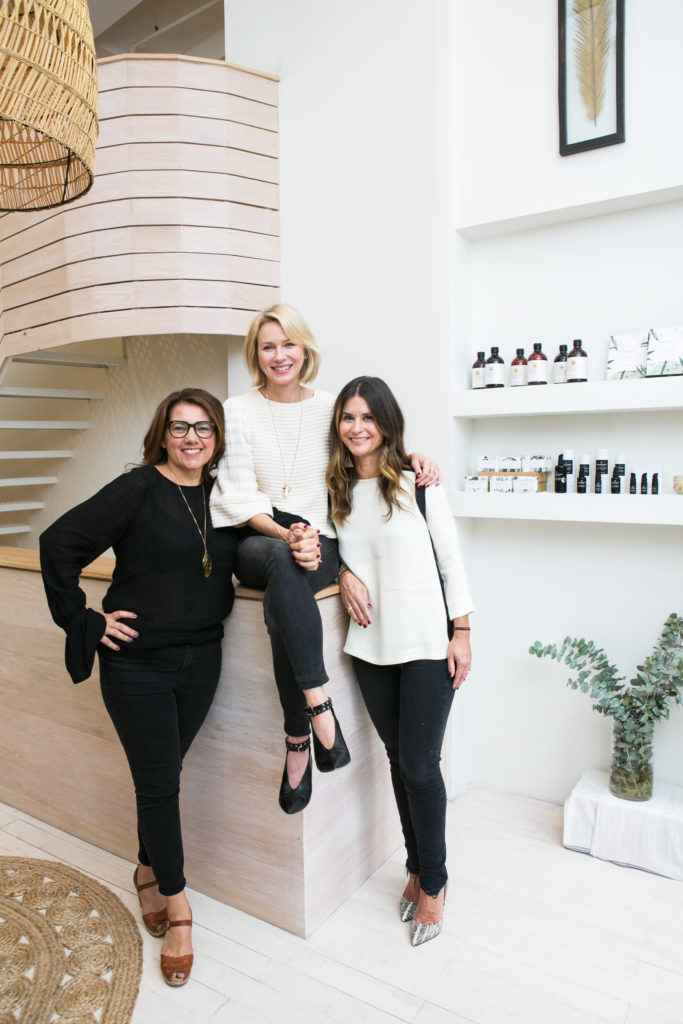 CC: When you think about the genesis of viruses, disease, from what we're ingesting, what we're putting on our skin, isn't it important to steer people down the right path?
SBB: You can't go wrong with natural. No matter what it is, if it's all natural, nontoxic, clean, everything's worth trying.
CC: What does the daily skin care routine look like for you?
NW: It changes because my needs change. I find myself getting dry, and then I can be oily depending on what's going on with the elements and where I am: traveling, sleeping, working. If I've got makeup on, I love ONDA's African Botanics oil cleanser, my everyday cleanser. I love the May Lindstrom Skin honey masque.
CC: You put that on every day to remove makeup?
NW: Not every day. It's special, like, I'm gonna give myself a facial and feel really nice.
SBB: It's exfoliating when you add the Clean Dirt.
NW: You add the Dirt and you mix it up, make a nice paste. And the retinol.
CC: Gets rid of the wrinkles?
NW: It does. It helps boost collagen and smooth out fine lines and wrinkles. There's a Glow powder—just throw that in a smoothie with some kale and banana, some blueberries. I also put it in a glass of water as much as I can.
CC: You have some all-natural makeup brands, which are great. Can you speak to the fact that what goes on your skin goes into your bloodstream?
LT: Your skin is your largest organ, and it absorbs what you put on it.
SBB: Skin is not a barrier—it's actually porous. And will absorb faster…
LT: And will go straight into your bloodstream. A lot of women use a lot of makeup and don't always wash it off.
NW: Oh yeah, remember those days?
CC: Going to bed with all of your makeup on.
LT: Waking up with all your makeup on.
CC: I still wake up like that sometimes. What is that one thing you think that a woman should be taking every day?
SBB: Glow Inner Beauty Powder. It's got 26 superfoods. Even in one day, or over a week you wouldn't get as many nutrients from those 26 foods as you do through Glow, because the ingredients have been fermented prior to production, for faster absorption into your body.
CC: Like you were saying, you are what you eat. What is the one thing that you drink every day besides Glow? Is there a green juice elixir you like to make at home?
NW: I love making my smoothies with kale, with one of those NutriBullets. Starting the day with green juice, throwing in whatever I've got berry-wise, fruit-wise, bananas…
SBB: I've been putting a tablespoon of almond butter into my smoothies—not only does it make it taste nuttier, but that almond butter is really good for you.
LT: I've been making the same smoothie almost every morning, with almond milk, almond butter, kale, and dates. I also like drinking turmeric elixers, with turmeric and honey, sometimes cayenne.
CC: Anti-inflammatories.
LT: Anti-inflammatories are cleansing, but like Naomi is saying, it's all about balance in life.
CC: What is your secret to happiness, and how does this all fit into it?
NW: Feeling good about yourself—that's a start. And happiness is a choice. You have to work for it. I don't think you just get handed happiness. It's never anyone else's responsibility, unless you're a child.
LT: Taking risks too.
SBB: And female friendship.
LT: I think it's also really important to open the doors that you're hesitant to open in your life, and take a really good look at who you are and what you want and what's important to you and be honest with yourself and everyone around you. Honesty is the gateway into clarity and peace.
NW: And owning who you are.
LT: 100 percent. Being almost 50, I'm planning on owning that in every ounce of what I have because what's the choice?
SBB: Yeah, we're all about to turn. Well, Naomi just turned 49 and I'm in January.
NW: I don't know what you're talking about. I'm in my 30s. [laughs]
Photography by Mary Ellen Matthews
Styled by Gretchen Gunlocke Fenton
Makeup by Alexa Rodulfo for Dior Show, AlexaRodulfo.com
Hair by Benoit