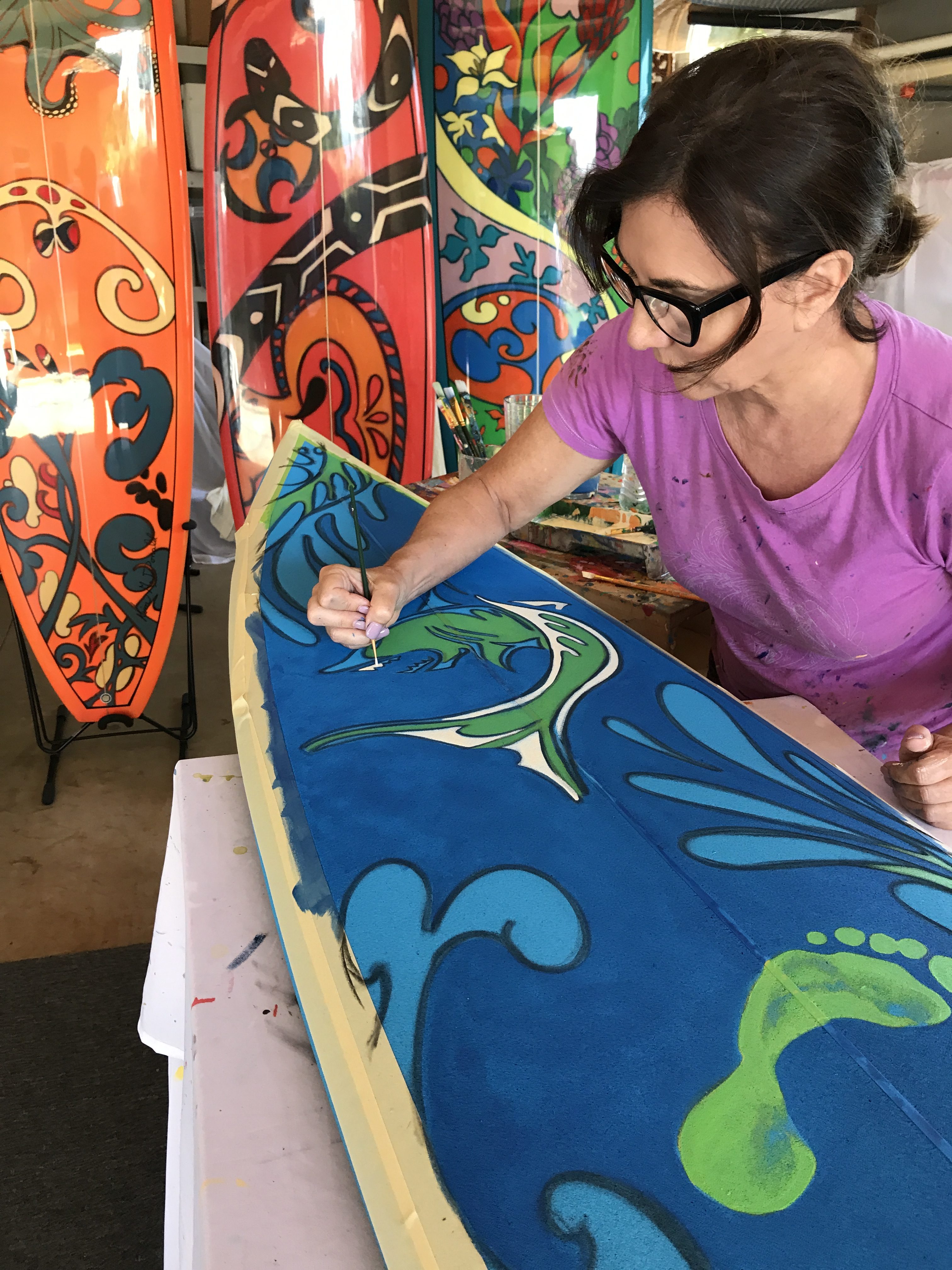 Maui artist Kim McDonald and pro surfer—and seven-time SUP World Champion—Kai Lenny have collaborated to create a collectible autographed surfboard with all of the proceeds going to the Surfrider Foundation. The board will be auctioned off online in the Primal Patterns Auction until April 23, 2018 at 6 p.m. EST. Visit www.kimmcdonald.com/auction for more information or to place your bid. The "Soul of the Sea" surfboard is a world-class shaped board, hand-painted by McDonald featuring Kai Lenny's footprints and signature.
PURIST: What brought you to Maui? Did you grow up there?
Kim McDonald: I grew up in South Shore in Lake Tahoe, CA. My love for water spots has always pulsed through my veins, so moving to Maui very much felt like home to me because I love being by the water.
I had been living in Aspen as a ski instructor and ski coach and went with some friends to Maui for a summer to follow my passion for water sports. I fell in love with windsurfing, the people of Maui, surf culture and beauty.
The wind and waves are incredibly moody and whimsical, which matched perfectly with my design aesthetic and colorful palettes—it was the perfect match I had been looking for artistically.
P: Seeing your studio has become a popular destination for art aficionados staying in Maui. What can one expect on their visit?
KM: I try to make the experience of visiting my showroom a reflection of the fun-loving spirit of the surf culture. I have two abundant showrooms full of surfboards and fine art located between Paia and Mama's Fish House. I love welcoming friends and art lovers into the gallery during their trips to Maui.
P: What inspires you?
KM: The sensuality of the island culture—the colors and movement of the ocean all play a part in what inspires me. I love the animals that live in the ocean and the people who truly enjoy spending time in the water. There is an unspoken strength that the people in ocean or surf culture share. They have a greater connection and respect for each other and the world around them. That has prompted this project with Kai and the Surfrider Foundation.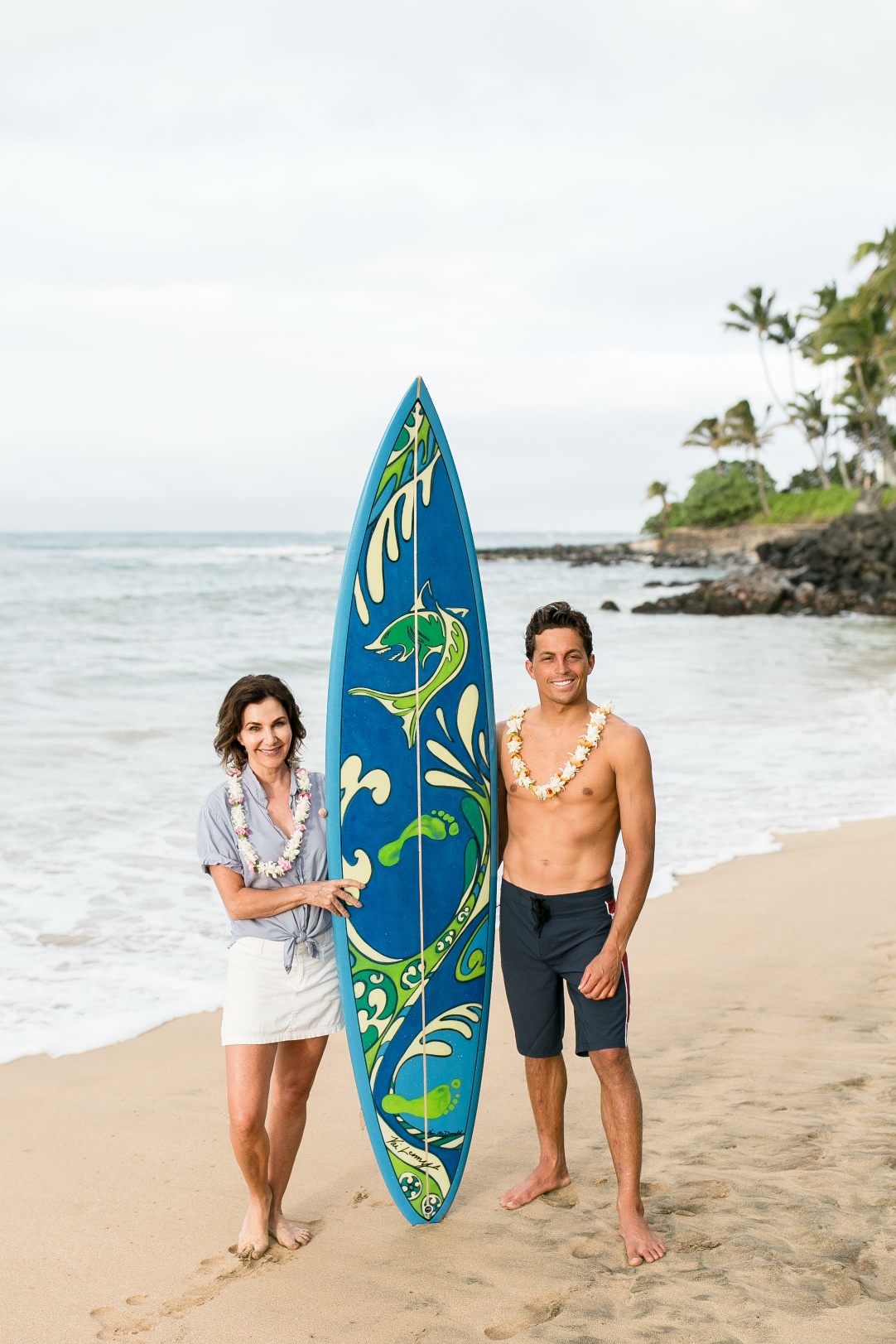 P: How did you first meet Kai Lenny?
KM: I've known his parents, Martin and Paula Lenny, for years from my time spent on Maui. One day I ran into them on the beach and met their (at the time 8-year-old) son Kai, who was eager to jump in the water to go windsurfing. I could see the passion and skill that he possessed for water sports before he even got into the water, and could tell he was an expert, just as talented as any adult—it was intuitive to him.
Kai possesses not only the perceptivity and athleticism that it takes to be a World Champion waterman but he also has a huge heart for protecting the environment and coastline he plays in everyday, which is why I wanted to partner with him specifically to give back to the Surfrider Foundations' commitment to protecting our beaches and maintaining healthy water systems throughout beach communities and thus the entire world's water systems.
Now looking back on his success in becoming an eight-time World Champion, I am so proud and honored to be partnering with him on this auction. This exciting, new artistic adventure is a dream come true.

P: Explain the "Soul of the Sea" surfboard and what the artwork on that entails?
KM: I joined forces with Kai Lenny and was moved to develop a unique concept with my surfboard art, bringing the elements of his footprints and autograph—along with my design aesthetic—to life on a gorgeous aqua blue Gun Surfboard. The blue represents the ocean, and the green and white represent the movement in the waves of the sea. The shark is Kai's spirit animal. In Polynesian culture, sharks represent power, strength and luck.
P: Why did you choose the Surfrider Foundation?
KM: I've volunteered with the Surfrider Foundation a handful of times through the past few years and I'm so impressed with all they do to save the environment from a local level to a national level. If water is unhealthy in one area of the world, it will impact all ecosystems, no matter where we call home and the Surfrider Foundation works tirelessly to be a positive part of the change that needs to happen along our coastlines.
I hope this is the first of many projects where I use my art to help raise awareness and funds for causes like the Surfrider Foundation.