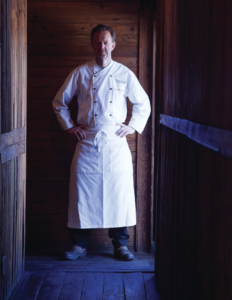 by Hilary Stunda
How do you best describe your unique cooking style?
Nutritarian cooking. International best-selling author Dr. Joel Fuhrman came up with the word "nutritarian," which describes a person who seeks to eat the most nutrients per calorie. The Nutritarian eating plan allows for small amounts of meats, but in general advocates foods with a high phytonutrient profile. I provide cooking demonstrations, and lecture for Fuhrman's annual retreats in Aspen and around the country.
What drives you as a chef?
Nutritional science. Authors such as Dr. Michael Greger have made it easy for anybody to access and benefit from the latest studies in nutrition. The fun part is when I get to use ingredients from a scientific finding and then apply my skills as a chef to create a flavorful dish.
Can you share an example?
Phytates in grains and legumes, quercetin in onions and apples, curcumin in turmeric have all been credited with lowering the risk of digestive cancers. Herbs and spices have long been used as health remedies and fall into the super-foods category. We make our own spice blends, like Moroccan ras el hanout, garam masala and blackening spice. When I learned that cumin works similarly to baby aspirin in its health benefits, I doubled down on that spice in my recipes. Guests love the additional flavor!
Any advice for vegetarians, who have a reputation for having low energy?
In Aspen. we have a very active lifestyle. For sustained high energy, look for healthy calories in the form of complex carbohydrates and protein. Sweet potatoes, red quinoa and nuts are good sources. Additionally, nitrates found in arugula and beets help dilate arteries. Healthy iron in the form of apricots, Swiss chard and pistachios increases oxygen supply and allows your muscles to extract more energy. A menu I created for bicycle racers started with a quinoa, beet and arugula salad, horseradish-almond dressing and pomegranate reduction. For an entrée we served a garam masala-spiced sweet potato, Swiss chard with cashew butter, preserved lemon and apricot chutney. Since visitors always ask for high-energy foods I have placed the dishes on the menu.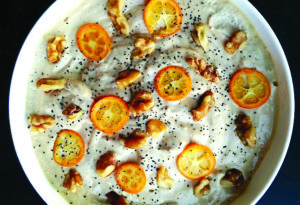 What are your best local produce sources? And which fruits and veggies are your favorites to cook with?
Throughout the summer we get produce from a variety of Colorado farmers, from Montrose to Palisade to Paonia. Abundant Life (Hotchkiss) and Mattics Orchard (Olathe) are some of the farms we use. My favorites are Chioggia beets (I use the greens in our vegetable blends), garlic scapes, spring onions, peaches (I love to grill them for dessert and serve them with maple nice cream, which is vegan and dairy-free), Swiss chard, and Olathe corn (it has the most dense corn flavor of any variety I have ever tasted).
How do you contribute to the current movements toward eco-gastronomy and minimizing food waste?
The biggest environmental contribution we can make is to offer more plant-based foods. As far as food waste is concerned, a majority of people do not use the stems of vegetables. Minerals travel from the ground up, so we really should eat all the stems to maximize mineral intake. We have incorporated this in the form of shaved broccoli, Swiss chard and kale stems. Vegetable peels are used for stocks, and in general, we have very little waste.