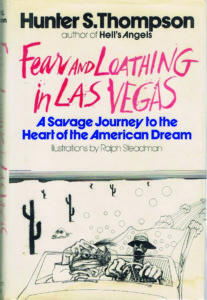 by Scott Lasser
Glitz and glamour, snow and skiing, pampered pets and plastic surgery—you'll find it all in Aspen. But add to your list something else: literature. Aspen has given birth to The New Yorker magazine, gonzo journalism, and some of the most exquisite prose this country has ever produced. Travel the nation and you won't find a small town more important to American letters.
Why Aspen? It probably starts with the local penchant for irreverence. Take, for example, Harold Ross, born and raised in Aspen when it was a mining camp. From these humble beginnings, Ross went on to found The New Yorker, which from the beginning delighted in send-ups and parodies still found in the magazine today. Ross loved to flaunt decorum. Wrote John Cheever, "[W]hen he discovered I would jump whenever he used the word "f***"…he would frequently say "f***" and watch me jump."
Ross was but a prelude to that master of impiety, Hunter S. Thompson. The father of gonzo settled in Woody Creek in 1967. Thirty-eight years later Johnny Depp paid to have Thompson's ashes shot out of a cannon over the land where Thompson created his most famous works, including Fear and Loathing in Las Vegas and The Rum Diary. Along the way there were copious piles of drugs consumed, alcoholic beverages imbibed, firearms discharged, and sundry adult activities. Journalists traveled up to Thompson's Owl Farm to interview the great man, only to reappear days later, claiming (quite plausibly) that they had little memory of what had transpired.
In 1970 Thompson ran for sheriff on the Freak Power Party ticket and damn near won. The mind boggles at what might have transpired after a Thompson victory: his election poster featured a peyote button ensconced in a fist. Thompson also gave birth to a cottage industry of books about himself, including The Kitchen Readings by Michael Cleverly and (the since-retired) Pitkin County Sheriff Bob Braudis, and Jay Cowan's Hunter S. Thompson.
Thompson is hardly the only Aspen author to sell truckloads of books. From Aspen, Leon Uris wrote some of the most popular novels (and movies) of his day, including Exodus and QB VII. He also collaborated with his third wife, Jill, on several books. Judith Barnard and Michael Fain, writing under the name Judith Michael, comprise another husband-and-wife writing team. Their numerous bestsellers include Deceptions and Private Affairs. Clifford Irving, of Howard Hughes fame, spent many of his later years here.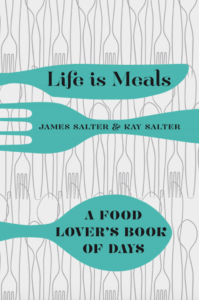 And then there's James Salter, whose novel A Sport and a Pastime is universally considered a classic. Salter also wrote the script for Robert Redford's Downhill Racer. Something of a gourmand, Salter published Life is Meals, part cookbook, part guide to the good life, written with his wife, playwright Kay Eldredge. Here is Salter, capturing Aspen with a few choice words: "Aspen is the chief bauble of American resorts….Like Paris, Aspen is a city of light, gaiety, generally civilized behavior."
Has Aspen's literary engine slowed? If anything, it's gaining momentum. Novelist Maria Semple sprang from Aspen, had a stellar TV career, and then turned out three novels. Local working novelists include Claire McDougall, Joe Henry, Linda Lafferty, Tom Bernard, Denny Vaughn and Cathy O'Connell. There's also poet and essayist Bruce Berger, and nonfiction authors Mark Seal and Jeremy Bernstein.
How does a small town draw so many writers? It certainly helps that Aspen has Explore Booksellers, a first-rate bookstore. And then there are the locals. Asked if he's inspired by Aspen, novelist Bruce Ducker—author of Dizzying Heights, a hilarious and irreverent community sendup—says, "Not the place, but the people here who think it's a lovely place to live." He points out that Aspen is the kind of town where the guy next to you at the bar might actually have read a book.
Aspen Words Executive Director Adrienne Brodeur says, "Aspen values great writing and is generous in its support of writers, all of which conspire to make it the small-town literary mecca it is."
Is the mecca as wild as it was in Thompson's day? Make a late stop at, say, the J-Bar during the summer conference and you just might get your answer. And the next time you're out for a cocktail, talk to the guy next to you. He's probably read a book. He may even have written one.