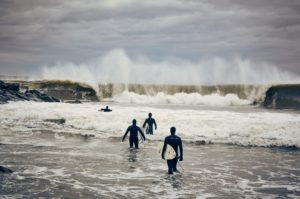 By Charlotte DeFazio
Beyond New York City's skyscrapers (and an Uber drive or ride on the A train) lies a coastal gem of beach life with a touch of urban grit and style. The Beach 67th Street stop off the A is conveniently located near Breakwater Surf Co., a friendly and knowledgeable surf shop that provides board and suit rentals three blocks away from the beach.
Beginners and first-timers are advised to head out with an instructor from one of the top surf schools: New York Surf School, Skudin Surf or Locals Surf School. This season, the latter is opening Locals Collective, a café on Beach 69th Street and Rockaway Beach Boulevard serving healthy pre- and post-surf eats. As the food options are limited in this part of Rockaway, the spot is sure to be an instant hit. The Locals Collective also offers monthly memberships for 24-7 board storage and indoor bathroom/shower facilities—a godsend to all the commuters schlepping surf gear. If you don't want to commute, explore Airbnb listings or rent out the renovated Locals House (from $550/night, thelocalshouse.com) or Kook House (from $500/night, kookhouse.com).
There tends to be more activity toward Rockaway Beach Park, where popular places to eat include Rippers (grab a quick smoothie or fresh juice), the Caracas Arepa Bar off the boardwalk, and a medley of vendors further out at Jacob Riis Park. Off Beach 90th Street, the Rockaway Beach Bakery (for drip coffee and vegan pumpkin bread) is a favorite spot, as is the Rockaway Beach Surf Club, which hosts events throughout the summer, like the New York Women's Surf Film Festival.
To buy or rent boards on this side of the tracks, check out Station RBNY or Boarders Surf Shop. For those seeking a handcrafted New York board, Falcone Surfboards has a reputation for shaping the best in town.
Visit nycgovparks.org for a full list of rules on surfing Rockaway Beach.