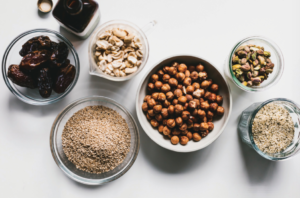 By Stef McDonald
We've come a long way since coffee shops and grocery stores began offering nondairy alternatives to milk: soy, soon followed by almond. Then the alternative plant-based milk barn gates opened, introducing an assortment of nut and seed varieties, from macadamia to hemp and oat-nut milks, or "mylks," as they are called. Nut mylks are made by blending water with raw nuts that have been activated, or soaked for several hours in water, a process that breaks down enzymes to make the nut more easily digestible. But most labels on nut-mylk products reveal ingredients that include thickening agents, synthetic vitamins and sugar.
"When it comes to almond milk, only about 2 percent of what is actually in the carton is almonds," says nutritionist Nora Gedgaudas, author of Primal Fat Burner. "This is basically true of virtually any commercial nut-mylk product, I'm sorry to say. Most of what the consumer is paying for in these products is water and a number of additives that are a real mixed bag, along with a minute smattering of nuts."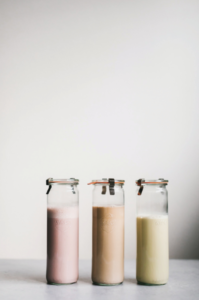 What you don't see on a label: the red-flagging of pesticide residuals. Gulp. Conventionally grown nuts and seeds are sprayed with pesticides—roughly 30 different pesticides for macadamia nuts—that "can really add up, and be compromising to human health," says Gedgaudas. On the flip side, organic macadamia nuts provide a source of stable monounsaturates (the good kind of fatty acid) and make a creamy and tasty nut mylk, as do cashews and hazelnuts.
Of course, not all nuts and seeds are created equal. Gedgaudas cautions against hemp milks, as most hemp is grown with pesticides and "is very low in anything akin to vitamins or minerals, and is a source of inferior protein." Gedgaudas' advice: Make your own nut milk at home with organic ingredients. Here's her recipe, from Primal Fat Burner:
INGREDIENTS
1 cup unsweetened shredded coconut
1/3 cup raw macadamia nuts or almonds
1/2 tsp. non-GMO sunflower lecithin
1/8 tsp. Himalayan sea salt
INSTRUCTIONS
Put the coconut, nuts, lecithin and salt in a large, powerful blender and add 4 cups of purified water. Cover and blend for two minutes, or until smooth. Strain through a colander lined with a double thickness of cheesecloth or a nut-mylk bag (found at many grocery and home stores) and into a large bottle or other sealable container with a spout for pouring. Cover and store it in the refrigerator for up to four days. Makes about 1 quart.
For fresh plant-based milk delivery on the East End, opt for Tulo Mlk.