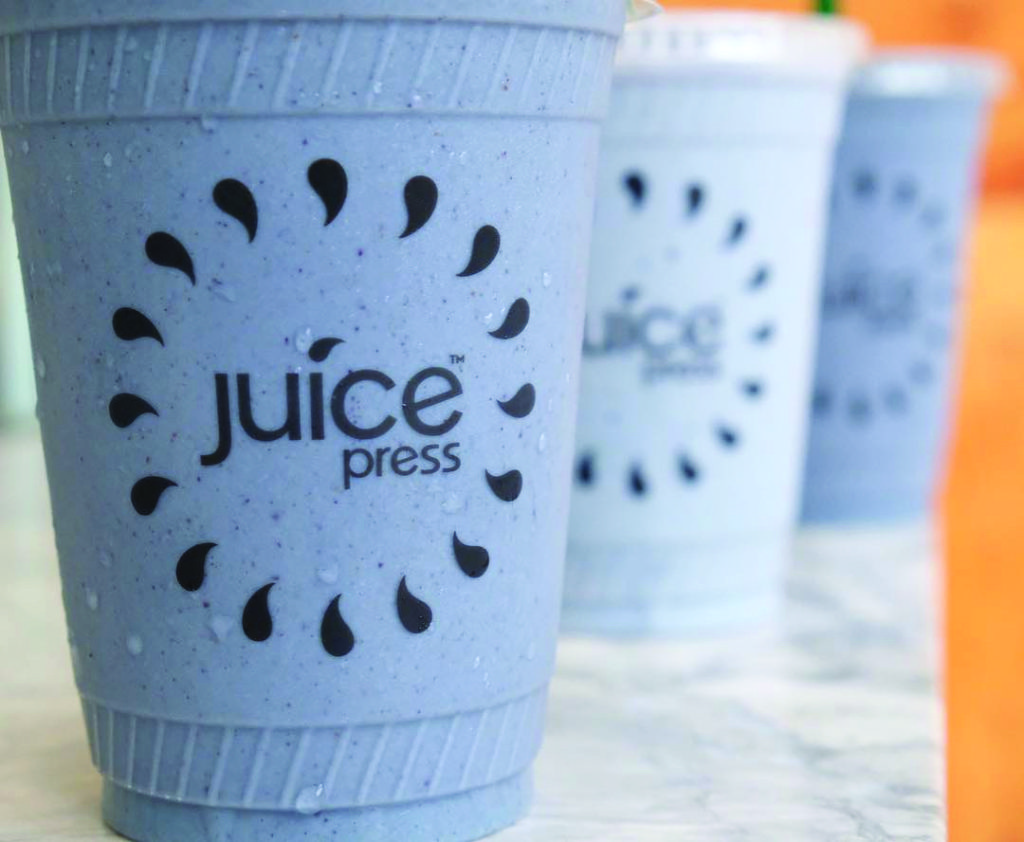 By Michele Shapiro
On any given day in the Hamptons, temptation abounds—from decadent tiramisu at Sant Ambroeus to the homemade peach ice cream at Sip'n Soda. Fortunately, for those who lead a plant-based lifestyle, Juice Press is expanding its presence locally and offering delicious treats that are both satisfying and guilt-free.
In addition to its outposts in East Hampton, Bridgehampton and Southampton, the rapidly growing chain has a new collaboration with SoulCycle at The Barn in Bridgehampton. The renovated space will feature a bar at which spinners and devotees of The Class by Taryn Toomey can treat themselves to one of Juice Press's restorative beverages after a tough workout.
Erica Karsch, who co-heads the product innovation and development process for Juice Press, will likely be first in line. "I was a SoulCycler from day one," she says. Erica and husband Michael, Juice Press' CEO and chairman of the board, live on the Upper West Side. "I remember when the first studio opened. It's exciting to see how much they've grown in 12 years."
Juice Press is on a similar trajectory. When Erica and Michael joined in 2012, the company had only four stores in New York City. Now there are 80, both in the tristate area and beyond. Michael credits the rapid growth to strategic partnerships with brands such as Equinox, Whole Foods and Adidas. But they've also worked hard to earn the trust of consumers. "Customers don't see us just as a juice company," says Michael. "They see us trying to create the healthiest options for whatever categories are in their non-meat diet, from soups to salad dressings." At the brand's New York City locations, the latest beverage craze is the energizing Blue Magic smoothie, packed with 20g of protein.
This summer, Juice Press fans can also add soft serve to their must-try list. Already on offer at its 365 by Whole Foods, Fort Greene, and Empire State Building locations, two flavors of soft serve that is both plant-based and organic—chocolate and berry (aka Fountain of Youth)—are available in Southampton. The company worked for 18 months to perfect its concoctions, which can be served naked or with a variety of toppings like toasted quinoa and dark chocolate chips. Based on one of Juice Press' top-selling smoothies, the Fountain of Youth soft serve is water-based, giving it more of a sorbet-like texture, while the chocolate is creamy and sweet. "We didn't want to put cane sugar and dairy in it," says Erica. "Eventually, we figured out how to create creaminess with cashew and coconut milks."
If you prefer your treats on tap, but want to avoid excess carbs and empty calories, Juice Press has your back: You can enjoy a strawberry-acai kombucha at both its Southampton and East Hampton stores. The company also launched a bottled kombucha line just in time for summer.
Erica, whose been coming to the Hamptons since she was 2, walks on the beach daily in Southampton, where she and Michael own a home. He sometimes accompanies her, or opts for a pickup game of basketball. But this summer, there's something he's looking forward to even more. "I want to sit at the bar in The Barn and watch everyone drink juice." Cheers to that!