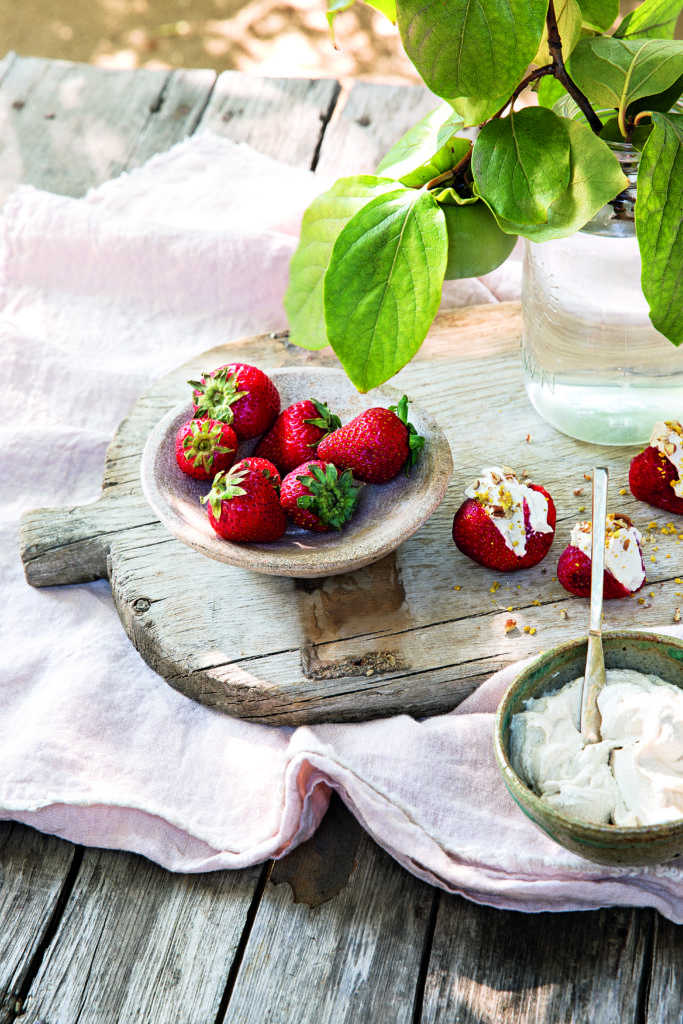 CRISTINA CUOMO: We've come a long way as a nation, adapting much of your early understanding of nurturing the total being and holistic health. You were a pioneer of this concept, and many have incorporated your retreat experience into their daily lives. What is the formula for a healthy life? What percentage of that success is food and nutrition?
CATHARINA HEDBERG: Love, laughter, healthy organic food, moving the body and communication with nature in any way possible.
CC: What is your favorite way to commune with nature?
CH: Hiking or walking in silence anywhere where the trees and mountains surround me and nature's amazing beauty feeds my soul.
CC: Can you explain the difference between vegetarian and vegan to readers who may not know?
CH: Both diets are meat-free, but a vegetarian diet is generally one that includes dairy products and eggs—vegan diets do not. At The Ashram, we offer a dairy-free vegetarian diet, with humane pasture-raised eggs that taste like liquid sunshine, and raw honey, because of its nutritious and healing values. Some vegan diets do not even include honey, as it is made by bees.
CC: Why do you serve a lot of raw food?
CH: Many reasons, but mostly because it boosts the metabolic process, provides valuable food-based enzymes and serves as fibrous roughage to sweep the intestinal tract. Raw organic vegetable fiber is one of the fastest and simplest means to detoxify the body. It is always an adventure for the palate to try new raw food dishes.
CC: When is it best to serve warm food?
CH: There are many different schools of thought about this. I feel it is an individual choice and we should be aware of what makes us feel the best, whatever theories come our way. At The Ashram we are not especially dogmatic, but we have found that after a long day of physical activities, guests feel emotionally nourished with something warm for dinner, but it is usually also served with a leafy green salad.
CC: What are some of your favorite classic recipes?
CH: Our Sprouted Chickpea Raw Hummus is very special. Unlike other raw hummus, ours is not made with tahini. We make it with fresh red bell pepper, turmeric and olive oil. It has a lovely light orange color and tangy flavor. We serve this dish with our Seasoned Roasted Kale Chips and a simple balsamic dressing. This meal is always a winner!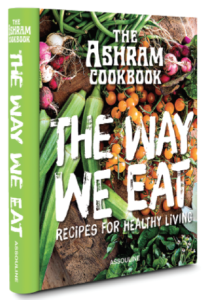 CC: What is a favored new recipe?
CH: The Carrot Zip Zap Dressing is quite inspiring. It is made from raw carrots, miso, fresh ginger and sautéed shallots. It has this incredible flavor that lends its excitement to anything! We have been serving it at The Ashram both as a snack as well as with our sweet and savory braised Daikon Nimono dinner, with Jing Time Rice, avocado and Mellow Kraut. The whole meal is so curious and lovely and a great example of how to balance cooked food, raw food and fermented food.
CC: Can you tell us some foods you recommend eating every day?
CH: Vibrant, leafy salad greens. Add a little of various greens like spring mix, arugula, romaine, chard, kale, mache, mizuna and dandelion to whatever else you are eating. Greens provide chlorophyll, minerals and antioxidants to help you feel satiated. Good sources of fat are important to address inflammation, and have many other health benefits; opt for raw nuts and seeds, cold-pressed oils, olives and avocados. Fermented foods like sauerkraut are vital for gut health. Let's not forget to have a healthy sweet treat: a beautiful bowl of colorful mixed fresh berries!
CC: Is there a particular herb you love to cook with? What are its health benefits?
CH: We have started to use shiso here at The Ashram, and are growing it in our organic garden. We put it in a salad with shaved fennel, fresh ginger and steamed beets, and we also use it in our vegetarian sushi rolls. It has a totally unique flavor that brings a little mystery to every meal. As for health benefits shiso [also known as beefsteak leaf] is said to stimulate peristalsis. It fits in perfectly here as a detox herb.
CC: You mention in your introduction to the book about using chopsticks on retreat to slow down the eating process. Why is it important to slow down?
CH: We all eat too fast these days, as our daily rhythm has speeded up. This is one way to encourage mindful eating.
CC: What are some ways to nurture the soul?
CH: We are all individuals with different ways of nurturing ourselves. I think it is important that if we discover something in life that makes us feel happy and balanced we should use that as much as possible.
CC: Why are love and laughter the most important ingredients to create healthy habits?
CH: Positive energy feeds positive vibration. Living a life in a loving manner on all levels and adding laughter on top of that, you will have an unbeatable combination to a happy, healthy life.
CC: What has been the most rewarding thing about changing and in some ways saving so many people's lives over the years at The Ashram?
CH: The reward is just that: To see the changes people go through in such a short time when they're here and they give their bodies, minds and souls the right ingredients. It is a miraculous transformation to witness. We all are such amazing creations!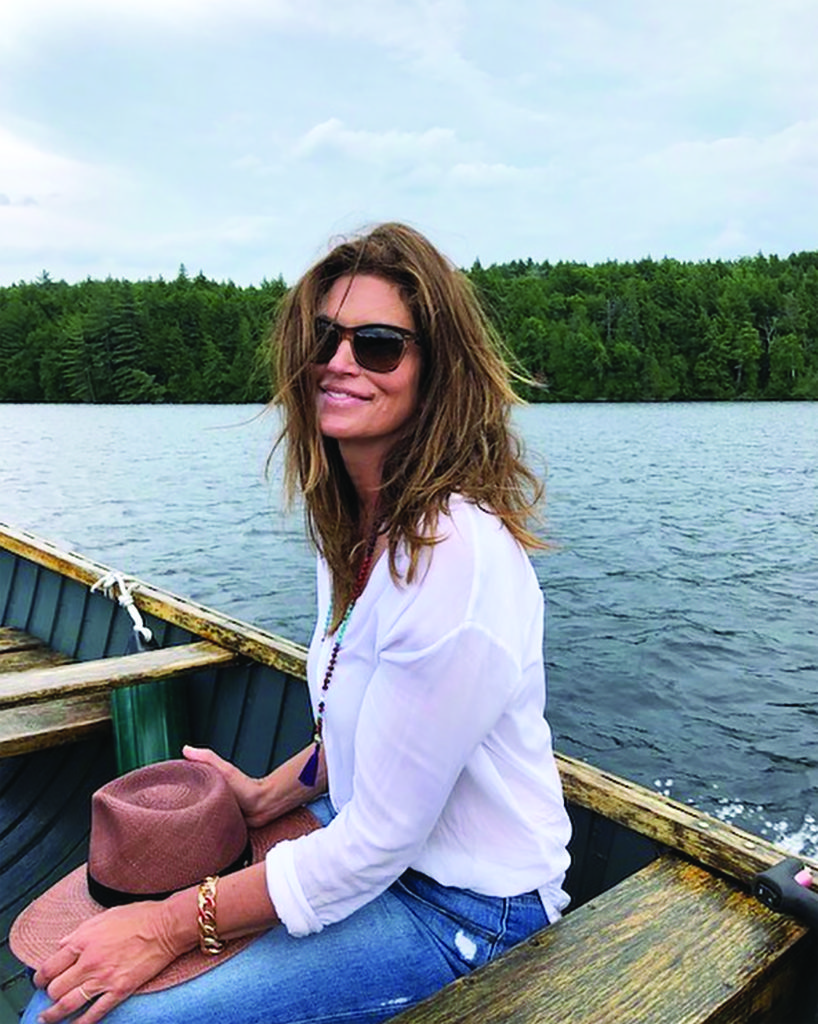 In The Ashram Cookbook: The Way We Eat, Cindy Crawford expresses her deep gratitude for the life lessons and extended family of friends she's met at the wellness mecca.
I first went to The Ashram when I was 28, heartbroken from a divorce. I was welcomed by Cat's open arms and shown my tiny room. Waking up early for yoga in the dome, I looked around at the 11 strangers sharing this experience with me, nervous about what I had signed up for.
The Ashram isn't easy; it definitely takes us all out of our comfort zones. After a small breakfast (and no caffeine!) we pile into a large van and head out for a four-hour hike. The hikes are beautiful, it's the perfect place to think and to make new friends, and you are happy for conversation. In fact, later when I would go with the same group year after year, we would pride ourselves on stretching a five-minute story into a 30-minute saga, the exact opposite of how we usually tell happenings in regular life.
Returning famished for lunch, we gather around a large table and take a moment to be grateful. This gratitude nourishes us as much as the food, which is healthy, real, mostly raw, and delicious! It's a great opportunity to try out being vegan, and even though the portions look small at first, the meals always end up being just enough to satisfy.
After a blissful hour to nap or sit by the pool, next up is pool volleyball, which is definitely the highlight of the day (along with an incredible massage, which you absolutely need in order to get back on the trails the next morning). This is followed by a strengthening class like Pilates or weights, and then pre-dinner yoga. By dinnertime, everyone is exhausted and so happy to sit down together by the fireplace's flickering light and share a meal together. Once again, we share our gratitude and dig in. The delicious food warms our bellies and souls. Some head off to bed after dinner, but I tend to curl up on the big sectional in front of the fire and get to know my fellow campers. I have met so many incredible people and lifelong friends here. With the publication of The Way We Eat, now even more of us can become part of The Ashram community and experience its unique recipes and approach to eating. Thanks, Ashram!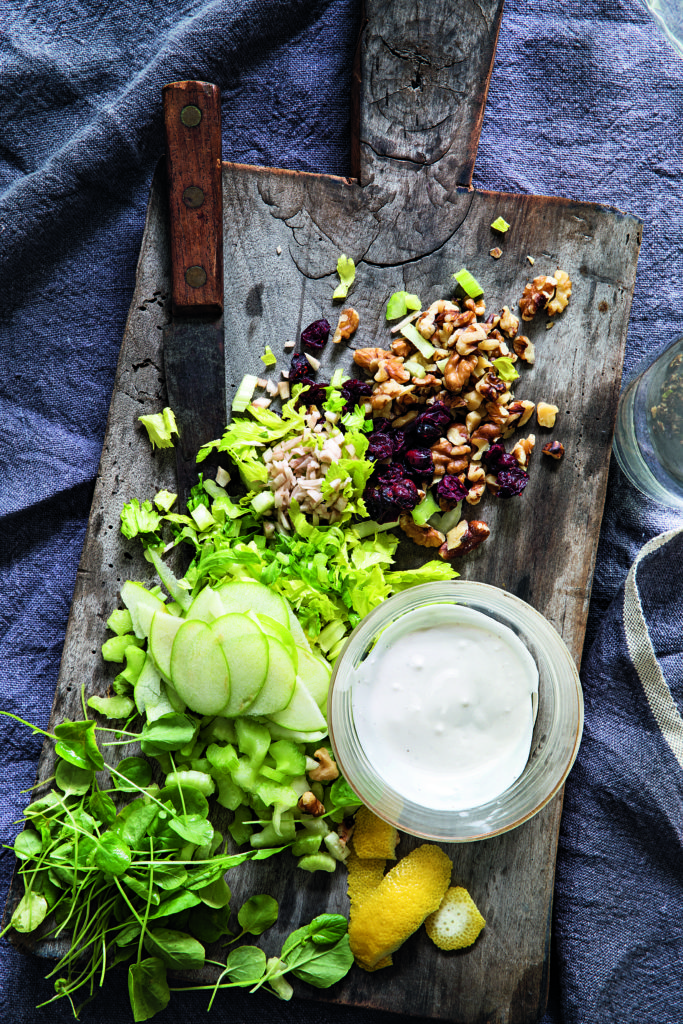 Celery Waldorf Salad With Zesty Honey Lemon Cashew Dressing
Serves 2-4
2-4 cups water, as needed
2 tbsp. freshly squeezed lemon juice
2 green apples, cored and sliced into thin ringlets
1 cup burdock (gobo) root, peeled and diced
6 celery stalks, thinly sliced crosswise
½ cup inner celery leaves, chopped
1 cup raw walnuts, chopped
½ cup dried cranberries, sweetened with apple juice
1 cup flat-leaf parsley, minced
2 tbsp. lemon zest
Freshly ground black pepper
Zesty Honey Lemon Cashew Dressing, for drizzling
Green salad, for serving (optional)
Watercress leaves, for garnish (optional)
Before prepping apple and burdock root, combine water and lemon juice in a medium mixing bowl.
Immediately after cutting the apple and burdock, immerse in the lemon water to prevent oxidation. Drain just before adding to salad.
In a large serving bowl, combine celery stalks and leaves, walnuts, cranberries, and parsley, add the drained apple and burdock, and season with lemon zest and black pepper. Drizzle with Zesty Honey Lemon Cashew Dressing and toss gently to coat.
Zesty Honey Lemon Cashew Dressing
Makes ¾ cup
½ cup raw cashews, soaked 2-4 hours, drained and rinsed
⅓ cup water
2 tbsp. lemon juice
1½ tbsp olive or flaxseed oil
½ tbsp. white wine vinegar
1 tbsp. raw honey
2 tsp. apple cider vinegar
½ tsp. freshly ground black pepper
½ tsp. sea salt
1 dash white pepper
In a high-powered blender, combine all ingredients and puree, first on low then gradually raising the speed to high, until the mixture is smooth and creamy.
Use immediately or transfer to a glass jar with a tight seal, and store in the refrigerator for up to 5 days.
Recipe by Suzie Spring Bohannon from The Ashram Cookbook, The Way We Eat: Recipes for Healthy Living, (Assouline), assouline.com