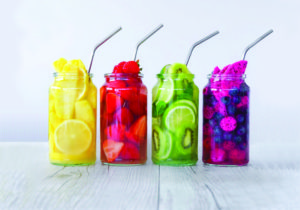 By Amely Greeven
Kara Goldin asks tough questions. Does the word "diet" mean that a soda actually does less damage to our bodies? And are we 100 percent sure that slathering excessive minerals on our bodies in the name of suncare is completely safe? The founder and CEO of the unsweetened, fruit-infused bottled water brand, hint, and its sibling product, the newly-launched oxybenzone- and paraben-free hint sunscreen, is a wellness warrior who does not quietly accept the status quo.
"In the past 13 years, the number of diabetics and pre-diabetics in the U.S. has skyrocketed to almost 40 percent of the population," Goldin says, referring to the timeline of her massively successful beverage brand. "Ask most of them, and anyone struggling with weight issues, if they drink full-sugar soda or diet, and most will tell you they're drinking diet. So I ask, what are the fake sweeteners doing? And moreover, why as a society are we still pushing them? The reality is that there is big money behind disease—and it's a very bad reality!"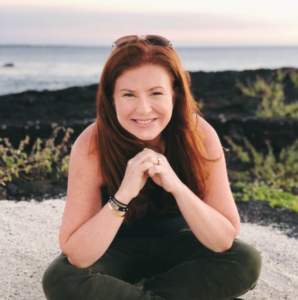 Goldin's fruit-infused hydrators offer a path back from addicting chemical enhancements to water, one built "for the millions of people like me, who find plain water boring." But taking her privately owned, "purpose-driven" beverage brand head to head with the industry behemoths dominating shelf space in stores today has been quite the hero's quest. "Let's just say I could write a book about the backstory," she laughs. The adversity has not stopped her. Pushing the bar of what's possible—taking preservatives out of flavored water, encouraging a de-sweetening of drinkers' taste buds, stripping 40 percent of hint's plastic packaging, and making the industry's first recyclable bottle top—is in Goldin's DNA. (Not to mention, upcycling the fruit residues from beverage production to scent the sunscreen.)
Today, the mother of four is taking on a new behemoth: the regulating bodies that keep bottled water out of the public school system. "As part of the federal school lunch program, the National Dairy Council decrees that drink choices for grades K through 8 are milk, OJ, and tap water," she explains.
"But since tap water is a utility whose safety can't be vetted or easily fixed—as Flint, Michigan, showed us, this is a bigger issue than we want to know—and school nutritionists tell me they struggle to get their students to drink water in the first place, I'm arguing that a natural flavored water is an option kids deserve." When the bipartisan senators she recently met with in D.C. agreed with her cause, Goldin used the inspiration as fuel to the fire that propels her purpose-driven calling. "We should do it because it's the right thing to do." drinkhint.com