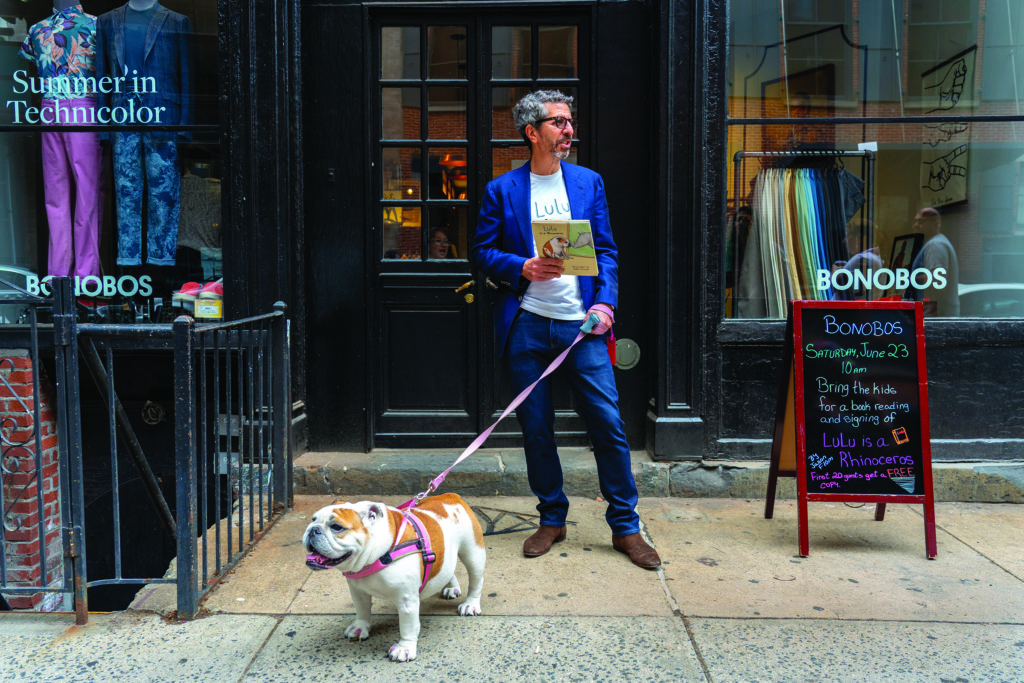 The New Yorker called Jason Flom "one of the most successful record men of the past 20 years," known for his "specialty in delivering 'monsters.'"
But Flom has found a different definition of success these days. He hosts a podcast called Wrongful Conviction, which features interviews with men and women who have spent decades in prison for crimes they did not commit; some of them were even sentenced to death. He is a founding board member of the Innocence Project and founding benefactor of The Bronx Freedom Fund and also serves on the boards of Families Against Mandatory Minimums, the Legal Action Center, the Drug Policy Alliance and the NYU Prison Education Program. In addition to his activism, last month Flom released his first book, Lulu Is a Rhinoceros, co-written with his daughter, Allison Flom. The book tells the story of a bulldog who believes she is something else and goes in search of her true self.
PURIST: What does "transformation" mean to you?
JASON FLOM: When I think of transformation I think of the proverbial caterpillar turning into a butterfly. Obviously, transformation can and does take many forms—including some that are negative—but for the sake of this exercise let's focus on positive transformation. In my own life, transformation has been symbolized by my crazy journey from being a wannabe Jimi Hendrix to chairman and CEO of three of the biggest record companies in the world, and more importantly, from being a drug-addicted college dropout to a pioneer in the field of criminal justice reform. I have borne witness to transformations that border on miracles in my professional life and philanthropic work; what I mean is that I've helped to transform struggling musicians into global superstars and people who seem permanently stuck in a lifetime of incarceration into productive members of free society.
PURIST: Of the Innocence Project's many successes, which ones are you most proud of? What are some of the ways the foundation has transformed lives?
JF: Through my work as a founding board member of the Innocence Project, I established transformative programs including what has become the Innocence Network Conference and the Life After Exoneration program to help recently released individuals who are struggling with the various stigmas that come with being incarcerated to get back on their feet.
PURIST: Your father was an influential figure in the legal field and a prominent philanthropist. How did he influence you?
JF: My dad, the legendary lawyer Joe Flom, was my hero and my mentor, and he instilled in my brother and me at an early age a message we never forgot: "Do you whatever you want to do. Try to be the best at it. But just make the world a better place. If you can do that, then you'll be a success in my eyes."
PURIST: You've recently written a book with your daughter, Allison. What was that experience like? Lulu, the character in the book who is based on your own dog, has a transformative experience in the story. What does Lulu learn?
JF: Lulu is a small creature with a big heart who is determined to be accepted and loved as who she is, not what she looks like. Through her journey, she encounters skeptics, bullies and even misplaced sympathy, but she perseveres. She's brave, she's kind, and she knows who she is. That makes her a role model.
PURIST: What have you learned?
JF: I've learned that everyone you meet is fighting a battle that you know nothing about, so the default setting for all of us should and must be kindness. I've also learned that the meaning of life can be found in performing random acts of kindness.
Jason Flom will speak at Connect 4 on August 17 at 1PM.