By Dimitri Ehrlich
As a kid, Bob Roth did not expect to grow up and become one of the world's leading meditation instructors. Raised in a politically aware Jewish household in Greenbrae, California, he planned on entering politics, but through a chance encounter while a student at Berkeley in the late 1960s, Roth discovered the startling power of quieting his own mind.
"Literally, within moments I felt deep waves of physiological relief, relaxation, energy and a sense that I had stumbled upon something that would be very important for my life," Roth recalls.
After meeting Maharishi (the Indian guru best known for teaching the Beatles to meditate) in 1970, at Humboldt State University, Roth's life was changed forever. "Maharishi was what any skeptical 19-year-old like myself would want a meditation teacher to be," Roth recalls. "First and foremost, he was a man of science. He inspired me to want to be my own best self and to do something great in the world." Roth went on to spend the next 50 years teaching Transcendental Meditation (TM) to inner-city youth, veterans and victims of domestic violence.
In his role as CEO of the David Lynch foundation, Roth has helped provide scholarships to 1 million people all over the world, bringing meditation to at-risk adults and kids at no charge. Roth has also taught the practice to some A-list names not often associated with sitting still: Jerry Seinfeld, Katy Perry, Tom Hanks, Oprah Winfrey, Hugh Jackman, Martin Scorsese and Russell Brand. Whether you're a celebrity or a survivor of trauma (or both), meditation is useful because, Roth says, it "produces a unique state of restful alertness during which the body is profoundly relaxed while the mind is deeply settled but wide awake. The purpose of meditation throughout the ages has been to bring equanimity—and power—to the mind."
Roth is also the author of several books on the subject—including most recently Strength in Stillness: The Power of Transcendental Meditation, a New York Times best-seller about the mechanics of TM, published earlier this year by Simon & Schuster.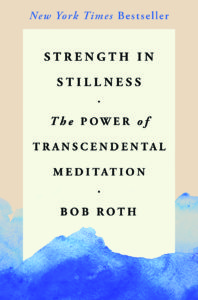 "In TM we learn how to simply dive within and access our own inner quiet self," Roth says. "We learn how to innocently give the attention of the mind an inward direction." This shift toward an inward direction can prove especially helpful for those whose focus is normally outward on business or the material world. Which is why Roth also directs the Center for Leadership Performance, another nonprofit that brings meditation to Fortune 100 companies, and hosts the SiriusXM radio show, Success Without Stress.
So how does Roth define success? "Success is living 200 percent of life," he says. "That's 100 percent outer achievement in your chosen profession and 100 percent inner development of the mind and body's full potential. This produces balance in life. So many of the most successful, most creative people in finance, medicine and the arts meditate because it allows you to have both inner and outer; not sacrifice one for the other."
For those curious to learn more about how Transcendental Meditation works, Roth will be sharing his experiences in conversation with Mary-Louise Parker at Connect 4 at the Bay Street Theater in Sag Harbor on August 16.