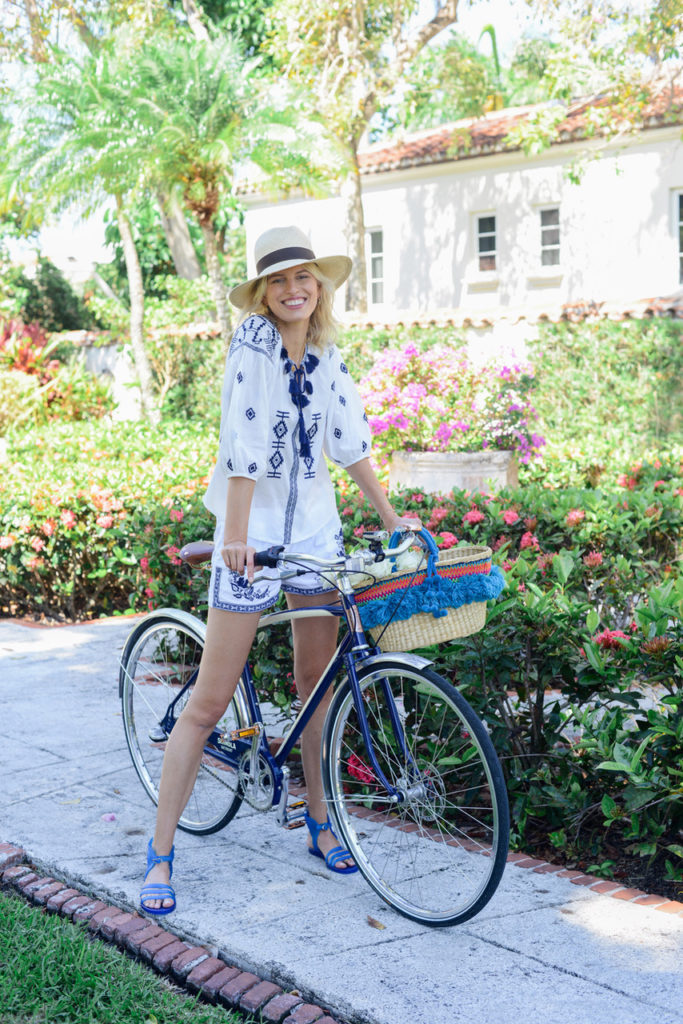 You may recognize Karolina Kurkova from one of the many images she has shot over the years: Her bright smile, long legs and healthy look have graced many a cover and campaign. Her energy and enthusiasm for life comes through every picture. Those we know in common can't say enough about her as a loyal friend and mother who's got a fantastic work ethic. I was so delighted to learn that this year Karolina launched Gryph & IvyRose, a line of products centered on children's health that covers bath to bedtime, complete with tinctures and probiotic remedies. We are proud to carry them at Botanica Bazaar. I was excited to ask Karolina about her vision for Gryph & IvyRose. —Leilani Bishop
LEILANI BISHOP: How long has Gryph & IvyRose been in the works, and what inspired this endeavor?
KAROLINA KURKOVA: The project was really inspired by all of us as parents. Our co-founder, Rachel Finger, met our other co-founder, Orion Nevel, after Rachel's twins were born at just 28 weeks, weighing 1.5 pounds each. Through acupuncture and the herbs that Orion formulated, she was able to see incredible, life-changing results with issues that she was having. That got the conversation going with Orion about how to offer alternative methods and solutions to all parents. It was an organic partnership—I had been exploring these types of methods for years. After meeting and being inspired by the experts, I knew I had to be involved. I immediately jumped in, and started helping with product development and brand awareness.
We received our first round of products at the end of 2017, and started sending it out to our network of friends, retailers and consumers for feedback. The response was unreal. It proved our theory that people are not only ready for something like this, but they are craving it.
LB: Did you grow up in a health-conscious environment, and if not, what was the turning point for you to lead a healthier lifestyle?
KK: Growing up in the Czech Republic and Europe, I spent a lot of time at my grandparents' place. They had a lot of land, lots of fresh fruits and vegetables. My grandma would make everything from scratch with whatever the garden had to offer. It's funny, because I never really realized that eating natural foods was a luxury, because it's all we and everyone in our community knew.
When we would get sick or have a tummy ache, my grandma would go to natural remedies that her mom would use. From generation to generation, they'd pass down different recipes. I still use some of it with my kids.
For me, in the fashion industry where you have to travel in different time zones and perform on camera, a healthy lifestyle is important. I have to radiate a shine and glow, not just from my skin but with the energy that I give on set, too. I know that the only way that I can achieve that is by taking care of myself. I don't just mean my skin, wearing makeup or beautiful clothing, but really taking care of myself from the inside out. And it's no different, if not more important, to introduce this to our children at a young age, which is what we're doing at Gryph & IvyRose.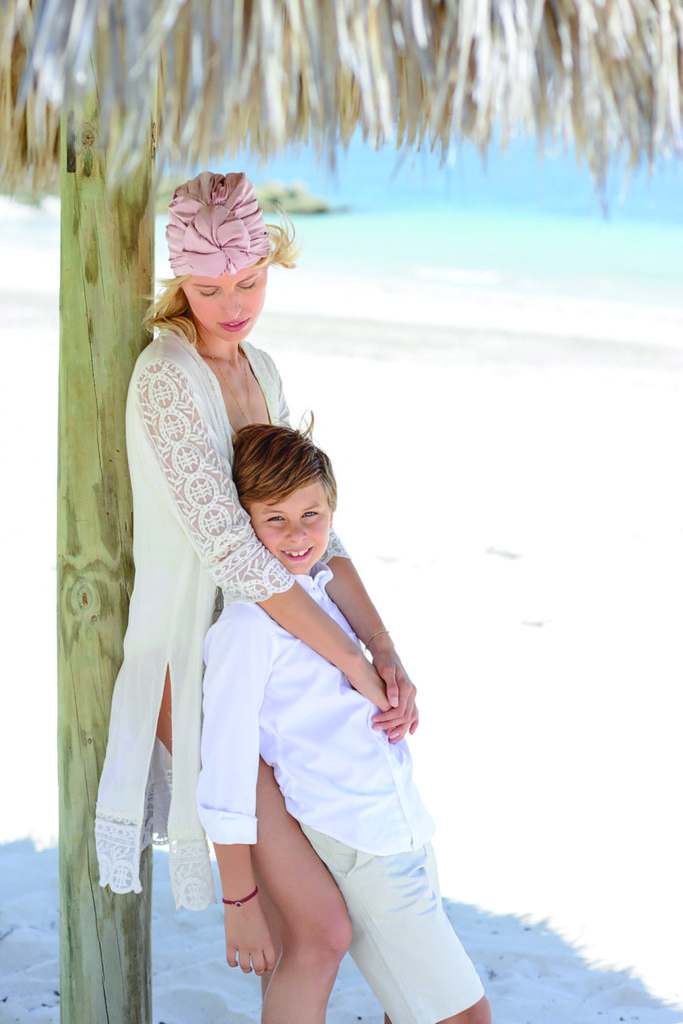 LB: I love that you are making probiotics for kids, especially ones that don't have to be refrigerated! Early gut health is so important for long-term health. Can you speak more about your experience with how probiotics have been beneficial to your children?
KK: I use probiotics for my kids almost everyday. Especially when we travel, I really make sure we take them regularly, because we are outside of our home and can't always control what we are eating. I want to make sure that we are boosting our immune systems. It's not always feasible to keep children from getting sick, and that's not necessarily the goal either, because it's important to build immunity, but I definitely attribute my children's strong constitutions to the use of probiotics, and know that it will serve them well in the long run. If for some reason the kids have to be on antibiotics, I feel confident that I have the right tools they need to build back up afterward.
LB: How did you meet Dr. Stephen Cowan? I know his book, Fire Child, Water Child, is a must-read for parents.
KK: I have owned Dr. Cowan's book for a couple of years, before Gryph & IvyRose began. A friend recommended it to me, and said it was a very interesting read. I like how Dr. Cowan uses Chinese elements to understand our children and each other more. He teaches us how to respect and support one another according to our individual needs.
I love how Dr. Cowan comes from the world of Western medicine, but uses a lot of Eastern practices. He's a huge part of our team and how we formulate products. I love who he is as a person—he is so kind and great with kids. I call him the kid whisperer! He really does have a gift.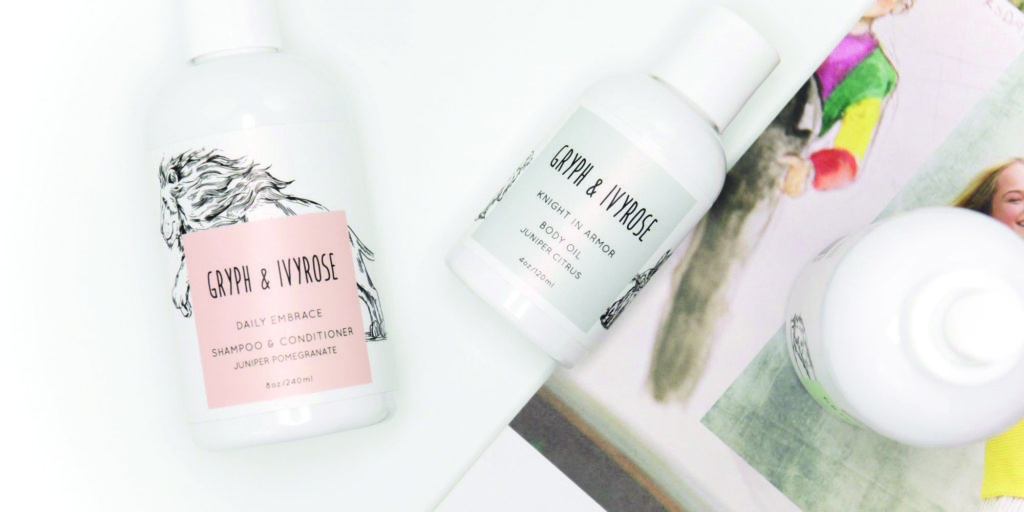 LB: What do you consider your hero product from the line, which should be in every child's bathroom or medicine cabinet?
KK: I will go with what my boys love. For my son Tobin, it's definitely Call it A Night, which supports a healthy night's sleep. He likes the taste, and it has become a part of his routine. Both of my boys love the Daily Embrace shampoo-conditioner. They like the smell, and the way it leaves their hair smooth and shiny. And of course, Chocolate Hearts, because it is a little treat but with probiotics.
LB: I am a big fan of tinctures, but find people are still hesitant to believe they work. Can you tell us why and how Gryph & IvyRose tinctures are effective?
KK: My partners and I also thought that people would be hesitant, but when we've been at product events, the elixirs sell the most. Forceshield, which supports a child's healthy immune system, is actually one of our top sellers. We were so surprised at how many people were open to these methods. They offer natural solutions to challenges that so many of us have as parents, and that's where the benefit is. We chose that delivery system because it's been tried and tested over thousands of years in Chinese medicinal cultures. It's what our experts have been seeing positive results with, in clinical settings over the past 30 years.
LB: Traveling and keeping up with your busy lifestyle can be a challenge. What are your health tips, and what is in your travel kit that keeps you healthy and grounded?
KK: While I am traveling, I try to keep myself healthy and sane. I do love face masks. I think they are great on the go, when you don't have time for a facial. They give you a nice glow and de-puff your face. It's something you can do for yourself wherever you are.
I travel with the Call It A Night herbs, especially with different time zones and jet lag. It helps me to relax and get ready for bed. I love traveling with my essential oils, like lavender and peppermint oil. I normally pack protein bars for a quick snack on the go.
And, I'm almost never without a color lipstick, as it always gives the face a nice pop, and can go from day to night.