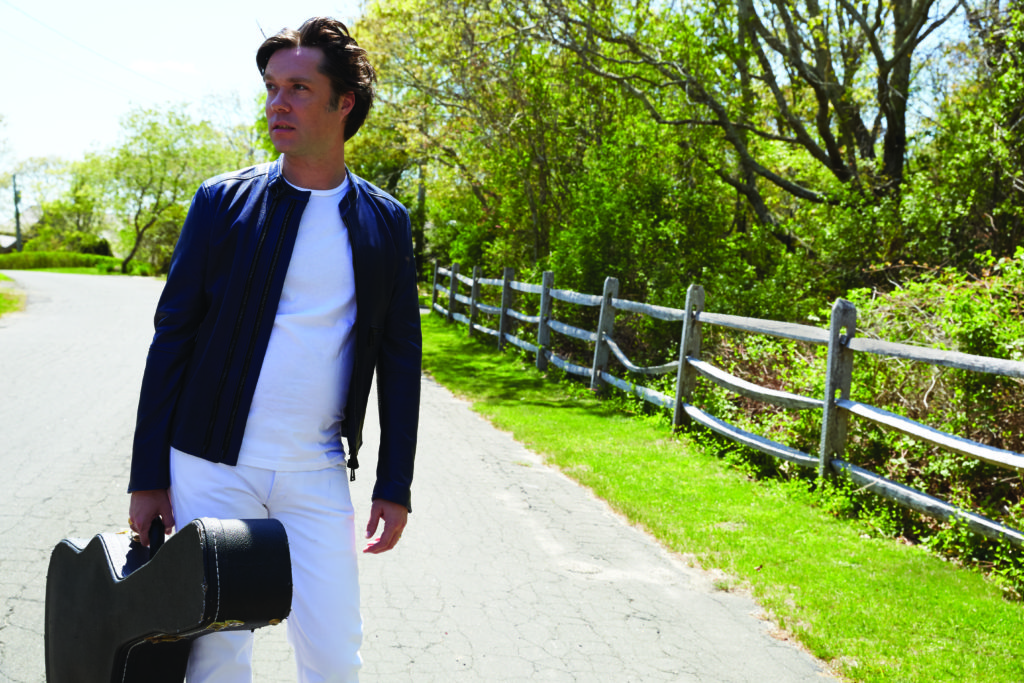 By Dimitri Ehrlich
Rufus Wainwright has a serious musical inheritance. His mother, Kate McGarrigle, and his father, Loudon Wainwright III, were both innovative folk artists. Before he was a teen, Wainwright toured with his mother, aunt and sister.
Best known for his 2001 song "Cigarettes and Chocolate Milk," Wainwright mixes melodic grandeur with lyrics that are more poetic than overtly confessional. His elaborately ambitious pop never comes off as pretentious, because the raw emotional honesty of his voice cuts like vinegar through even his most luxurious orchestral arrangements.
After a decadent period in his teens and twenties, which included a dangerous flirtation with crystal meth, Wainwright was saved from the abyss, partially by the recognition that his love for music was more powerful than his attraction to getting high. These days he's clean and sober, and nurtures his wellness through gardening, gym time, and above all, the restorative power of doing what he loves most: writing opera.
When his mother was dying of cancer in January, 2010, Wainwright played a work in progress for her on the piano. That music eventually became part of an opera based on the life of second-century Roman Emperor Hadrian, whose story had obsessed Wainwright for years. In October, almost a decade after he began dreaming of it, his opera will debut in Toronto, the city where he has a home with husband Jörn Weisbrodt, artistic director of Toronto's Luminato festival. We spoke by phone from Verbier, Switzerland, where Wainwright was performing at a classical music festival.
DIMITRI EHRLICH: How do creativity and spirituality connect, in your experience?
RUFUS WAINWRIGHT: Well, I'm a huge opera fan—in fact, I just completed my second opera, Hadrian, which premieres in Toronto in October. And right now I'm at a classical musical festival. For me, the opera house has always been a kind of cathedral, a spiritual sanctuary, a place where I seek answers and transcendence. It's not like a rock 'n' roll thing, where I want to have fun and lose myself. When I go to the opera, I intend to experience the pleasure and the pain of it all. Those operas can be pretty long! So I've always gotten my spiritual sustenance at the opera house, actually.
DE: Sell me in one sentence why the world needs a new opera about the Roman emperor Hadrian.
RW: Well, we are living in a failing empire at the moment. A lot of the borders that Hadrian created in that period—whether it's Palestine or Scotland—are still being contested. And a lot of the attitudes toward homosexuality that he had to put up with in the ancient world are still around. So little has changed, for better or worse.
DE: Speaking of opera, you have a flair for making lyrics and melodies from an earlier era feel fresh. What is it about older musical forms that inspires you?
RW: A lot of the music I love most dearly is from an era before the advent of recording capability. So those people wouldn't hear music much—they would make music in their village—but when an opera, or a great pianist or singer came to town, it was like an earth-shattering event, because they couldn't just put a record on a turntable. So I feel like a lot of the music is I love is still imbued with that immediacy and electrifying quality.
DE: A lot of your lyrics are about being heartbroken or teetering on the edge of self-destruction. Do you ever feel afraid that getting happy will ruin your songwriting?
RW: I keep referring to opera because I'm in that world right now. And with opera, your personal happiness doesn't matter; you're there to write a great opera, however you're feeling, it has to be great—you have to just deliver. Songwriting, though, is intimately intertwined with sadness and melancholy and defeat. It definitely springs from a painful area, and the older I get the more I realize that songwriting is bit of a Faustian bargain, because you can bliss out with happiness and not necessarily write the best songs. Sadly, that is the case.
DE: You have a daughter, Viva Wainwright Cohen. Her mother is Lorca Cohen, and her grandfather was Leonard Cohen. So she's the descendent of two royal Canadian musical families. Are you planning to take over the world? If so, please hurry up. We have some leadership issues.
RW: [laughs] Well, thankfully, I knew Leonard as a friend—I mean, not a close friend, but we were familiar and I love his family, so this isn't coming out of nowhere. But that being said, certainly my daughter has a lot to look up to. And the main thing is, it's not a burden, it's a gift. And whatever we choose to do as a family, and this is true for everyone—my sister and my father—it's to bring light and happiness to the world. Because as you said, it's sorely needed right now. But I think it's turning the corner, in terms of the attitude of the world—people are hungry for substance.
DE: How has fatherhood changed you?
RW: For one thing, it makes you humble because it's incredibly humiliating! [laughs] No matter what I do, or how beautiful my voice is sounding, or how much attention I'm getting from my fans, the minute I'm with my daughter, all of that dissolves and it becomes about the needs of a new person. And you really have to adjust to that. But once you do, it's such an incredible gift. But you have to be patient.
DE: You spent a lot of your younger years touring as part of a band with your parents—Loudon Wainwright and Kate McGarrigle. At the moment, you have your husband, Jörn Weisbrodt, with you. How is touring with your husband different than family touring?
RW: Well, he doesn't come out a lot, but I am really blessed that I get to play the most beautiful halls in the most cities, for the most interesting people in the world. So when I'm playing on top of a mountain in Switzerland, he comes along so we can both share that beautiful experience. He doesn't come when I'm in Indianapolis. [laughs]
DE: How do you take care of yourself—physically, emotionally and spiritually? What's your daily practice?
RW: I work out a lot, I try to go to the gym as much as I can. I even bring a trainer on the road when I can afford it. I like the banality of the gym, I like how un-spiritual it is. I like how silly it is. Between opera and making music and being a father, I find the gym refreshing because it's so dumb.
DE: Do you consider creativity to be a form of wellness? Sometimes, can't it also be a torment?
RW: Oh yeah, that's a tough call. I consider creativity a propelling force that gets you to the next point. Whether you're actually dealing with anything profound along the way, I'm not quite sure. I think if you have a real problem, you probably need to see a therapist or a doctor. I think there are arguments for creativity helping you emotionally, but otherwise, it's like an engine. It really depends what kind of fuel you pour into the engine.
DE: And what kind of fuel are you pouring?
RW: These days, sparkling water.
DE: How do you maintain emotional balance in the notoriously shady music business?
RW: The main thing is to just constantly remind yourself how fortunate you are to be in this position. There are so many musicians who would give their right arm to do what I do…and they play instruments! So I'm really lucky to be here, and it is a privilege. Most people work tirelessly for no attention and no money, and there are a lot more people with much worse lives than that. It's just about being thankful for the opportunity.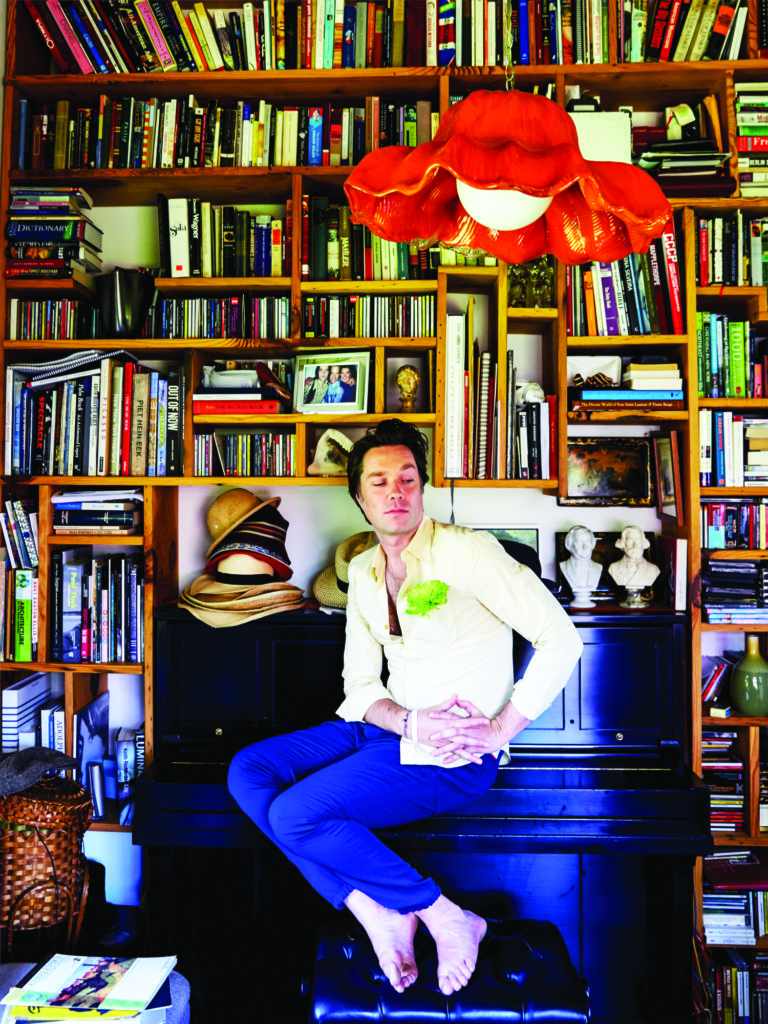 DE: You're performing at the Westhampton Beach Performing Arts Center this month—does that have any special resonance for you, since you have a home nearby?
RW: Yes, we live in Los Angeles now, and we spend a lot of time in Europe.  I had my Manhattan days, but the East End of Long Island will always be my spiritual home. It's odd, I was brought up in Canada, but I spent all my summers in Shelter Island and other places on the East End of Long Island. It seems to be the constant within the storm of my life.
DE: You have a home in Montauk off Old Montauk Highway—are you more into summer or winters there?
RW: I love it all the time. We are in Hither Hills, so it's a little separated; it can be a little annoying in the summer, for sure, but when the weather's great and the ocean's perfect, it evaporates pretty fast.
DE: I understand you're a gardener. In what ways is gardening a spiritual experience?
RW: There was a period when I did more gardening and I'd like to return to that. I remember one of the most fascinating parts of that whole period was I imagined gardening to be dull, that you would have to have patience. But what struck me is how wild it is.
DE: What's the next big career news you want to share?
RW: The opera is the big one. That premieres October 13 in Toronto, with an amazing cast.
DE: Sometime around 2002, when you were struggling with addiction, there was an amazing week during which you played a cameo role in the U.K.  television program Absolutely Fabulous, spent several nights drinking with George W. Bush's daughter Barbara, enjoyed a debauched evening with your mother and Marianne Faithfull, sang with Antony and the Johnsons—and finally decided that you were either going to rehab or to live with your father. You once said of that decision, "I knew I needed an asshole to yell at me, and I felt he fit the bill."
RW: Yes, well… you have to accept reality. That's all I'll say.
Rufus Wainwright performs at the Westhampton Beach Performing Arts Center on August 18. whbpac.org