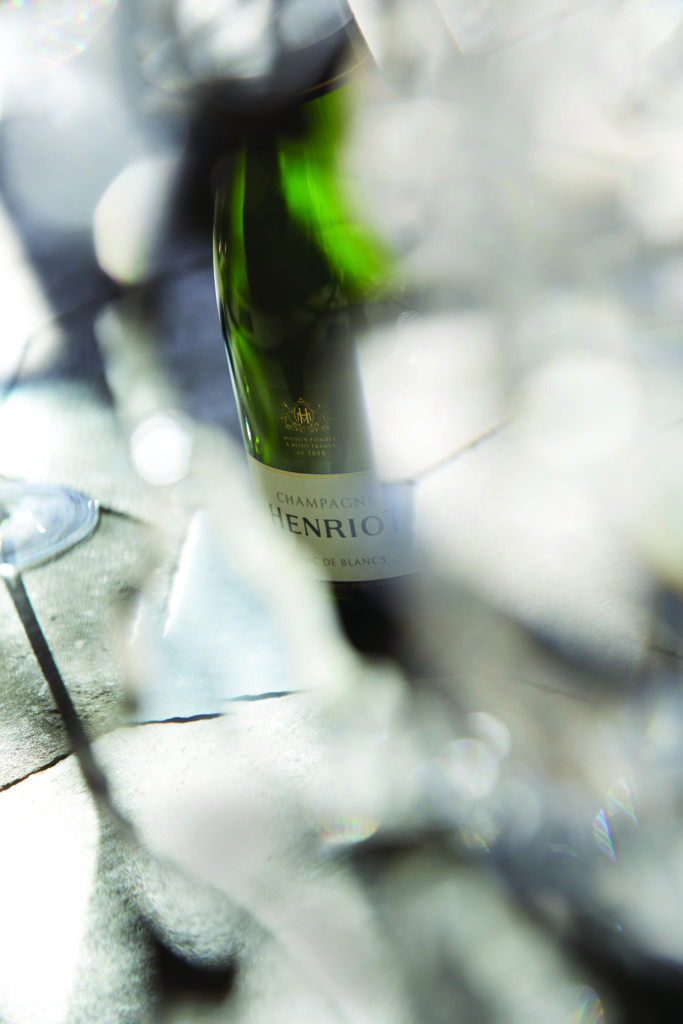 By Stef McDonald
Seated around a large rectangular table at the Conservatory Rooftop at The Montage Beverly Hills, a dozen men and women hold champagne flutes to their ears. Yes, their ears.
Welcome to Medi-Tasting with Champagne Henriot at The Montage Beverly Hills—a combined Champagne tasting and mindfulness workshop designed to elevate the tasting experience and connect to "the light within," Champagne Henriot's calling to illuminate the senses with its chardonnay-driven wines.
Guests at this special event are sommeliers who are regulars at wine tastings, where it is customary to hold a glass to the light, tilt it, then swirl the wine around. Amelie Derrieux-Sable of Maisons & Domaines Henriot America begins by providing insights into the Premier and Grand Crus vineyards of Côte des Blancs and Montage De Reims where Champagne Henriot sources its grapes, the heritage of the 200-plus-year-old house, and the eight generations of Henriot family behind the wines, which are defined by their light and fresh character.
Before we sip, we listen to Elisha Goldstein, Ph.D., a psychologist and co-founder of The Center for Mindful Living in Los Angeles, who offers his definition of mindfulness: "It's intentionally paying attention to something," he says, "with engaged curiosity."
He then asks guests to share what stresses them. "Traffic" is the first answer. "Aging" is the second. (This is, after all, Los Angeles.) He tells us that stress influences our perception. So does focus. Our attention, he says, is precious.
"We want to do our best to clean our mental palate," says Goldstein. To prepare for the tasting, we are instructed to sit still and recognize how we feel. Slowly, we are guided to use all of our senses to experience Champagne Henriot's Blanc de Blancs, 100 percent chardonnay, being poured.
Goldstein suggests the STOP method: Stop. Take a deep breath. Observe. Perceive. He recommends that guests try to single-task, to step out of routines, break patterns and make room for wonder.
Which brings us back to lifting the glasses to our ears—the event's aha moment. Noses in a wine glass? Sure; this is a great way to evaluate the bouquet of these luminous Champagnes. But holding a wine glass to the ears? Really? Then: "Wow." Giggles and smiles all around as one guest says: "It sounds like a seashell!"
Science tells us we can actually shift activity in the brain with healthy pursuits like exercise and meditation. Goldstein says the same holds true for mindful practices such as
medi-tasting. "We're trained from a young age to multitask," he says. "When we focus on single-tasking, we can up the pleasure in our lives and find things that might surprise us."