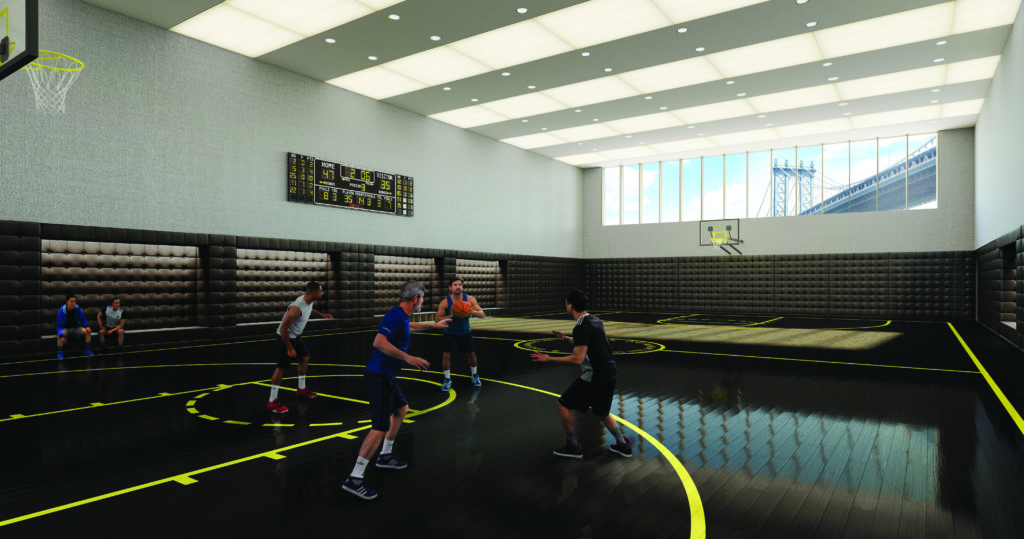 By Julia Szabo
One of the more notable new additions to the New York skyline is Extell Development's One Manhattan Square, a highrise soaring 800 feet above the Seaport, at the edge of New York Harbor. Standing proud at 252 South Street, an 80-story tower of gleaming glass and burnished copper alloy, the stunning structure houses 815 units: one-, two- and three-bedroom high-ceilinged condominium residences that redefine Lower East Side luxe. A project of Adamson Associates (architects of record for global landmarks from midtown's Hearst Tower to The Shard at London Bridge), OMS offers "postcard perfect" 360-degree views from 9-foot-tall picture windows that overlook two iconic spans: the Brooklyn Bridge and Manhattan Bridge, whose combined visual impact is especially exhilarating at night.
Vistas are no less breathtaking in the building's own backyard, where residents will enjoy 100,000 square feet of head-spinning amenities, including a solid acre of private gardens landscaped by West 8, the talented topographers behind global projects from the Miami Beach SoundScape to New Holland in St. Petersburg, Russia. Garden features include a sumac meander, a birch garden, an adult tree house, fire pits, a putting green, outdoor pingpong tables, and a stargazing observatory. Foodies might never leave their state-of-the-art kitchens, haute hot spots cooked up by the same design team (Meyer Davis) responsible for the restaurants of star chefs Daniel Boulud, Tom Colicchio and Jean-Georges Vongerichten. The firm created all interiors throughout the building, from the thrilling 3-story lobby to the elegant elevators to the charming children's playroom, which opens onto an outdoor playground. For kids of all ages, there's an indoor basketball court, a golf simulator, a game room arcade, and a two-lane bowling alley. OMS is family-oriented, and pet friendly; OMS welcomes animal lovers with an on-premises covered dog run.
Indoors and out, OMS places an unprecedented emphasis on clean living, with the entire fifth floor dedicated to a wellness center and spa that includes a 75-foot swimming pool, a hammam (Turkish bath) complete with cold plunge pool, plus a hot tub and infrared sauna, "the latest in antiaging technology," says Extell's Christina Medina. Adjacent to the spa is a tranquility garden, whose focal point is a healing Hamamelis virginiana (witch hazel) tree, prized for its many skin benefits. "This is definitely a healthy lifestyle building," adds Medina, noting that spa privileges are included in the building's common charges, with no additional membership fees.
Billing itself as a "vertical village," OMS promises to provide the last word in stress-busting convenience. "You feel like you're living in a luxurious resort; everything you could possibly need is right here," Medina says. "Plus, there's 45,000 square feet of retail space, including a pharmacy, grocery store and coffee shop"—not to mention extensive event programming, from yoga on the lawn, to book reading groups, to culinary demonstrations using yield from the herb garden. It's a pioneering concept whose time has come: the destination residence that delivers the world to your doorstep. The best perk of any voyage is a safe homecoming, and OMS offers tenants all the mind-opening benefits of world travel with none of the hassle. Concludes buyer Anna Smedstad, who can hardly wait to move in: "The OMS amenities and the amazing surrounding views top them all in NYC." onemanhattansquare.com