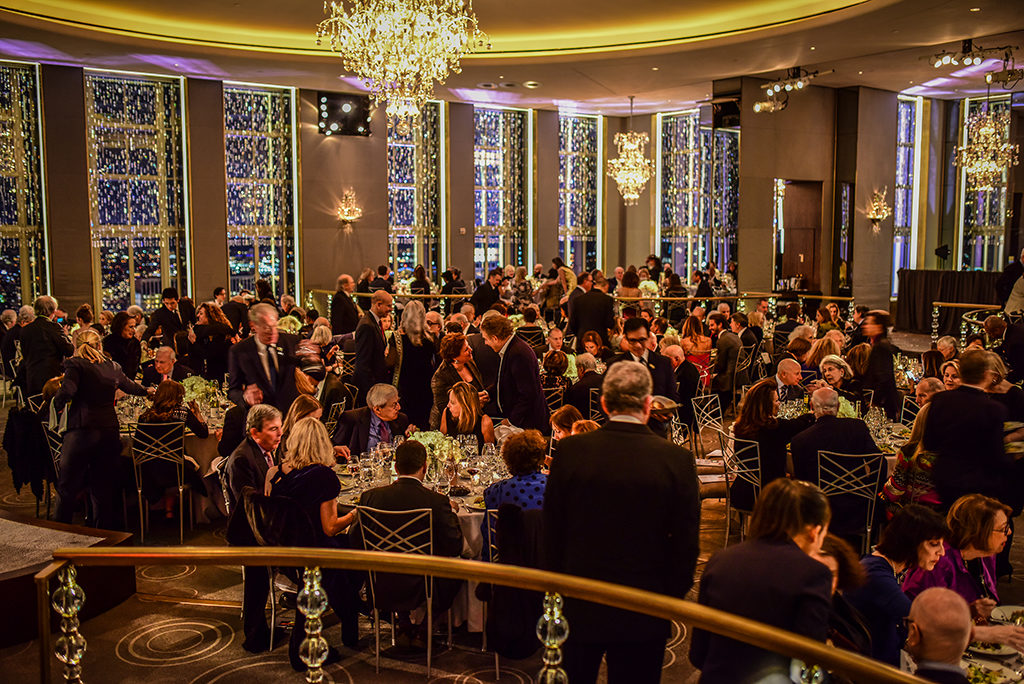 By Regina Weinreich
"Everything's coming up roses," belted Broadway star Tovah Feldshuh, presenting her pal Patti Kenner with Guild Hall's Special Award for Philanthropy. The occasion was East Hampton's premier arts institution's Academy of the Arts Achievement Awards. MC'd by writer Adam Green, genuine Broadway royalty—he's the son of Phyllis Newman and Adolph Green—this winter gala at the Rainbow Room, with its elegant crystal chandeliers and wraparound views of Manhattan, is a love fest of arts professionals celebrating each other, and the community that fosters the new.
President of the Guild Hall Academy of the Arts, Eric Fischl, carped at having to clean up for dinner, sharing the fantasy that he'd win a competition for best dressed. Chairman Marty Cohen thanked him for dressing. But hey, Laurie Anderson, a genius in many genres, wore her signature plaid flannel shirt. One could argue, the prize goes to her.
For Achievement in the Visual Arts, the Whitney Museum's Adam Weinberg presented the award to sculptor Alice Aycock: "Art is a way of being in the world," she said. Ethan Coen introduced composer Carter Burwell, noting his movie star good looks. Burwell's collaboration with the Coen brothers goes back to the beginning, to Blood Simple (1984). For them, he said, he had "to make people open their hearts and feel empathy for the most ridiculous characters." Yo La Tengo then performed Burwell's music.
Art critic Linda Yablonsky presented to Bob Colacello, for Achievement in the Literary Arts. A longtime editor and writer for Andy Warhol's Interview, Colacello is known for eschewing snark in profiling celebrities. His credo: "Provide the facts in an interesting way, without judgment, and let the reader decide." A consummate storyteller, Bob Colacello riffed on the Warhol years, how Andy thought the name Bob Cola was more caption-ready. Reared in Bensonhurst, he credited his mother and grandmother for shaping his accidental career: "It's not what you say but how you say it," they taught him. Over milk and cookies he had to tell his day, and he had to be funny.
Prior honorees April Gornik, Ralph Gibson and John Alexander mingled with Dr. Ruth Westheimer, Marie Brenner, Michael Halsband, and artist Christine Sciulli, slated to have a spring show at Guild Hall. All enjoyed a dinner crafted under New York Times columnist Florence Fabricant's watchful eye: celery root tart, roasted duck, wild mushroom risotto, and mini baked Alaska. The night could have gone on but Colacello was flying to Beirut with Vito Schnabel: "I always wanted to be kept by a straight art dealer," he quipped. And Patti Kenner was off, too. She was hosting a breakfast at 8 the next morning for Hillary Clinton: "Ninety people at $1,000 a pop!" And in her hand was the centerpiece of roses.