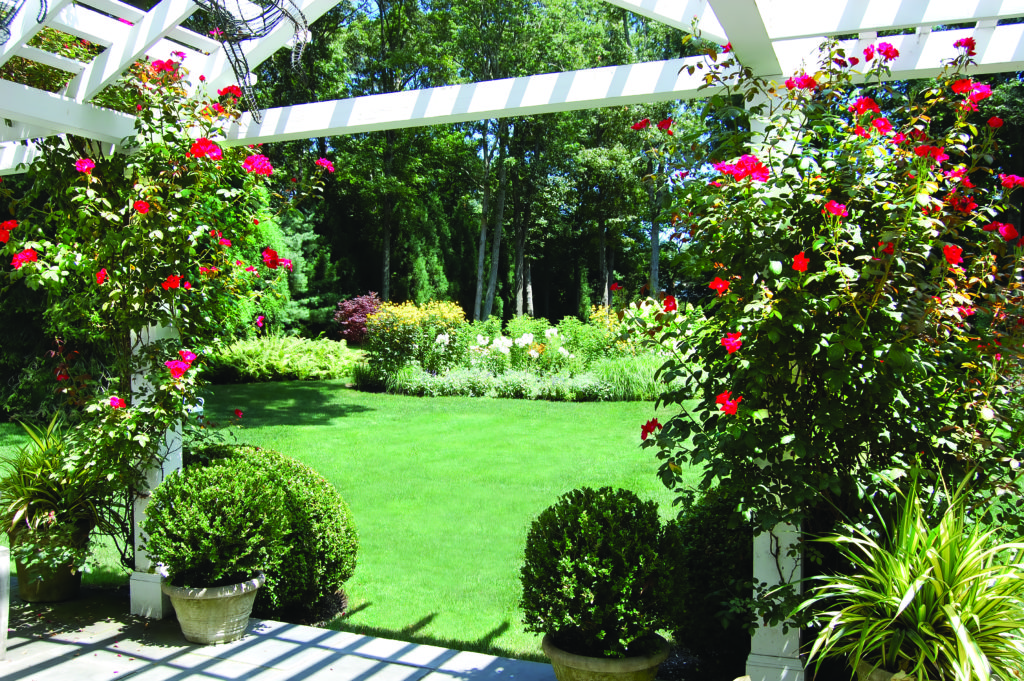 As a landscape designer, I wanted to be in the Hamptons, where the light is so beautiful, and one has the shore, the fields, the woods—all changing at every season. I wanted to inspire my children, Lorenzo and Livia, to always be outside. I even planned the house so that every room would have a different view. I always think about the experience of the landscape from inside the house; the architecture has to play a role. We live there year-round, so I made sure the pool wouldn't be seen during the winter months, and that those snowy Hamptons vistas would be uninterrupted.
I later added a wooden pergola with a bluestone patio to the back of the house. Casa Meu is all about the views of the gardens and sculptures, so it was inevitable that our living spaces would quickly spill outside. When it's warm enough, I mostly cook on the grill and serve meals on our long teak dining table. And there's no calling anyone to come outside for dinner—any reading, reclining or working happens in the other "room," where a teak coffee table, sofas and suspended loveseat ensure everyone is always together outside. It's a transitional space, allowing people to experience the landscape without fully committing to the elements. I'm often looking to add spaces like this to my designs. They are vital to the experience I want to provide for my clients. When given the chance, most people prefer to be outdoors.
I wanted to make a country life where my children could be surrounded by nature and wildlife. The kids would catch fireflies in jars and bring me every snake and turtle they found. Melissa the turtle was our guest for almost six months.
I planted alliums—bulbs like shallots—and species that attract hummingbirds and butterflies from spring through late summer, such as digitalis, buddleia, hibiscus, pink and red roses to encourage bees, and two Roses of Sharon—a favorite of hummingbirds for their tubular blooms—in tree forms by the front gate.
When plants and trees are where they want to be, they thrive. A professional can see it, but anyone can feel it. Inspiring these subtle effects is difficult when you're fighting a plant to grow and flourish. It's something a little intangible. I wanted native species in my home because they animate the landscape year-round and blend the design more seamlessly, giving it the almost-unplanned feeling that has become a sort of signature in my work.
Over 20 years later, the garden is our kitchen, our dining room, our art gallery, our living room and even our dance floor. We're a modern family: We've changed over the years, and the garden has evolved with us. From Bloom: The Luminous Gardens of Frederico Azevedo, by Frederico Azevedo (Pointed Leaf Press, 2019)