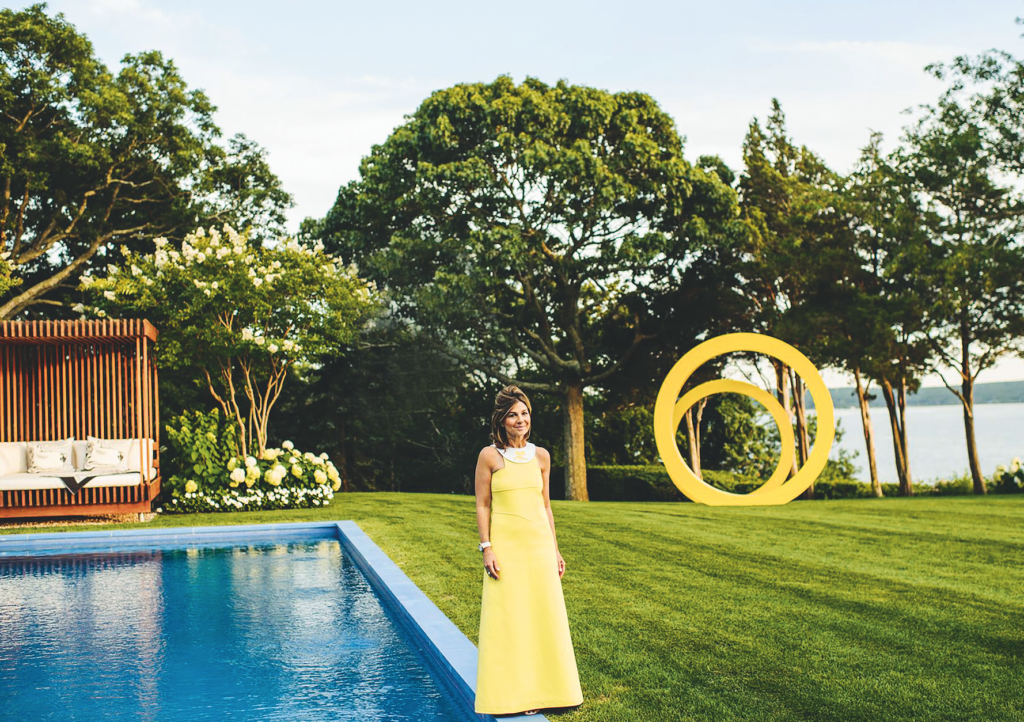 In fashion, Lisa Perry's A-line dresses with circle pockets are her signature. In décor, the mod designer's look is bold planes of color on white. Reared in a Chicago suburb, Perry developed her eye in a home with Scandinavian design, Charles and Ray Eames chairs and Herman Miller cocktail tables. Simple lines. A Bauhaus lack of embellishment. Her Hamptons home, with its grand sculpture garden facing Noyak Bay, is the site of many soirees and fundraisers; summer guests fill the color-coded bedrooms, room service included. Explaining her influences in the introduction to her book, Lisa Perry: Fashion – Homes – Design (Assouline), she reveals a fondness for the primary color dots on the packaging of Wonder Bread, to her, "symbols of joy and fun."
As a teen, she tie-dyed T-shirts and stitched hippie flowers onto garments, and went wild with a rhinestone gun. Vintage couture, mostly from the '60s, inspired her label, as did Marimekko fabrics. A graduate of the Fashion Institute of Technology, she worked in the Dana Mills New York office, and visited textile mills. Later, married to hedge-funder (and Barneys New York owner) Richard Perry, she designed the interiors of their homes, in North Haven, a Sutton Place penthouse in Manhattan with an adjoining apartment, Palm Beach, and Villefranche-Sur-Mer in France. A collector of art, Perry favors Pop pieces from Warhol and Lichtenstein to Hirst and Koons. She is an American original. —Regina Weinreich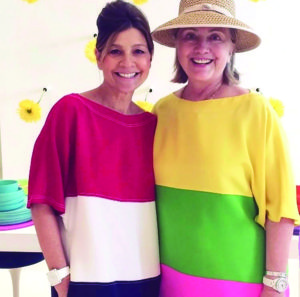 After spending much of the last 30 years traveling—as First Lady of the United States, U.S. Senator from New York, Secretary of State, and on the campaign trail—I relish the time I spend at home in Chappaqua, New York. Home is where I unwind with a good mystery book in a great big chair with our dogs, Maisie and Tally, at my feet; where I can be still and quiet or having a lively discussion with my husband about the world; and where I lounge around in yoga pants and a comfy sweater. It's where friends gather and where Chelsea and Marc visit with our beloved grandchildren, Charlotte and Aidan, who play on the swings or explore our backyard garden. To me, our home is equal parts comforting and inspiring.
Over the past two decades, I have come to feel almost as relaxed in the vibrant, art-filled homes of Lisa Perry as I do in my own home. I met Lisa in 1998 at a dinner in New York City, and we forged an instant connection as two women who grew up near Chicago. Her warm, authentic, Midwest sensibility immediately appealed to me, and our friendship has deepened over the years, built on shared beliefs and interests. We're both passionate about expanding opportunities for women and standing up for every child's ability to live up to his or her God-given potential. We can spend hours discussing everything from work challenges to how much we cherish our new roles as grandmothers. Not only that, but when I am at Lisa's, I can always count on her to serve a delicious Chicago-style hot dog complete with tomato wedges, a dill-pickle spear, green relish, and finely chopped onion, all topped with bright yellow mustard on a poppy-seed bun!
Lisa has a strong visual signature that infuses her homes, her art collection, and her wardrobe. Color is the key ingredient. I love the way she embraces primary colors in some rooms and confident, monochromatic palettes in others.
My own appreciation for color and design started at a young age. When I was a little girl, my father ran a small business selling textiles door-to-door in Chicago. Coincidentally, Lisa's father was doing the same. I later learned that the two men met through their work and would sometimes cross paths on the road before they each established their own small businesses. I still remember visiting my father's print plant and learning how to screen-print colorful designs onto fabric. First, we would apply the paint near the top of the wooden frame and pull the color down the fine silk screen with a squeegee. Then, we would move the frame down the long table, repeating the technique to create wonderful patterns. The fabrics were then made into draperies, which were sold to decorate homes, as well as hotels, workplaces and theaters. While I am certainly not an artist or decorator myself, those early experiences contributed to a lifelong admiration for creative people who bring color and beauty into homes and businesses. I have always believed that artists make vital contributions to our society and deserve the support of government institutions, public galleries, and private donors and collectors.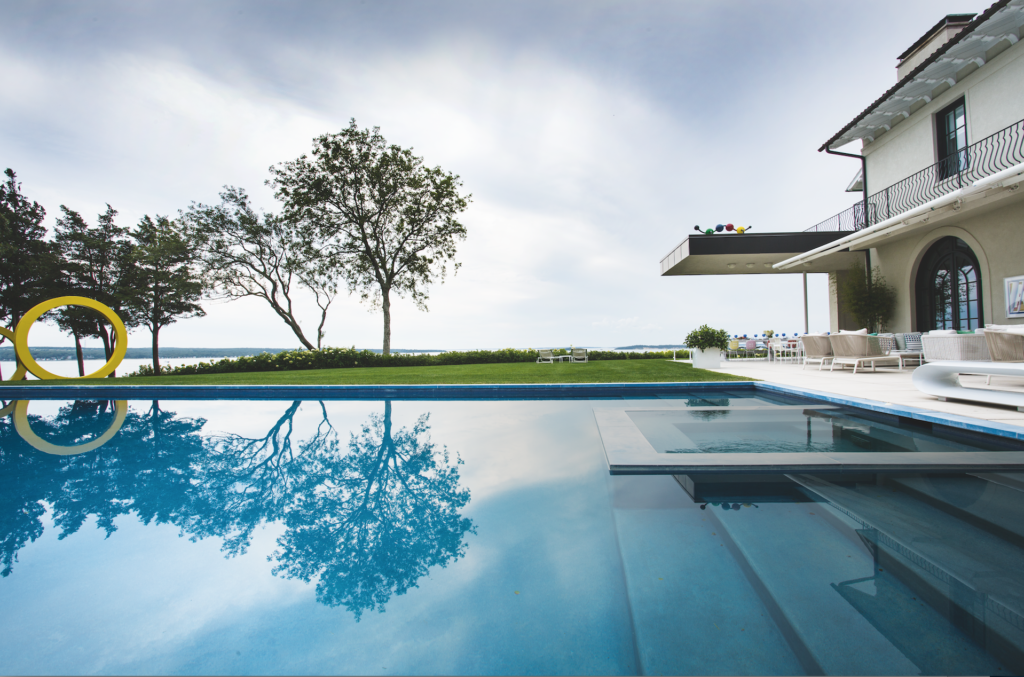 In addition to our shared roots, Lisa and I share a passion for sculpture. Years before we met, Lisa was planning and installing sculptures in her garden, while I was working on a new idea of my own: creating a sculpture garden at the White House to celebrate the work of some of the foremost American artists of the 20th century. The sculpture garden was inaugurated in October 1994, on Bill's and my 19th wedding anniversary—which seemed fitting, since our first date was touring the Henry Moore sculpture exhibition at Yale University Art Gallery on the day we signed up for our law school classes. I loved walking through the White House sculpture garden and cherish the time I spent sitting with Bill on the Truman Balcony at the White House, watching the pendulum-like stainless-steel limbs of George Rickey's kinetic sculpture "Two Lines Oblique, Atlanta" move in the wind. Moments like these have continued to remind me how art can captivate our imaginations, make our spirits soar, and open our minds to new possibilities.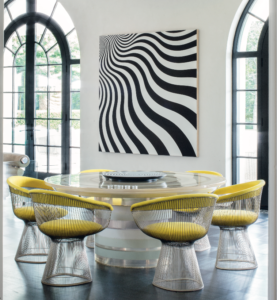 Several artists whose sculptures were displayed in the White House exhibitions are also featured in Lisa's extensive art collection, such as Ellsworth Kelly, Alexander Calder, Roy Lichtenstein and Joel Shapiro. The grounds of her North Haven home on Long Island showcase a thoughtfully curated collection of sculptures, which are dotted among the trees and spill across the sloping lawns. When I visit, I sleep in the light-filled yellow bedroom, which is flanked by two small balconies. One of those balconies has an excellent view of a giant Yayoi Kusama sculpture near the home's main entrance and an Alexander Calder standing mobile Lisa installed in the middle of a circular topiary garden. From the other balcony, you can see sculptures by Niki de Saint Phalle, César Baldaccini, and Zhu Jinshi, which offer the perfect complement to the tranquil views of Noyack Bay.
Lisa's interest in all things aesthetic knows no bounds. Around 10 years after we met, she launched her own fashion label, which later extended to home décor. More than simply wanting to support her as my friend, I choose to wear Lisa Perry designs because they make me feel great. She is responsible for some of my favorite wardrobe staples, like my go-to black pants, as well as a colorful selection of reversible tunics and coat dresses. For one campaign event organized by Lisa and Gagosian Gallery in conjunction with a number of American artists, I decided to dress on theme in a Lisa Perry coat dress inspired by Jackson Pollock.
While Lisa's clothes are often designed with an element of fun, she understands that for someone like me, clothes must also be functional and made with quality fabrics that travel well. On one of the most important days of my life, as I walked onto the stage after winning enough votes to become the first woman nominated by a major political party for President of the United States, I proudly wore a Lisa Perry jacket. It was not an accident that I chose to wear a white suit, the color of the suffragists who paved the way to the ballot box for women nearly a century earlier.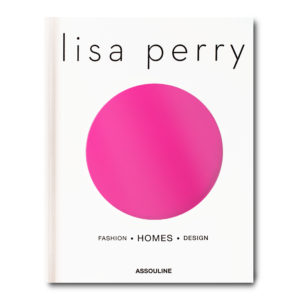 I felt Lisa's support on that momentous day, as well as the encouragement of so many others who helped me get there. I am excited to support this book about Lisa's homes and style, which marks an important moment in the life and career of a dear friend. I encourage you to immerse yourself in its pages and the beautiful photographs by Robyn Lea, which take you on a private tour into Lisa Perry's world. I hope the clarity of Lisa's vision will inspire you and the vibrant colors will uplift you. And I know that Lisa's optimism and positive energy will remind you, as it has often reminded me, that in our homes and on the streets, as friends, family, and community, we can work together to pursue our dreams and make what seems impossible, possible.