by Ray Rogers
Ray Rogers: What is your philosophy when it comes to wellness?
Lukas Nelson: I believe you should listen to your body and your mind; wellness as a concept is essential to a long life.
RR: How do you stay healthy?
LN: I'm a pescatarian. I try to limit my calories every day to a certain degree, but have many cheat days where I'll eat lots of bread or chocolate, and I don't get too down on myself. I also work out; I have a buddy named Peter Park who has a company called Platinum Fitness that specializes in the Foundation method [which teaches chains of movements, as opposed to isolated exercises, to strengthen the core].
RR: Are there any wellness must-haves when on the road, or at home?
LN: Avocados and sourdough toast are absolutely essential.
RR: Anything specific you do to keep yourself physically and mentally fit on a daily basis?
LN: Yes, I clear my mind every day with a little meditation and that helps me to remember to work out.
RR: Turn Off the News (Build a Garden) is such a great title for an album. Tell us more about that thought.
LN: It's not about being ignorant or unaware; it's just that we're always on our phones, and TV is always around. I think that causes anxiety and a sense of hopelessness, ultimately. There are so many things we can do to be productive and change the world around us locally, and that dominos nationally and even internationally…if you start at home actually doing things like growing your own food or helping out in your local community in any way.
RR: Do you garden at home? How do you stay connected to the Earth?
LN: Willie's Reserve and Willie's Remedy is our growing company [started by his father Willie Nelson]—we grow marijuana where it's legal, and hemp everywhere, as it's legal to grow hemp now. Also, Farm Aid was started by my family to support family farms across the country. We have a small garden at our home, but I do 250 shows a year, so most of my time is spent playing music and on a bus.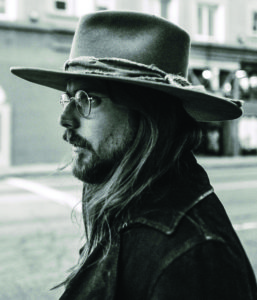 RR: How do you personally block out the white noise of the news, while also staying informed?
LN: I only look for major bullet points. I try not to look at analytics or listen to talk shows that delve super deeply into it. But mainly I try and focus on local things. There's a great book by Paul Hawken called The Ecology of Commerce that details how a society that is sustainable might actually look. It helps to be able to imagine a future we can feel good about.
RR: From Neil Young to Kesha and Margo Price—what a list of guest stars on this album! In what ways is music the great connector?
LN: It can bring together people of like minds and inspire social change.
RR: Your father, Willie Nelson, is also on the record. What's it like to collaborate with him?
LN: He is my greatest inspiration. I love being with him with all my heart.
RR: What's been his greatest influence on you?
LN: There is not one single great thing he has taught me. He is a great man, and I am inspired by his whole being.
RR: In what ways does music provide a conduit to the soul for you?
LN: Music is like church to me. I believe that music has the power to bring you to enlightened states, and also into very primal root chakra states as well.
RR: I love that you're visiting farmers markets on your your current tour, and performing free shows for farmers and their customers. What inspired that?
LN: It's a natural progression for the release of our record and just feels so natural. It's a great way to connect more people to local sources. Every day, I learn new ways I can support my local community.
RR: You played at The Surf Lodge last year. What can fans expect when you play again this summer? What do you love about Montauk?
LN: Last year we played and it rained, and everyone stood out in the rain, loving every minute and dancing and being free in their spirits. I love that, and the beautiful land and ocean and lake