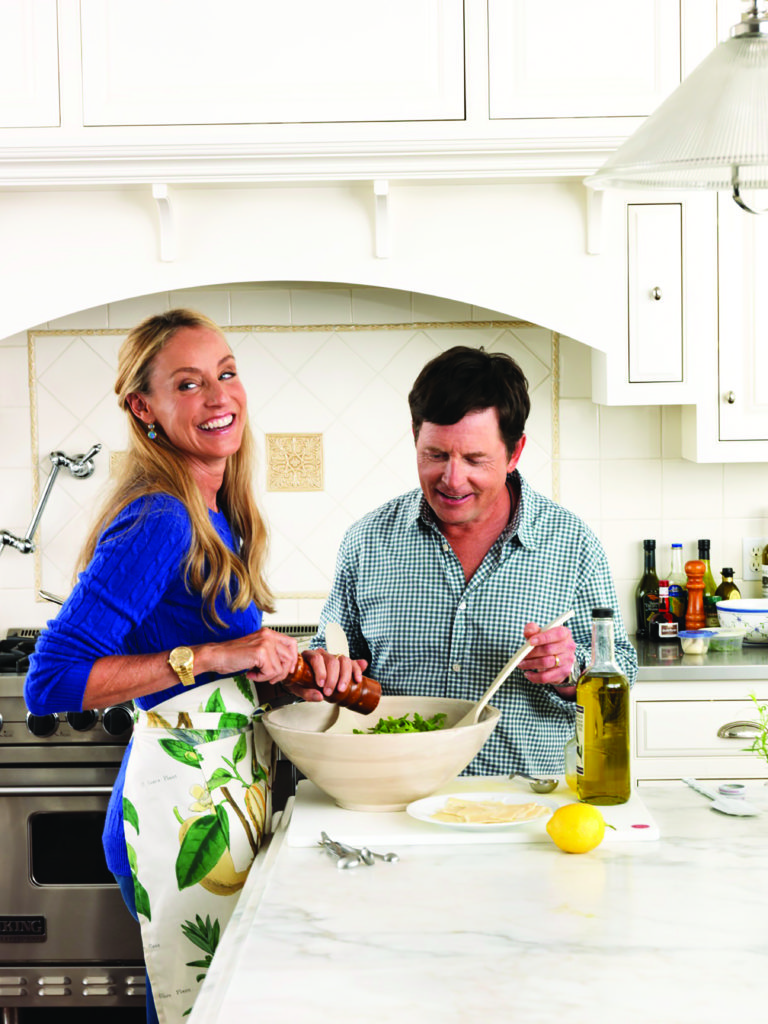 By Ray Rogers
Ray Rogers: Mostly Plants is your second cookbook—what did you, your sisters and mother want to share about a mostly plant-based, flexitarian diet?
Tracy Pollan: It's the way I have eaten for many years, and it's the way that my family eats. I feel there's so much rigidity in a lot of diets. People decide—not for health reasons—that they're going to be vegetarian, vegan, gluten-free or keto. And that's all well and good, if it works for your lifestyle, but nine times out of 10, it falls by the wayside because it's just too hard to keep up.
Flexitarian is primarily a vegetarian diet, but without the rigidity. It allows you reap all of the health benefits of being a vegetarian, but it's OK if once in a while you want to have a hamburger.
RR: And what would you say are the benefits, individually and globally, of a mostly vegetarian diet?
TP: I love that you bring up globally. Because we need to think about what is happening globally with climate change. So many studies show if everyone followed meatless Monday, it would make an enormous difference in our carbon footprint.
Individually, it's healthier to eat as many plants as you can—fruits, vegetables, whole grains. A side benefit is that I don't really have to worry about my weight. Also, studies have shown that your body responds better to eating primarily plants; with heart disease, it helps with your cholesterol. It helps fight cancer.
My husband [Michael J. Fox] has Parkinson's disease and he feels much stronger and healthier eating a mostly plant-based diet. What happens with the medication he takes for Parkinson's is that when he eats a lot of animal protein, it stops the medication from hitting his bloodstream as quickly. He feels his medication works a lot better when he's eating plant-based meals.
RR: Your brother Michael Pollan's books have really helped our understanding of plant-based eating. Did you come to it the same way?
TP: For me, it was more of an emotional thing. I've been a vegetarian since I was 15. We had tons of pets when I was young, and I just had this strong emotional attachment to animals. We had a pet pig, so it was hard to separate playing with my pet pig and eating pork roast. My brother came to it in a very different way; for him, it started when he looked at the inhumane conditions in feedlots. In terms of vegetables, he really likes to see that the crops are sustainable. He wrote the foreword to the cookbook. And the title, Mostly Plants, comes from his haiku, "eat food, not too much, mostly plants."
RR: That's wonderful. And in what ways does cooking together bring you together as a family?
TP: My mom, my two sisters Lori and Dana and I did all of the recipes together. We have these big extended family dinners—it's just a nice way to spend time together.
RR: Was it hard to pick which recipes would go in the book? Did everyone have their own favorites?
TP: Everybody's favorites made it in. But we tried to be very mindful about not including dishes that took too much time, or had too many ingredients. The majority of them are vegetarian, a handful are vegan, many are gluten free. They're all convertible, so you can make one adjustment to make a recipe vegan or gluten-free.
RR: Tell me about your favorite ways to entertain when you're out East. Any showstoppers you like to cook for family and friends?
TP: I love to invite different families over for dinner. My favorite thing to do is go to one of the farm stands, like Halsey [in Water Mill].
RR: You're coming from Quogue?
TP: Yes! I'll drive pretty far to get to Halsey, which is kind of my favorite. Then I go to Round Swamp Farm. I'll just look around at the amazing bounty….in August, it's those tomatoes; one of my big showstoppers then would be a huge Caprese salad. You just slice those tomatoes and you get the fresh mozzarella at Scotto's and fresh basil, and I'll just put that on a platter. Or when the baby squash are in season, and I'll roast a whole tray of them. For me, fresh grown vegetables in season are the showstoppers.
RR: What do you cherish most about your time out East?
TP: I really am an ocean baby. I don't care how cold it is, I will be the first one in on Memorial Day and the last one out on Columbus Day. I cherish walks on the beach, and I love getting on my bike and riding for miles. And also cooking and entertaining and seeing friends. It's such a slow-paced, wonderful lifestyle for us here. We really put on the brakes and just enjoy each day. We'll sit out on our screened porch, have friends over and have a glass of wine.
RR: This mesclun salad with persimmons and manchego sounds really delicious. How would you tweak it for the Hamptons?
TP: You can also make it with some amazing fresh peaches or nectarines instead of the persimmons. And, oh, god, the peaches out here are so juicy, you could make a meal out of just them!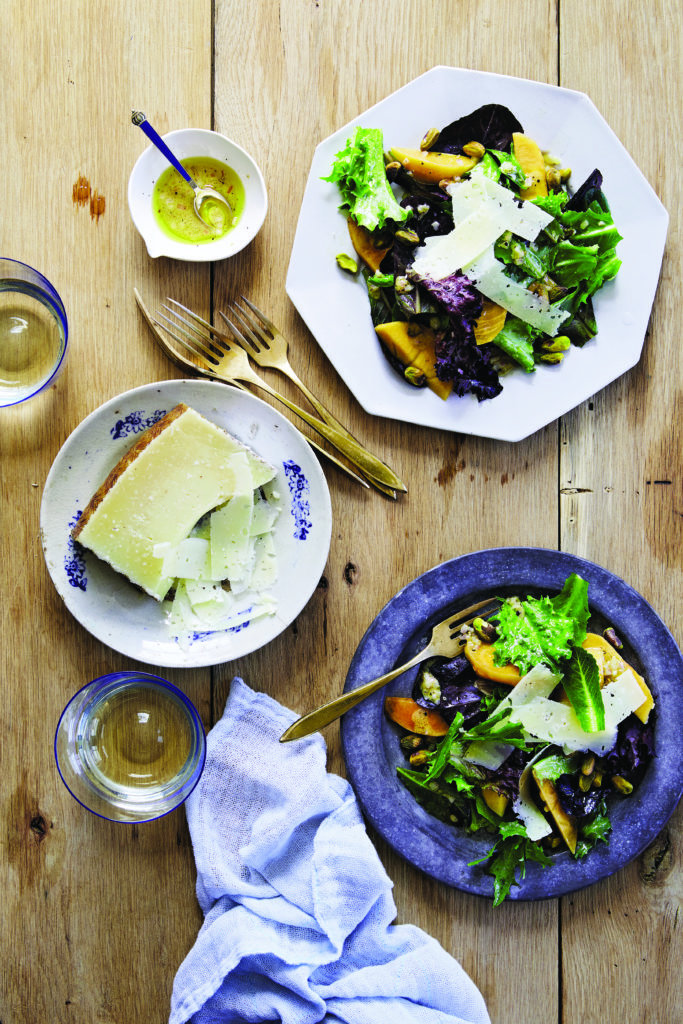 Mesclun Greens With Persimmons and Manchego Cheese
4 to 6 servings
Time: 20 minutes
½ cup shelled pistachio nuts
Sea salt
3 tablespoons Champagne vinegar
1 tablespoon finely chopped shallot
1 teaspoon Dijon mustard
½ cup extra-virgin olive oil
Freshly ground black pepper
5 to 7 ounces mesclun greens
2 firm, but ripe Fuyu persimmons, peeled, halved, and sliced into thin wedges (if not available, use 1 Bosc pear, halved lengthwise, cored, and thinly sliced)
½ cup shaved Manchego cheese
1. Preheat the oven to 350°F.
2. Spread the pistachio nuts in a single layer on a rimmed baking sheet. Bake until fragrant, 7 to 9 minutes. Transfer to a plate and set aside.
3. In a small bowl, stir together ¼ teaspoon salt, the vinegar and the shallot. Let sit for 2 to 3 minutes to allow the shallot to mellow. Add the mustard, olive oil and pepper to taste. Whisk until emulsified.
4. Place the mesclun and half the persimmon wedges in a large salad bowl. Pour on half the dressing and toss gently to coat. Add more dressing to taste and gently toss again. Place the greens and persimmon wedges on individual salad plates. Arrange the remaining persimmon wedges on each salad, sprinkle with the pistachio nuts and Manchego cheese, and serve.
Vegan/Dairy-free: Omit the cheese.
MOSTLY PLANTS Copyright © 2019 by Old Harvest Way, LLC. Printed on April 16, 2019 by Harper Wave, an imprint of HarperCollins Publishers. Reprinted by permission.