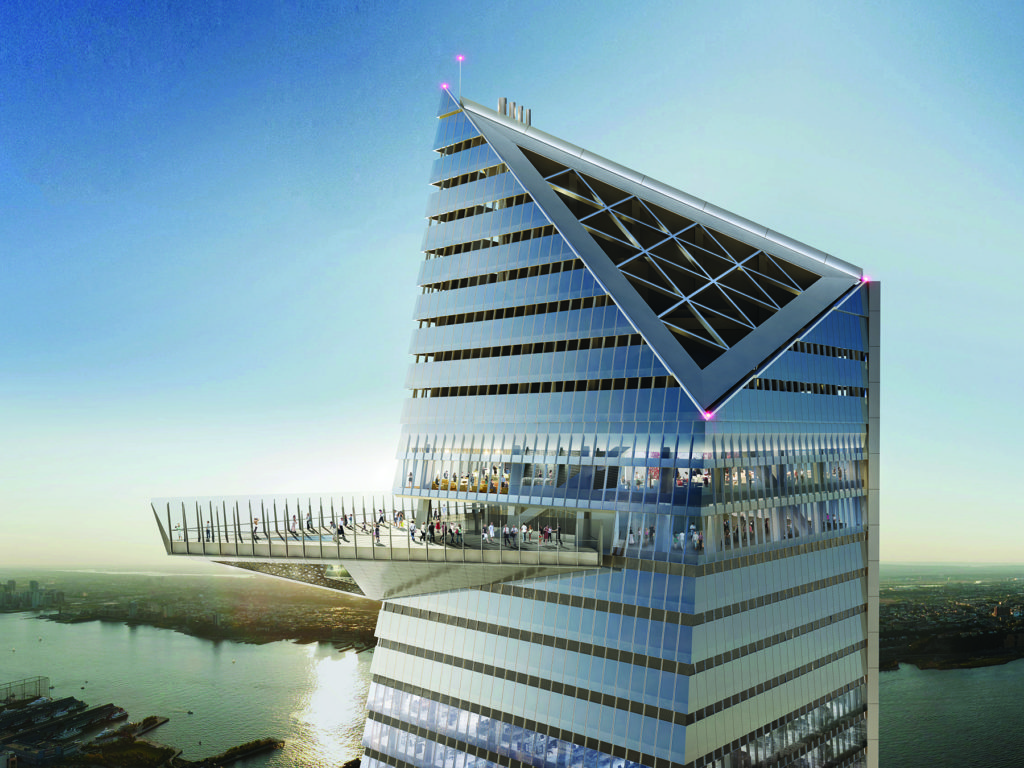 River's Edge
The much-anticipated Hudson Yards restaurants, shops and public square opened this spring on Manhattan's West Side, drawing residents and visitors alike to a perfectly contained world where the bustle of shopping and dining meets urban serenity.
Get in a workout climbing New York's newest landmark, the Vessel. The 150-foot-high structure counts 2,500 steps and 80 platforms and public space. Catch your breath at luxurious, plant-filled 3Den, a drop-in club where you can take a nap (in your very own pod), shower, and Zen out in the meditation room. Pop by for a vegan, chemical-free, nontoxic mani-pedi at sundays; get your glam on at celeb-hair guru Sally Hershberger salon inside the city's first Neiman Marcus.
Guys will want to check out athletic wear at Rhone—their first brick-and-mortar store—and women can choose from Athleta or Lululemon to get in gear for walking the 5-acre park, a lush landscaped plaza that links Hudson Boulevard Park at West 33rd Street and the High Line three blocks down. Worked-up appetites can be satisfied at eateries including those helmed by David Chang (Asian fusion at Kawi and Peach Mart) and Thomas Keller (TAK Room's Continental fare). Paleo haven Belcampo offers organic meals from their regenerative California farm. —Nancy Kane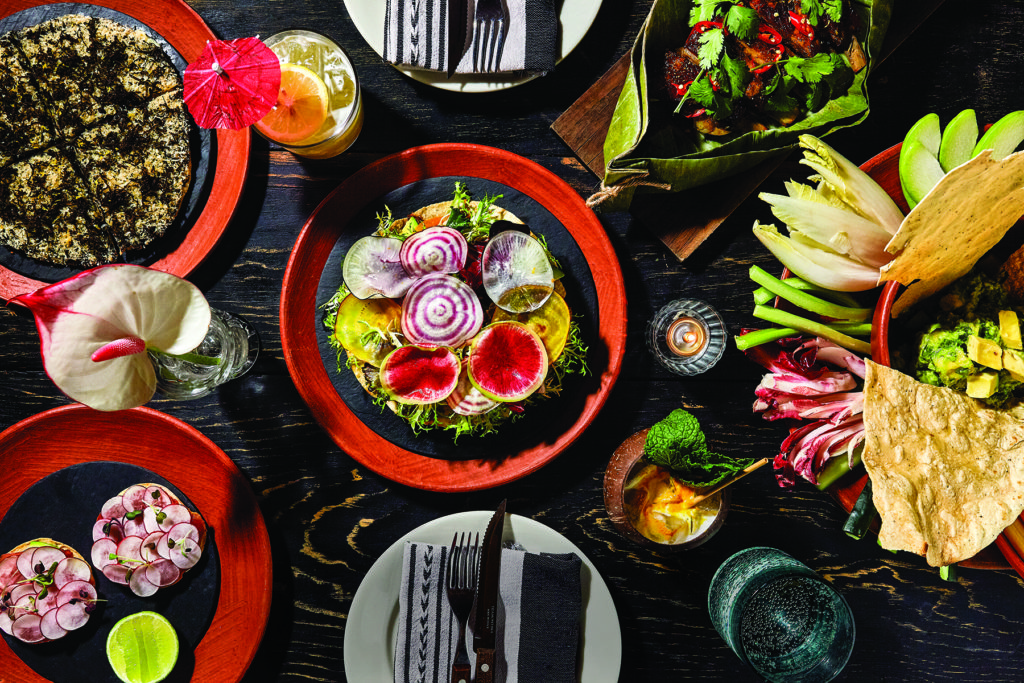 Mex Appeal
Gitano Jungle Room at the James Hotel in Soho delivers the healthiest and most delectable tastes of Tulum. No sooner do beachcombers arrive home from the Yucatan Peninsula than they crave a return trip. New Yorkers experiencing this phenomenon need only travel as far as Soho, home of Gitano Jungle Room at the James Hotel—which also, conveniently, operates a property in Tulum. The eatery captures "the essence of Yucatan cuisine," promises Executive Chef Ivan Lemoine, veteran Tulum traveler and the restaurant's co-partner (with Mads Refslund). "It's food that is better for you, and makes you feel better."
Forget the stereotype of "unhealthy" Mexican fare, and indulge in bean-laden burritos without artery-clogging crema. Here, you'll find no sour cream anywhere on the menu, while cruciferous vegetables hold their own as mouthwatering entrees alongside carne asada (try Pot-Roasted Cauliflower with Black Garlic and Mole). Absolutely nothing is fried—not even the addictive corn chips, which aren't chips per se, but pieces of tlayuda, 2-foot tostadas, slow-toasted and delightfully crispy.
Jungle Room's bill of fare prides itself on unprocessed ingredients, from freshly squeezed citrus juices to never-frozen avocados, made daily into guacamole served with an array of crudités far from the usual suspects: chayote squash, red and white endive, jicama. Cocktails and dessert offer still more opportunities to fill up on freshness: Each item on the drinks menu "requires two or three fruits," and the dairy-free panna cotta gets its lush creaminess from coconut. 23 Grand St., 212.201.9119, grupogitano.com —Julia Szabo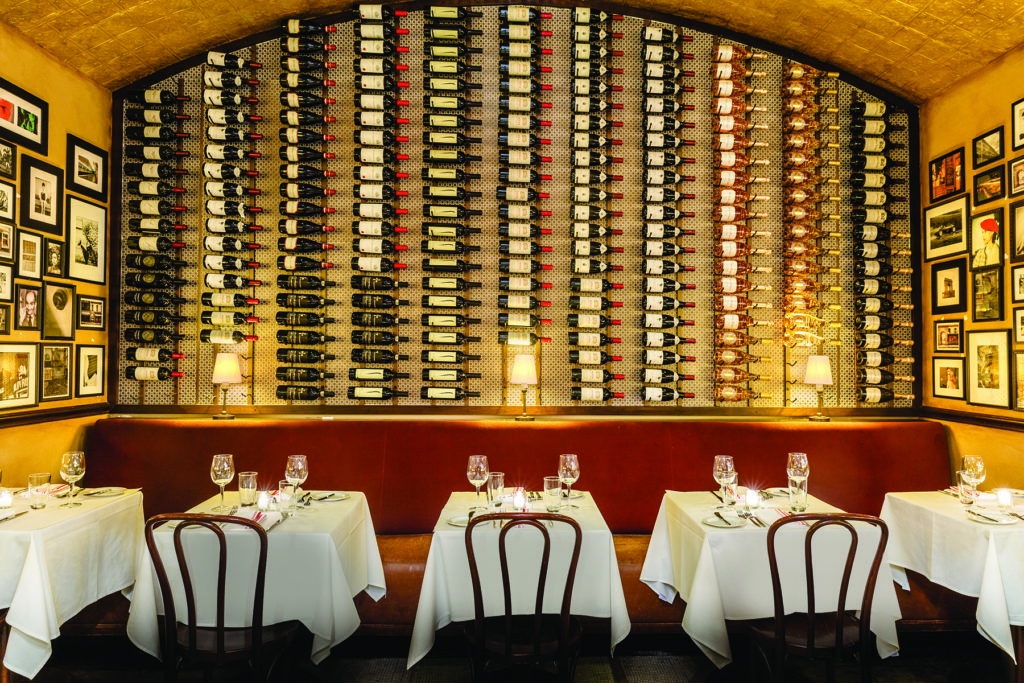 Bonne Santé
French food has long been synonymous with rich, heavy dishes. And while there's much on Brasserie Cognac's menu to satisfy any appetite, the local foodie favorite offers lighter options packed with flavor.
Chef Luis Gutierrez oversees menus at Brasserie Cognac's Midtown and Upper East Side locations, and takes a nimble approach to dishes such as the tuna tarte, prepared with Grade-A sashimi tuna, pickled ginger and wasabi, and pan-seared sea scallops with celery root and green apple purees and Chardonnay sauce. The All-Day Menu features the brasserie's signature chicken salad, made with napa cabbage, cranberries and a basil vinaigrette.
Gutierrez says the spinach and avocado salad—with roasted pine nuts, thinly sliced Parmesan and white balsamic dressing—is a favorite with ladies who lunch at the Upper East Side location, where Tina Fey, Steve Martin and P. Diddy have all dined. And the gougères (warm cheese puffs), a French classic, are so light and airy, they're dangerous. cognacrestaurant.com —Nancy Kane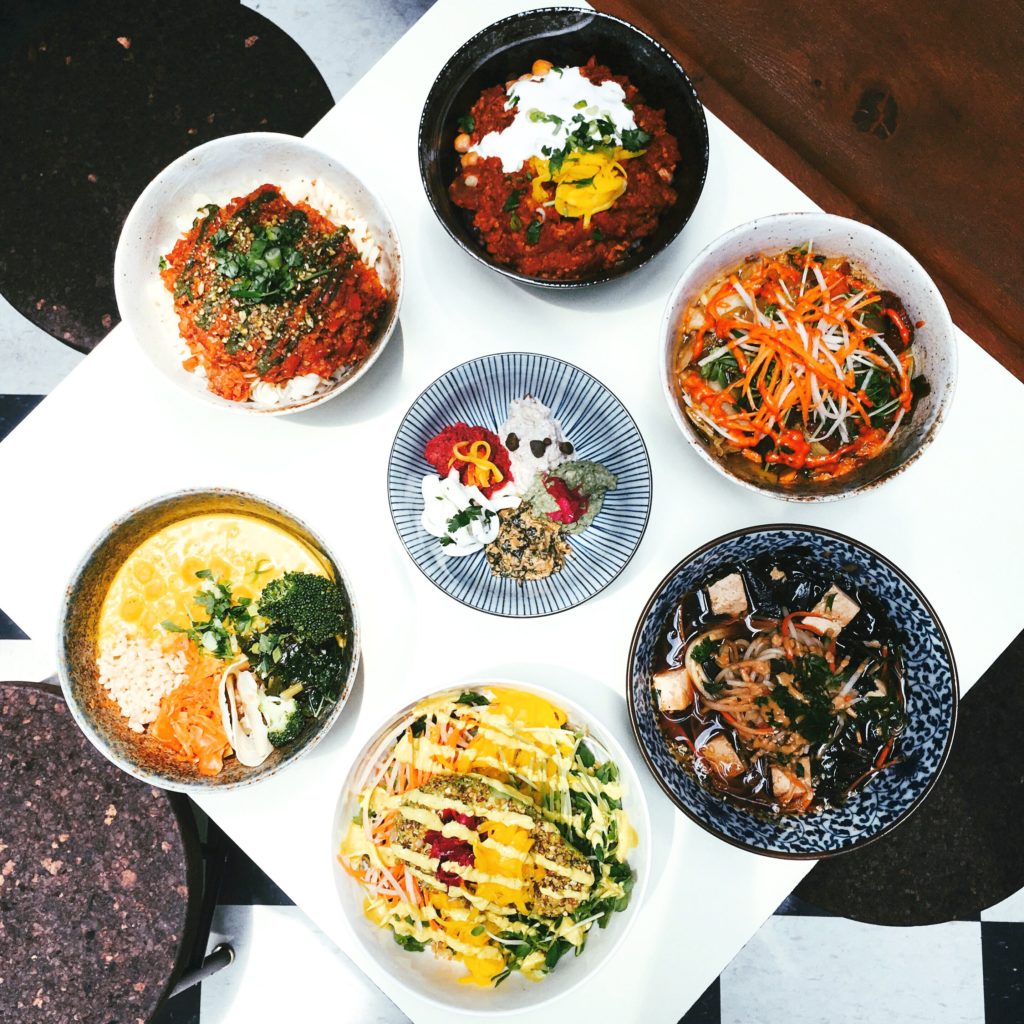 Le Botaniste
"Let food be thy medicine" is the credo of Le Botaniste, an apothecary-styled, plant-based organic eatery and wine bar, which just opened its third Manhattan location, on 43rd Street and Third Avenue, in April (following spots at 833 Lexington Avenue and 127 Grand Street). From the founder of Le Pain Quotidien, Alain Coumont, the "fast slow food" concept began in Belgium in 2016. Organic, plant-based dishes, slow-cooked or raw (never grilled or fried), are paired with natural wines. "It's more like a home-cooked meal" than a sit-down restaurant experience, explains managing director Laurent Francois.
Serving stations (manned by attendants in white lab coats) offer cold appetizers and spreads like green pea hummus, a caviar of beets, a coconut ceviche, and hot main courses, such as the rich and tasty Tibetan Mama (brown rice with coconut-peanut butter curry sauce, steamed greens and kimchee). For anyone still reluctant to try vegan meals, Francois suggests starting with the tangy Bolognese sauce (Pasta al Mafiosi). The reactions, he notes, are unanimous: "Oh, wow! I wasn't expecting that."
Beyond the hearty dishes, the eco-conscious operation is also something to rave about: "It's a very green-and-lean concept. We don't generate much waste, and the waste that we do generate is compostable. Our carbon footprint is very minimal," says Francois. "We are not trying to preach, but what we are doing is actually good—for you and for the planet." lebotaniste.us —Ray Rogers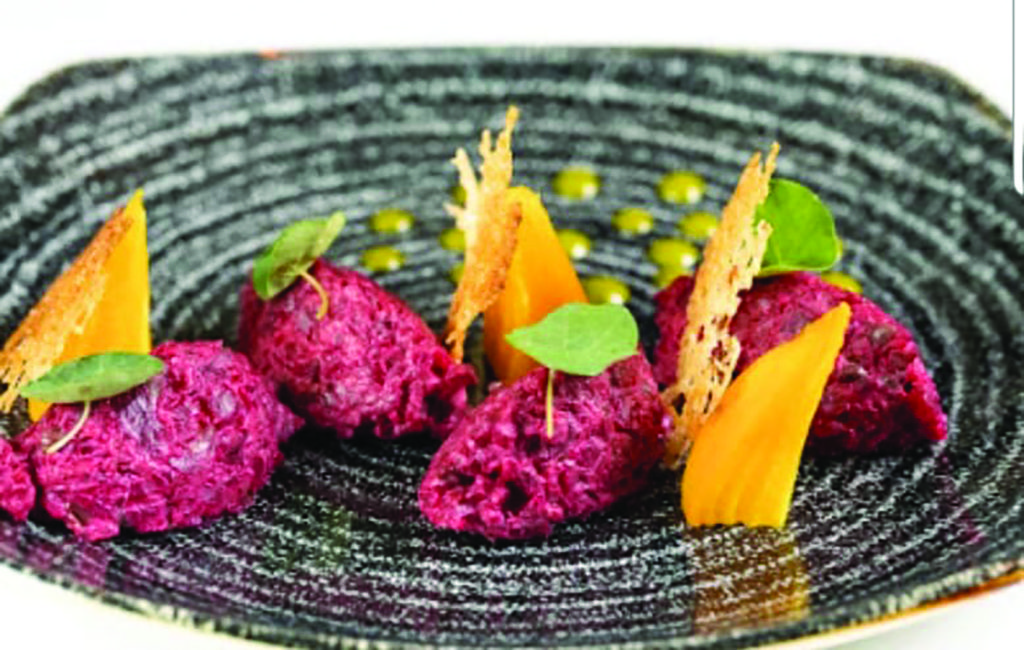 He's Got The Chops
Holder of the Guinness World Record for creating the most expensive soufflé, chef Richard Farnabe feasts on "a fantastic challenge." So when Albert Allaham approached him to revamp Reserve Cut, FiDi's modern steak house, Farnabe went big: "It will be the world's first-ever Michelin-starred kosher restaurant," he promised. "Next-level kosher."
Nonkosher-keepers, fear not: Farnabe flavor means that forgoing dairy and shellfish won't feel anything like a sacrifice. Highlights of Farnabe's new Reserve Cut menu, unveiling May 6, include red snapper with ginger, cilantro, mint, star anise and cinnamon; porcini pizza with walnuts, caramelized onions and a gluten-free cauliflower crust; cassoulet of roasted vegetables with saffron, cumin and coriander in a light sherry-tomato sauce; and strawberry-rhubarb baba au rhum or vanilla Napoleon, both paired with a whipped coconut cream dreamy enough to render regular schlag obsolete. The Setai – Wall Street, 40 Broad St., 212.747.0300 —Julia Szabo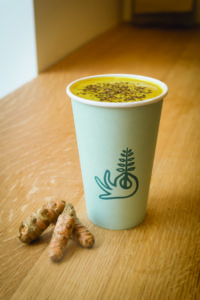 Bone Broth and Beyond
Springbone Kitchen's philosophy is simple: "Healthy food is not complicated, and it doesn't have to taste like cardboard," says Jordan Feldman, who, along with friend Sam Eckstein, opened the nutritious eatery in the West Village in 2016. Last month, the duo introduced a second Springbone Kitchen to the Financial District. "We look at the things that we want to eat— free-range, grass-fed meat and organic vegetables—and we use the best ingredients we can find," Feldman says.
The main draw has always been bone broth: classic chicken and beef and a seaweed-mushroom for vegans, but also cups of Liquid Gold (chicken with organic coconut milk and turmeric) and New Roots (beef with ginger and garlic). Bone broth contains a myriad of good-for-you ingredients including collagen and hyaluronic acid; benefits include stronger joints, glowing skin, gut health and a strong immune system.
Bonus points: The FiDi location features a broth called Bad Hombre (classic chicken broth, Spanish rice, chicken and salsa verde), with a portion of the proceeds benefiting the American Civil Liberties Union. springbone.com —Nancy Kane