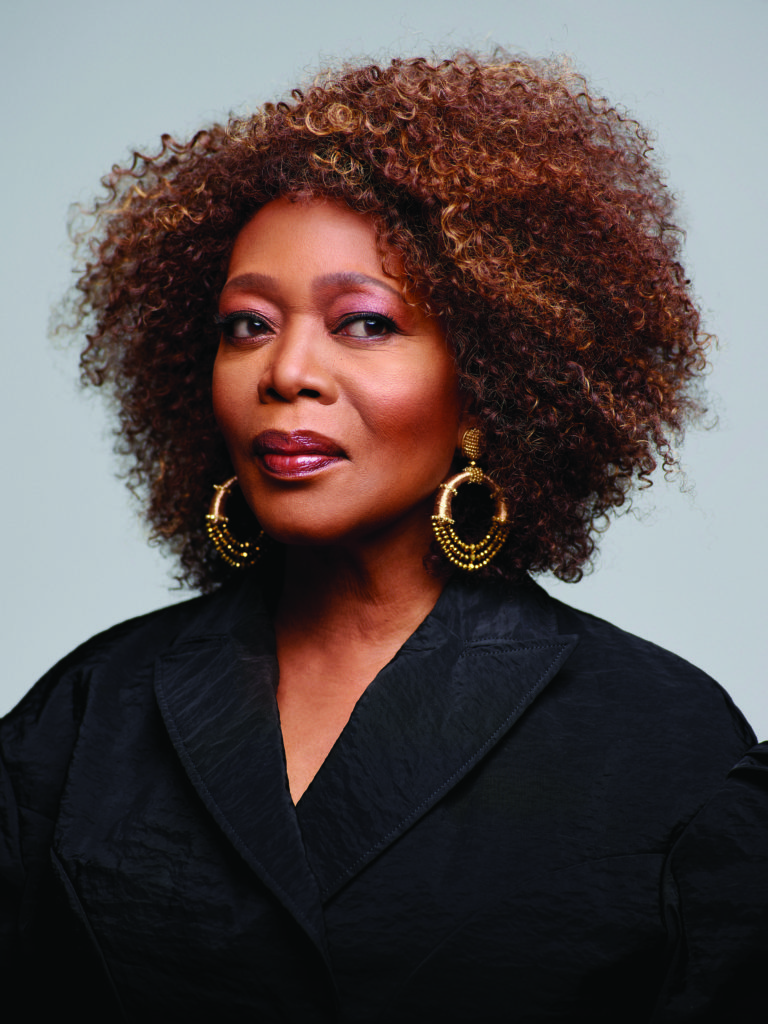 By Steve Garbarino
Alfre Woodard has earned a long hot bath, and she's taking it. "I just filled my tub with botanical oils and Epsom salts—my morning chill time," she says one recent morning from the Santa Monica home she shares with her husband of 26 years, screenwriter Roderick Spencer. The reprieve comes 16 months after nonstop work on television and film projects.
Following indelible roles in The Lion King, Fox's Empire, Marvel's Luke Cage, and an upcoming film called Fatherhood, what's the wildly versatile, Oscar-nominated, multiple-Emmy award-winning actress been doing?
Largely, a lot of prison time. It may take a while to wash it off.
Woodard, who co-stars as a tribal priestess alongside Aquaman actor Jason Momoa in Apple TV's sci-fi epic See (November 1), recently completed her lead role as the prison warden of a maximum security men's facility. Led by Woodard's complexly nuanced performance, Clemency took the Grand Jury Prize at Sundance this year. If you didn't see her in countless television dramas (Hill Street Blues, St. Elsewhere, The Practice, True Blood) or seminal films (12 Years a Slave, Cross Creek, Grand Canyon and Passion Fish, among them), you will remember her name now, when Clemency opens in theaters nationwide this month.
The stark, intentionally claustrophobic film, minimal in musical score, provides an unsettling, incisively matter-of-fact look into the methodical execution of a death row inmate by lethal injection. Woodard's warden, Bernadine Williams, hardened by watching a dozen executions, is rattled when one inmate's death is botched. Her world is further turned upside down when the next dead man walking emotionally moves her like never before. Guilt and self-doubt lead to marital troubles, excessive drinking (at the local Blue Star cocktail lounge), and nightmares. A reticently trusting relationship of sorts develops between her and a death row inmate (brilliantly played by Aldis Hodge, one of this year's HIFF Breakthrough Talents) accused of killing a police officer and preparing for the lethal injection bed, only days away.
Clemency, filmed in just 18 days, is unflinching but devoid of the so-called "emotional porn" common to the prison-drama genre. And that can be said of Woodard's portrayal of Williams, a woman who believes in doing her job, with deep respect to the condemned and her staff.
Along with Chinonye Chukwu, the director-writer of Clemency, Woodard, a self-described human rights activist, did prison tours in Ohio, from women's medium-security facilities to men's maximum. Besides providing a perception-versus-reality experience, the visits helped her develop her own character. She "had the privilege," she says, of interviewing condemned men and five female wardens.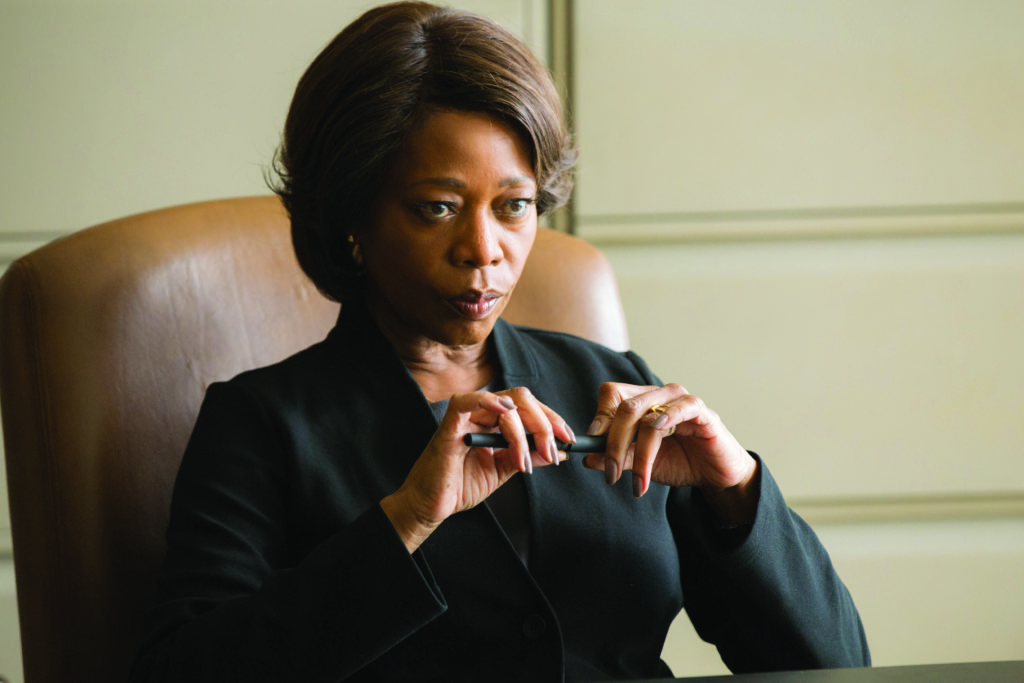 Of the inmates and staff, she says, "They are people you see every day. The higher-level workers are very steady. They come out of social work, mental health. There is not 'emotion' lying around those halls; that is, not uncontrolled emotion. The ultimate priority is protocol. The guards could be your uncle or cousin or someone from your church. The prisons feel like a Midwestern junior college or high school from the '50s or '70s. The parking lots are full of American-made midsize cars. The execution room is like a family clinic. So…everyday."
Woodard likens the role of a warden to that of an actor: "Get it right; keep yourself out of the way." That doesn't mean that filming Clemency didn't take its toll on the cast and crew. A therapist was on hand during the final execution scene.
What struck Woodard most is that all of the male inmates, dressed in their jumpsuits, be they 30 or 60, "people of all sizes and colors and shapes," all looked like boys to her. "I saw the boy in them, the abandoned or damaged…boy in them…even after the horrific things that some of them did."
She also learned that death row inmates invariably do not resent the warden and guards—only the system that imposes them. Some thank those employed to take their lives. "They are helping [the inmates] get through it more than most," says the 66-year-old actress.
The content of the Clemency script resonated with Woodard, who grew up in Tulsa, Oklahoma. Her home state was the first to initiate lethal injection, and is the only state to provide more than two modes of fulfilling the death penalty. One infamously botched lethal injection, she notes, occurred in the state. "I was well aware of the executions as a child," says Woodard, whose parents had urged her to watch television news since she was 5 years old, and then discuss what she had learned.
She is a founder of Artists for a New South Africa, an organization devoted to equality and democracy in that country. Of the methods of state-sponsored executions, she laughs at the logic. "They look for the best means of sanitizing it, the absurd notion of finding the 'cleanest' way to murder a person." Lethal injection, she says, "is not like putting someone to sleep."
Woodard began acting at 16. "I had a talent for it, an awareness, a calling for it. I discovered the power of film. The moving image is one of the most powerful tools to man. To commandeer it you could change the world, override the government. And now, of course, we have the internet."
It may explain why Woodard has an ego-less approach to acting, putting her trust in scripts, "the story." Asked if activism and acting ever converge, she explains that she is the antithesis of Method acting. "When it is time to do your work that is all that exists. You trust the story, get out of the way of your character. I don't tell an audience what to feel. You want to tell as truthful a story for your character as you can.
"When I leave the set and they say 'Cut,' I drop what I was doing. I don't do psychodrama. I don't bring emotions from my life to my characters. When you train as an actor, you learn not to use your emotions. You don't think about your dog to get weepy. The human circumstance should be enough. Just trust the writing. Walk away and go home."
Off-camera, Woodard says she maintains her athletic figure through Pilates, walking the beach, water sports and other outdoor activities. "I drink tons of green things…and everything in moderation." But for her emotional well-being, she says she has learned one thing that works best: "I let go of things. I don't hold grudges."
Clemency shows on Oct. 12, 11:30AM at Guild Hall, and Oct. 13, 10AM at Bay Street.