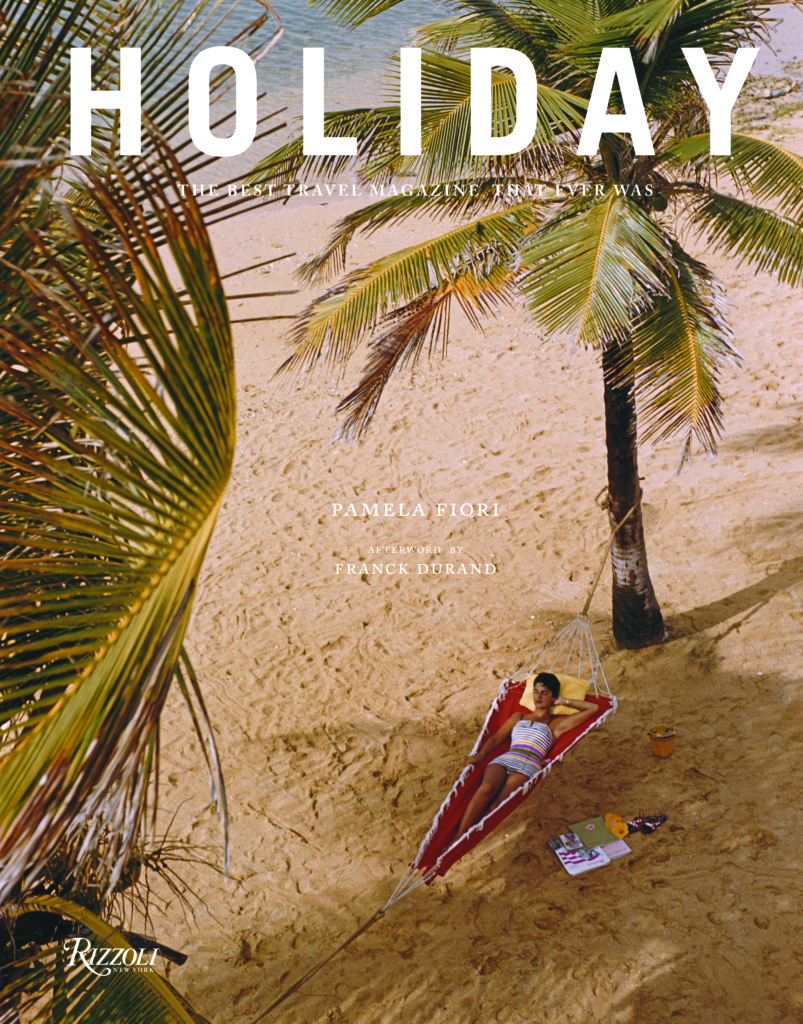 Flashback to 1946, post-World War II: Millions of soldiers and others in the armed forces were returning to America in anticipation of a fresh start. Optimism was in the air, as was the promise of stability and—thanks to the G.I. Bill—a new house and maybe even a brand-new car. Leaving the comforts of home was not in the picture. Nevertheless, Philadelphia-based Curtis Publishing boldly banked on what can only be called a gut feeling that soon a curious slice of the population would become restless. Thus was born Holiday, our country's first and arguably best travel magazine.
Under the leadership of Ted Patrick, its second and longest-tenured editor, Holiday took to the open roads, crossed borders and explored some of the world's most-coveted as well as its least-known destinations—some that readers might never themselves visit (hence, the expression "armchair travelers"). This was an era of slow transportation—transatlantic crossings, prop planes and rail travel—though not for everyone, only for the privileged few.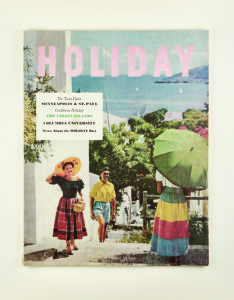 What distinguished Holiday under Patrick was his unerring eye for talent, which led him to assign stories to writers (Ernest Hemingway, John O'Hara, John Steinbeck, Colette, Truman Capote), photographers (Robert Capa, Henri Cartier-Bresson, Slim Aarons and Elliott Erwitt) and artists (Ludwig Bemelmans, Al Hirschfeld, Ronald Searle and George Giusti) who were considered the greatest of their generation. Many contributors had been in, or had covered, combat. They welcomed the opportunity to leave conflict behind and, instead, seek out the most beautiful, stimulating and, above all, peaceful places on the planet.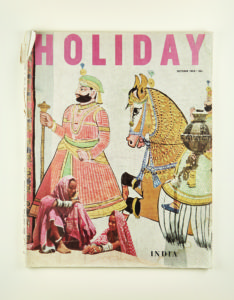 Not always, however. Both Patrick and his brilliant art director Frank Zachary realized that the world was still, and probably would always be, in turmoil and not every destination was without its flaws. To depict certain cities or countries or even continents without citing their blemishes was not to tell the whole story—therefore, the magazine's attitude was photojournalistic, which only added to its fascination.
One of the magazine's most famous essays was "Here Is New York" by E.B. White. Published in 1948 and subsequently released in book form, it is regarded as one of the most moving and candid portraits of the city. Theme issues were another of Holiday's hallmarks—spotlighting such subjects as Paris, London, Spain, Mexico, Africa, Israel and Russia. To this day, these editions are considered keepsakes.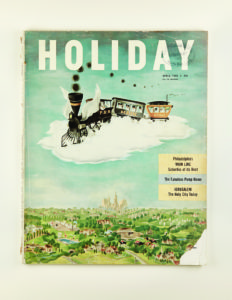 Patrick died in 1964, but it was not by any means the end of Holiday, which continued under two successors, Don Schanche and Caskie Stinnett, who navigated the magazine through the rough waters of the '60s. Even Frank Zachary returned for a while to do a stint under Stinnett. By this time, many Americans were off to Europe on jet planes, cruising through the Caribbean and at the ready for the challenges of exotic travel. In 1971, Holiday was bought by new owners from Indianapolis. Eventually, after a merge, its name was changed to Travel/Holiday. It was never the same. By the late '70s, the magazine was out of business. But not forever. In 2014, Franck Durand, a visionary French graphic designer, resurrected the title, and now publishes his version of Holiday out of Paris twice a year. This fall, 73 years after the iconic magazine came into being, Rizzoli is paying tribute to its golden years in a book called—what else?—Holiday.
Pamela Fiori, who went on to edit Travel + Leisure and Town & Country, got her start in magazines at Holiday from 1968 to 1971 and is the author of this book.