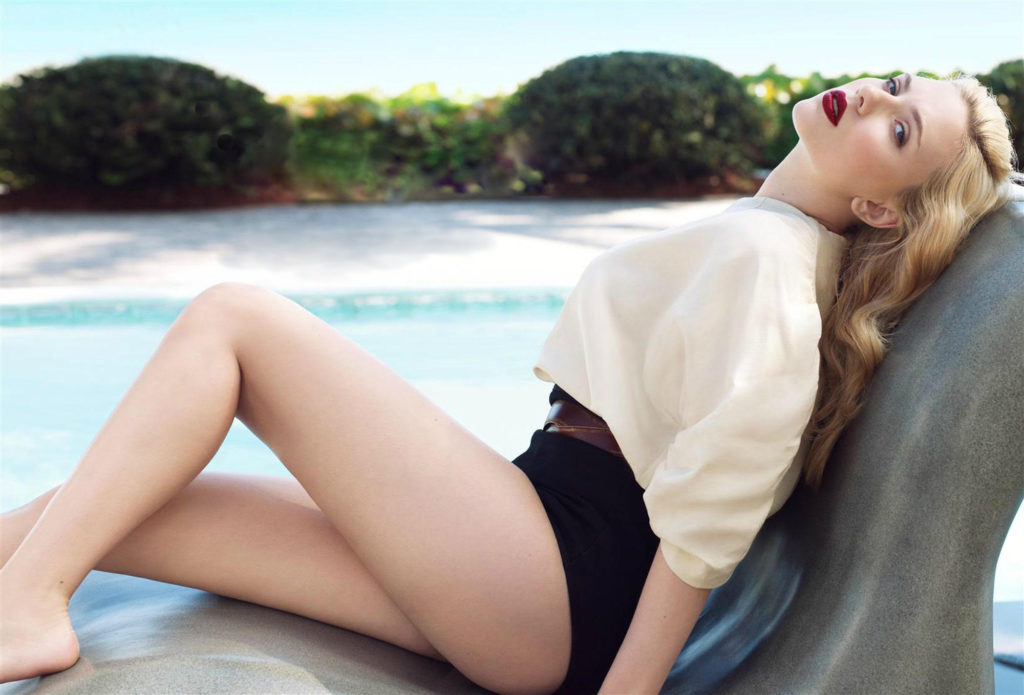 By Steve Garbarino
As astoundingly nimble an actress as she is—she is singular in films set in the past (Girl With A Pearl Earring, The Black Dahlia) and the future (Under The Skin, Lucy)—Scarlett Johansson's voluptuous bombshell looks and classic femme fatale charisma often compete with her talent. She's been so good for over two decades, her skills can get lost in translation. It seems she can have it both ways, considering her many accolades as both an indie darling and a summer blockbuster magnet.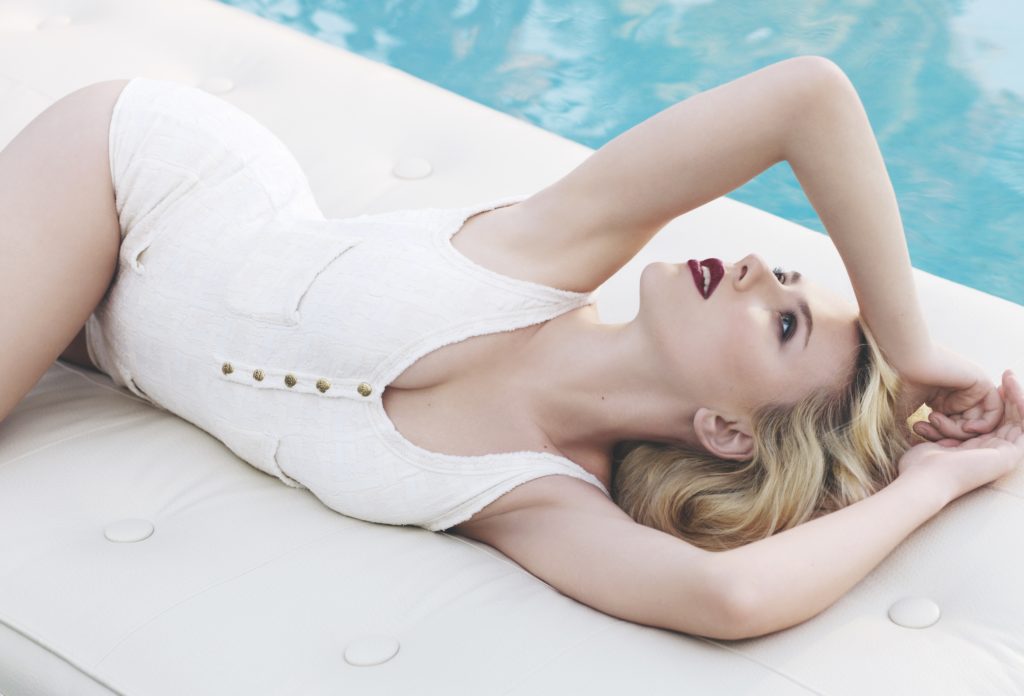 No doubt the Manhattan-born actress, now 34, has become a household name principally from portraying the bodysuited, head-jackknifing superhero Black Widow in all those Marvel Comics-inspired franchises (Captain America, Avengers and, well, Black Widow). These made her the highest-paid actress in the world. It has also made her one of the most fit: Before donning the Black Widow costume for the first time, Johansson revealed that she'd never stepped inside a gym. That changed, with sessions with personal trainer Eric Johnson, working out four times a week, focusing on military presses, pull-ups, pistol squats and kettlebell swings. "I am stronger and more capable now than I was 10 years ago," she admitted. "It's hard to fit everything in when you try to balance motherhood, training and work. That balance is a myth!"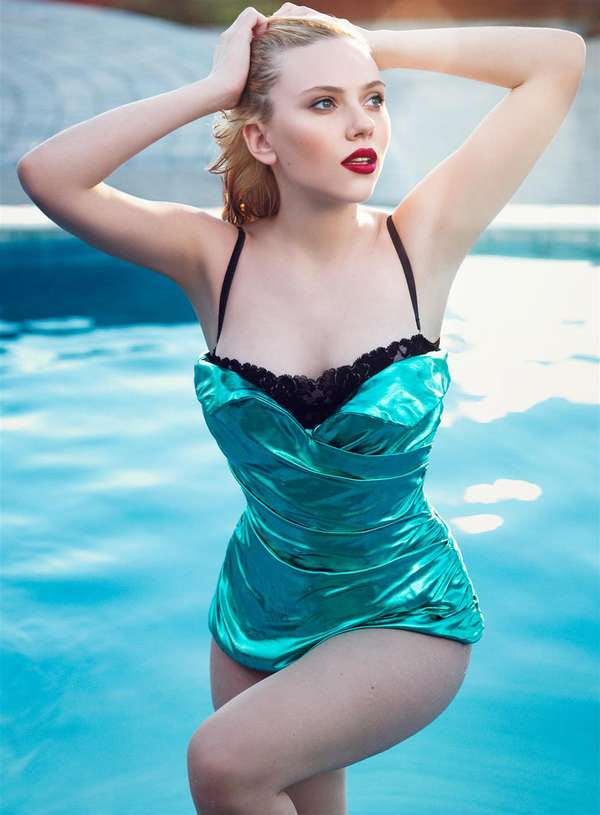 Having scaled the heights of commercial success, Johansson now returns to her roots—independent cinema—and all too real, in back-to-back films featured in the Hamptons International Film Festival (October 10-14): Noah Baumbach's Marriage Story and Taika Waititi's Jojo Rabbit.
In the contemporary-set drama Marriage Story, directed by Baumbach (Margot at the Wedding, The Squid and the Whale), Johansson portrays a Los Angeles-based actress, mother and Gotham sophisticate going through a difficult divorce from her acclaimed New York-based playwright husband (Adam Driver). The first-class cast includes Alan Alda, Ray Liotta, Wallace Shawn, and standout Laura Dern (as Johansson's lawyer). It is being hailed as the Kramer vs. Kramer for the 21st century, albeit with Baumbach's singular art direction, dialogue, and style.
Alternately, in the WWII-set black comedy Jojo Rabbit, Johansson plays a single mother who is secretly harboring a young Jewish girl whom her lonely son discovers. Through the reveal, the boy has second thoughts about longing to join Hitler's ranks while enrolled in a Nazi Youth training camp.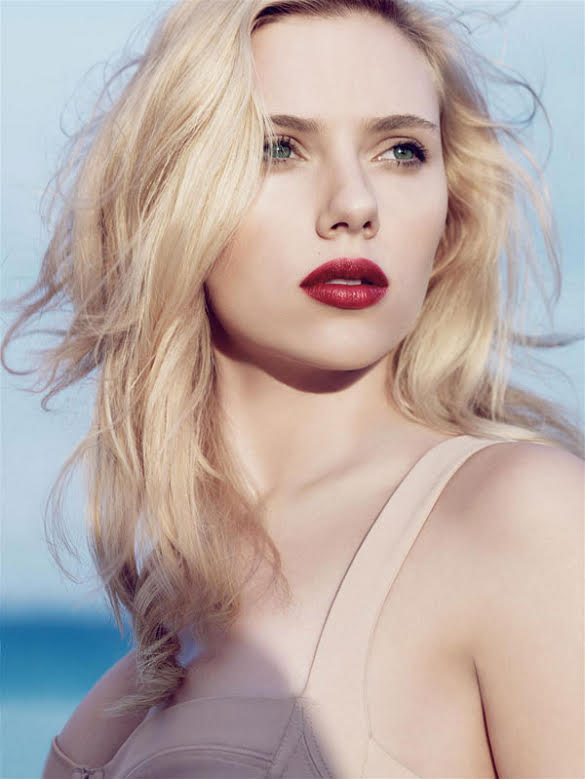 Of the former, Johansson had some personal experience to cull from. Her own parents divorced when she was 13 and graduating from Manhattan's PS 41 school. During the making of Marriage Story, she was going through her own second marital breakup. Her first was with the actor Ryan Reynolds (her husband from 2008 to 2011). In 2017, she divorced her French-born spouse of four years, Romain Dauriac, an advertising agency owner and father of their 5-year-old daughter, Rose. Like the characters in Marriage Story, the two divided their time between two cities (in her personal life, it's Paris and New York). She is currently engaged to SNL "Weekend Update" co-host Colin Jost.
Friends say she has finally found her match with Jost, each having met the other's family in the Hamptons, and celebrated birthdays there together, too. Most importantly, they share a sense of humor. She has said that the time apart, language barriers and having different lifestyles took its toll on her marriage to Dauriac, although they are still friends and share a business.
"I didn't know what Noah [Baumbach] and I were going to talk about," she stated of her first meeting with the Marriage Story director. "I just kind of blew into the room, ordered a glass of white wine and started complaining about the relationship I was in."
She further added that the Brooklyn-born auteur, himself divorced, told her that the film role was "probably a project you are either going to really want to do or not." Johansson was in.
"Noah and I talked a lot about the actual experience of divorce because I was in the middle of the process," she said. "We talked about becoming parents, and our own parents. The expectation that comes with being in any kind of a relationship, and the disappointment that can come with that expectation."
Perhaps the most grueling scenes involved two days of "screaming at each other, brutally screaming and fighting. It was exhausting. If I didn't have as strong an actor as Adam [Driver] to take all the stuff I was giving him, I would have been lost."
Says Baumbach, "Scarlett was amazing. It was like watching a great athlete compete. Since there was no stopping, I'd give her notes for the thing as a whole. A note could be for three-and-a-half minutes into it, and she could make that adjustment. It was so fine-tuned."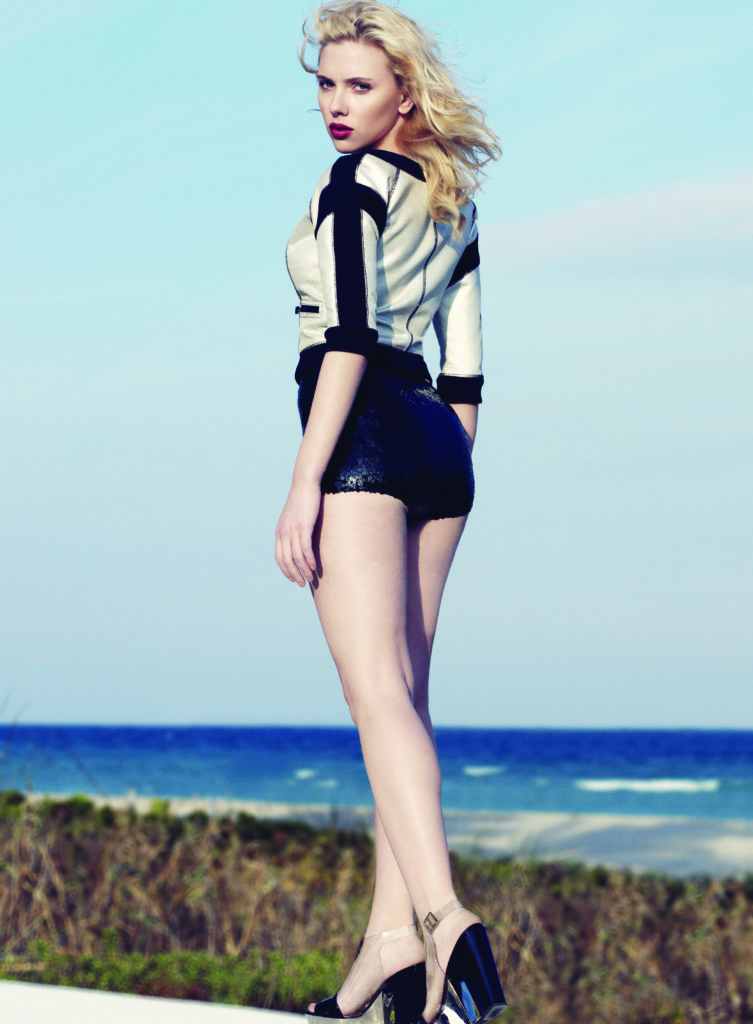 Making Jojo Rabbit was a lighter experience, despite that a device in the film includes an imaginary, buffoonish Adolf Hitler—much like the life-size rabbit "Harvey" in that James Stewart film—that befriends the boy. Advance reviews have been polarizing, to say the least. Yet controversy aside, Johansson sees Jojo Rabbit as a film with a heart. "There's such humanity in it. It felt like if anybody could make this film, it's [director and Hitler portrayer] Taika [Waititi], because he's incredibly sensitive and soulful. He uses humor as a way to draw in the audience so we could have a moment of reflection. It's very clever."
Outspoken and approachable in real life, Johansson has said that she wanted to be an actress since she was 3. Her mother, Melanie Sloan, was a film buff. Her father, Karsten Johansson, is a Copenhagen-born architect. The young actress took tap-dancing, sang, and performed in grade school. She was 8 when she was cast, to critical notice, in playwright Jonathan Marc Sherman's Ethan Hawke-starring Sophistry, an Off-Broadway hit.
Now a mother herself, Johansson admits: "I don't profess to know anything about parenting, anything more than anybody else, but being a working mom is an incredible challenge—and it's an incredible gift."
Few mothers can tell their daughters that they've worked with iconic directors such as Wes Anderson (Isle of Dogs) and the Coen Brothers (Hail, Caesar!, in which she is hilariously spot-on as a gangster-loving, Hollywood Golden Age actress). She may have hated wearing a constricting mermaid suit while filming an aquatic ballet scene in the stylish satire—well, her character was pregnant, after all—but in fact the actress is a water baby, and for the past several years, a resident of Amagansett. She and Jost spend time in Montauk, where he has a place.
The two, who are often spotted at The Crow's Nest compound, Liar's Saloon for nightcaps, and the beach by Gurney's in Montauk (where they considered getting a condo), have made the East End their vacation destination. Avid surfer Jost, 37, can often be seen catching waves off Ditch Plains Beach, with Johansson working out on the beach nearby.
A dedicated fitness fanatic since her Marvel Comics days of character-building, rigorous exercise regimens, Johansson, an advocate of a carb-cycling diet (switching between high-carb and low-fat consumption, while maintaining protein intake), has said of her current workouts: "I do the same fitness routine as my big muscle-man trainer. A lot of it is endurance, stability and strength-training, involving movements from weightlifting and gymnastics. I like to work up a sweat. I've tried Pilates and yoga; I like to dabble in different things, but I always come back to a good old-fashioned athletic, full-body workout." hamptonsfilmfest.org