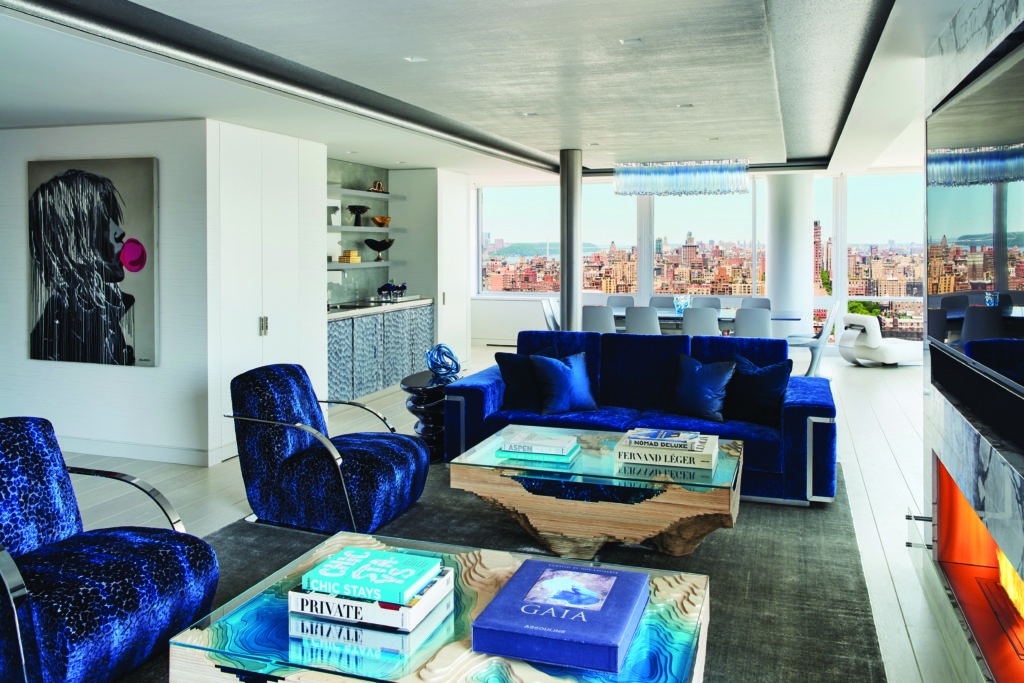 By: Kathryn O'Shea Evans
In his early 20s, Jason H. Karp should have felt like the king of New York City: He'd graduated summa cum laude from the Wharton School of the University of Pennsylvania, ranked as an Academic All-Ivy and All-American in varsity squash, and landed solidly in Manhattan's cutthroat world of hedge funds. But his body wasn't quite keeping up with his winning streak.
"I was diagnosed with several autoimmune conditions, one so severe they told me I'd be blind by the age of 30," he recalls. "There was no cure and nobody knew how to treat me." Karp sought wellness solutions long before Goop was a glimmer in Gwyneth Paltrow's eye, and the results should send shivers through the pocketbooks of Big Pharma: "I ended up curing all my conditions through food and lifestyle over the next year."
He's since used the experience as a catalyst, creating a veritable wellness empire: Hu Kitchen and HuProducts, which he co-founded with wife Jessica and brother-in-law Jordan Brown, and HumanCo, a private holding company that incubates and invests in health and wellness-focused businesses.
Yet one of his most enviable successes to date is his family's 4,300-square-foot Upper West Side apartment, arguably Manhattan's most health-focused abode (and currently on the market with Sotheby's for $20.95 million). With interiors by Architectural Digest AD 100 designer Tony Ingrao, its clean-lined rooms are awash in luxurious finishes and saturated hues. "We evaluated a few different people that came very highly recommended," says Karp, who gravitated toward Ingrao's taste and open-mindedness. "He's very creative—we wanted the appearance of an ultra-high-end apartment, but wanted the ingredients to be different, healthier and better."
It all echoes his work with Hu, which whips up everything from almond butter and puffed quinoa dark chocolate bars (available at Whole Foods) to grass-fed beef keto bowls with stuffed avocado (at Hu Kitchen, the brand's Union Square restaurant) that are both healthy and delicious. "We called it Hu because we believed people weren't eating like humans anymore, and all of the data showed that," Karp says."This is the first generation in recorded human history predicted to live shorter than the previous generations. Despite all of our great scientific advances, we have the most chronic diseases of any generation. Our tagline is 'Get back to human' because we want to help people get back to living and thriving like humans were meant to."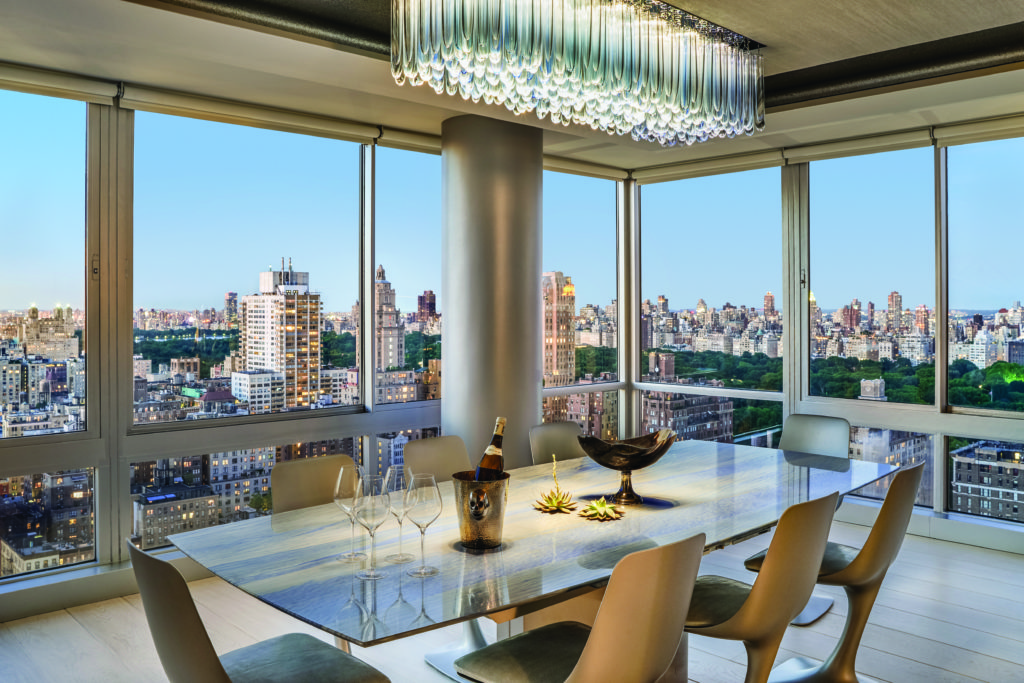 Karp's apartment is fitted with every-thing a health-bent 21st-century homosapien could dream of, including UV-blocking floor-to-ceiling windows, a triple-osmosis water filtration system for pristine drinking and bathing, and a Savant Smart Home Automation system that controls everything from the covert speaker system to the hidden blinds. "The only reason I'm an expert on aspects of health and wellness is because I'm kind of a canary in a coal mine; I get sicker faster than most people from things that are bad for humans," Karp says.
To that end, he ensured the property is as clean as they come, using VOC-free paints, glues and sealants. "The ingredients, if you will, of the apartment were really important to us, particularly me," he says. "I'm sensitive to things like adulterants, toxins, chemicals. This took some time; we had to source basically organic wood that's not composite or treated with chemicals like formaldehyde. My kids have pretty significant allergies, as do I, so there's no drapery and very minimal carpet."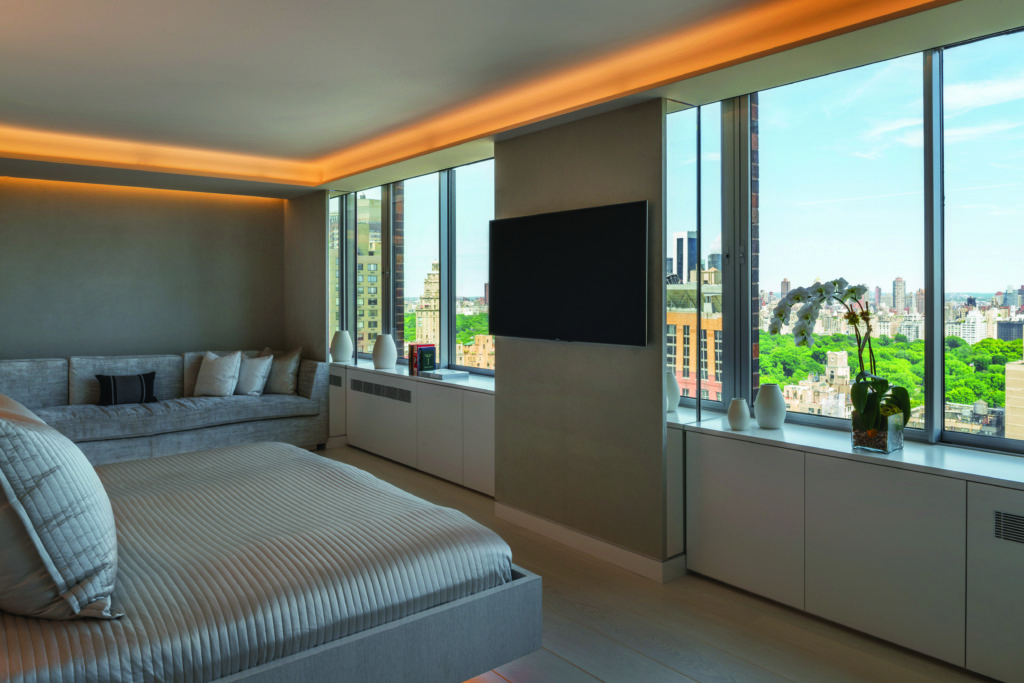 The home's Ketra lighting system mimics the circadian rhythm of the sun, be it morning's natural blue light or evening's melatonin-boosting red and orange. "It's probably the most unique feature, which my wife thought I was insane to do," Karp says. "Ninety-nine percent of humanity would think this was wildly unnecessary, but it's an amazing feature that's valuable for us and for anyone who wants more optimal sleep."
Speaking of slumber, the couple's 2,000-square-foot master bedroom suite includes a de facto spa, with a Mediterranean Blue quartzite jetted soaking tub, yoga room, gym, sauna, and walk-in steam shower. "It's an oasis," Karp says. "Saunas and steams are very helpful for detoxifying, and we really believe in doing everything you can to relax and decompress."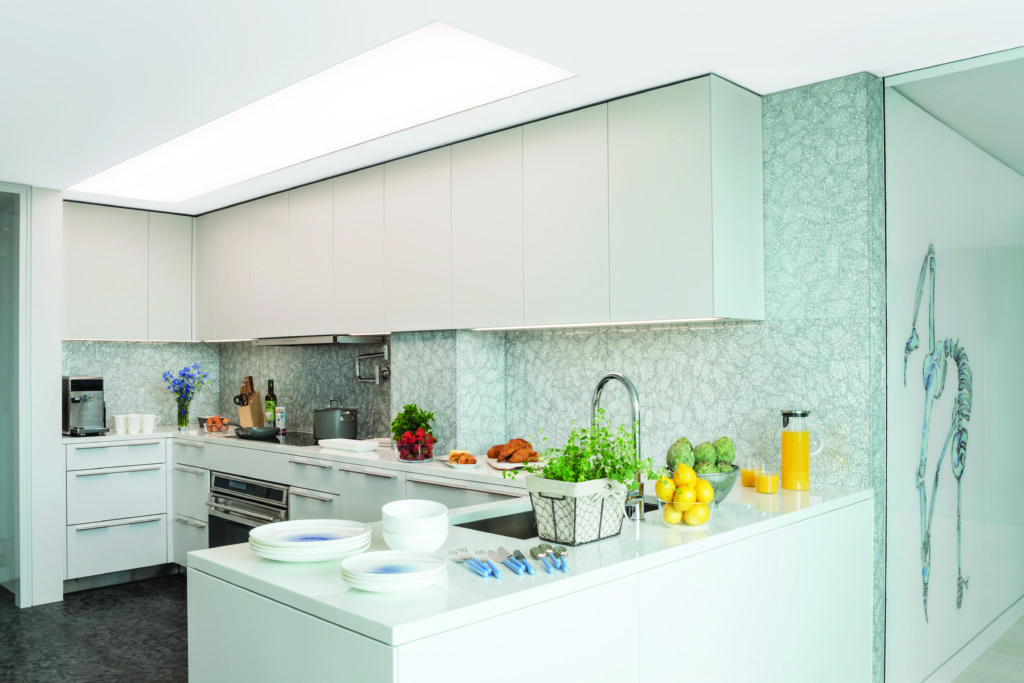 That the 3-bedroom, 4 1/2-bath spread overlooks a peregrine falcon's-eye view of Central Park's verdant sprawl is no accident. "I'm very into nature and trees. One of the problems we have with New York is there's just not enough outdoor living," Karp says. "We don't like the feel of a more ornate, dark home. Every aspect of this apartment is bright and happy."