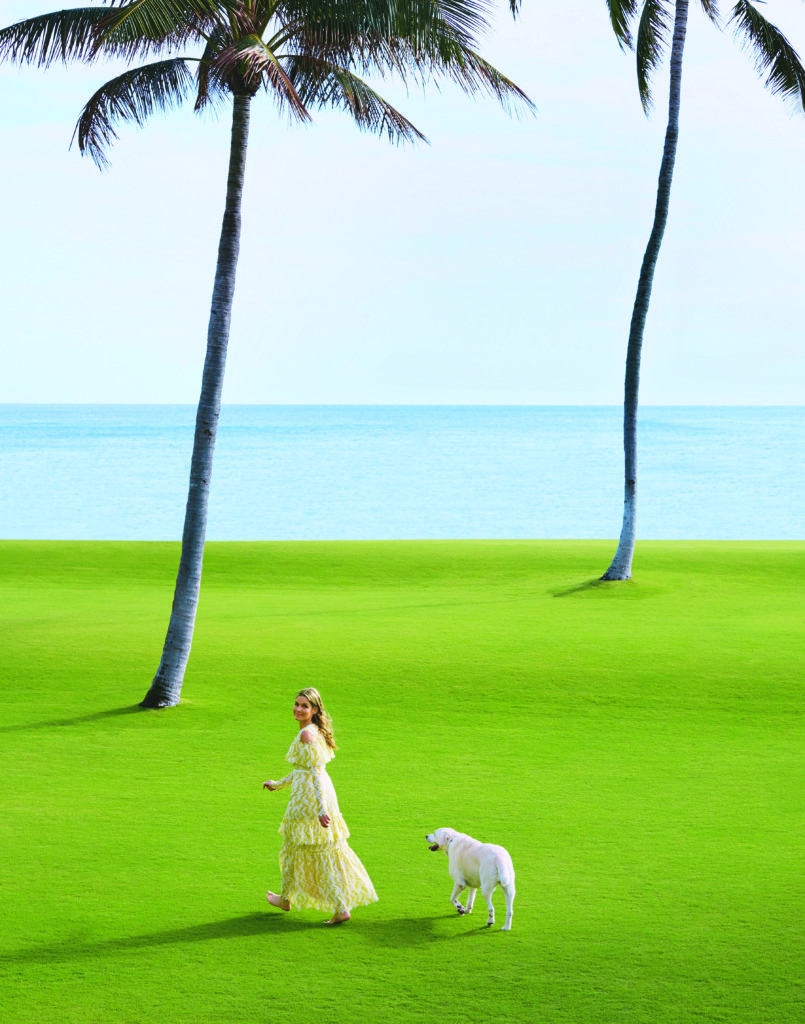 By Cristina Cuomo
Growing up with Aerin Lauder and spending time with her in Palm Beach gave me a front-row seat to the world that would inspire a beauty and accessories empire. From the vivid colors and warmth of Palm Beach to the perfectionist that was her legendary grandmother, Estée Lauder, Aerin channeled all that is beautiful into a multitude of passion projects. And now, all our lives are a little more colorful, thanks to Aerin.
Cristina Cuomo: Your book is so lovely—all of the history, the architecture. I didn't know so many of the facts about Palm Beach. Tell me a favorite childhood memory you have of this town.
Aerin Lauder: I have early memories of my grandmother sitting on her porch at her garden with Tom Joy, a perfumer from ISF. I remember her working and mixing fragrances. I was a little girl watching her be in her element in a place that she loved, creating her magic. It was family time mixed with discussions about business. That was the beginning of her fragrance, Beautiful, which to this day is one of the Estée Lauder brand's most successful fragrances.
CC: Do you have a favorite beach in Palm Beach?
AL: There's that main beach right up on South Ocean Boulevard. I love to go for beach walks.
CC: You write about The Breakers being one of the best destinations and loving the conch fritters at the Beach Club. What are some of your other favorite dishes at local restaurants?
AL: I love Pizza Al Fresco, which is like 2 feet from my store; they have a delicious caprese pizza, and their margarita pizza is perfection. I also love Sant Ambroeus, and The Royals, way down. They have art lighting in the restaurant, which is exciting, the most incredible gelato, and a delicious Milanese—you feel like you're in Italy.
CC: When I was a little girl and went to Palm Beach with my parents, I went on a bike ride on the Lake Trail and I remember thinking the sun was following me the whole time, and you were with me. I think we were like 6 or 7 years old, but it was so special, and in the book you said it was one of your favorite pastimes to this day.
AL: It is. When I was in PB last week, I went for a walk on the bike path, and it still is one of my favorite activities. It's for anyone because when you're on the bike path, you see people on bikes, rollerblades, running, walking—all kinds of activities, all different types of people enjoying it.
CC: There is such a fusion of style here, as you write in your book. What does Palm Beach style mean to you?
AL: Palm Beach style is really about color. You look to a lot of the wonderful old inspirational photographs and see these incredible pinks, reds, yellows and blues, and you know, not one was black. It was a wonderful sea of color.
CC: In your Aerin collection, you incorporate a lot of colors, but they're more muted—pastels and such. Do you have a favorite color?
AL: I love blue and I love lavender. My bedroom always had a ton of blue. Estée always loved blue.
CC: And she loved gold, too.
AL: She loved gold. I always joked that she taught me that gold is a neutral. She always wore gold accessories.
CC: Besides your Aerin store, do you have a favorite Palm Beach store?
AL: I love Lori Jayne on South County, which has great monogramming and everything from children's clothes to beautiful blankets to vintage silver. She has a wonderful eye. I really love CJ Laing, which is right next to my store and we share a garden. And I also love Kemble Interiors.
CC: What is one thing that you do every day to stay mindful, focused and together?
AL: Picking up the phone—it's important and healthy to talk to family or friends. Today, the world is so digital. Everyone is always texting or emailing. There is something really nice about hearing your mother's or a good friend's voice.
CC: What's your fitness routine?
AL: I'm a real walker. It's my favorite thing to do, so I always love to go for walks wherever I am, whether it's in Miami, where I go on that boardwalk, and I love the bike path in Palm Beach. In New York, I start my morning off walking in Central Park. For me, walking is calming.
CC: What is your beauty routine like?
AL: It's really important to get a lot of sleep and drink a lot of water, and I do believe that good skin really starts with good skin care.
CC: What's the best advice that Estée ever gave you?
AL: Whatever you do, do it well. Do it with passion. And she always said to follow your dreams.
CC: Do you have a fashion must-have this winter?
AL: A Blazé blazer. We have them in the store. They're a wonderful brand based out of Milan. They're easy, versatile, and you can customize the blazer, like putting your name in it and choosing the lining.
CC: What is your most treasured possession?
AL: My kids. But after that, a brown vintage Hermès Kelly bag that my grandmother gave my mother and then my mother gave to me—I'm very sentimental about it.
CC: What is your favorite accessory in the Aerin collection?
AL: The gold T-strap sandal, which is great for everything, day and night. The other one that I love is this Heart Raffia pouch that started the brand six years ago, and continues to be one of our bestsellers.
CC: I love those little straw bags—I have them in every size and every color of the heart!
AL: We wrap them beautifully, and that was something that Estée taught me and my sister: The importance of attention to detail and to take the time to make things beautiful, whether it's for your home or a gift, or an experience.
CC: Favorite thing about Palm Beach?
AL: The colorful visual experience that it is.
CC: You certainly provide that within the book.
AL: I'm so glad you like it!