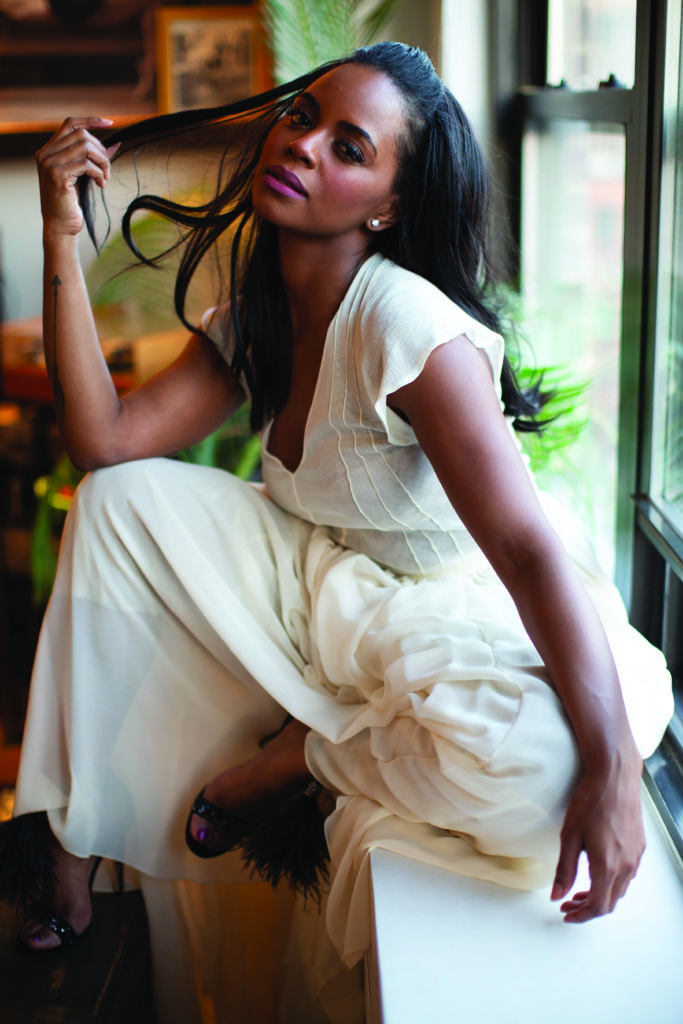 by Cristina Cuomo
Cristina Cuomo: I'm so fascinated by your incredible Broadway career. How did you get into musical theater, versus straight-up acting?
Krystal Joy Brown: I was one of those kids who was raised by Disney and by watching musicals. Me and my mom and sister would watch those old 1950s musicals and I was just so enamored by how they told a story, not only by acting and saying the words, but they'd also sing it, and when they couldn't sing it, they danced it. They used their whole bodies to tell a story.
Then when I first heard Rent, it turned my whole world upside down. I realized you can have these really complex narratives in a musical, in a show about the AIDS epidemic and friendship and love, and all of these different races of people loving each other, supporting each other and saying things like "fuck" and "shit" in the music! I was like, "Whoa! It's kind of rock 'n' roll and a musical." It was deep and gritty. The first show I got was a national tour of Rent and I had always been laser-focused on that show because it was all these things I wanted to talk about. I wanted to be a part of pieces of art that add to the cultural conversation, that raise awareness and consciousness and are mindful of what's going on in the zeitgeist of humanity.
CC: You've been in so many shows since then. What are some highlights?
KJB: After Rent, I did Hair, my first Broadway show. And Motown was epic for me because I believe in the meritocracy of things. I started off as an understudy, then I was a featured ensemble and principle, then starring. I worked my way up. And playing Diana Ross taught me that I could be a leading woman, that I could carry a show, that I had this other fire inside of me. That I had this ability to be dynamic and do a show for a year, but also the amount of responsibility that role is—that woman is incredible and still alive—and I could pay a truthful homage to her for what she did for me and all women of color as the first real black superstar. It was a heavy weight but I bore it with so much pride and excitement. And Eliza in Hamilton is a totally different type than I've ever played.
CC: That's the No. 1 Broadway show. You must be very excited and nervous at the same time.
KJB: Yeah, totally excited, totally nervous, big shoes to fill. Incredible women have come before me who have done the role. And also she was an incredible woman. One of the things I love about portraying real women is the chance to research and learn. So with Eliza and with Hamilton, I get to go back to the creation of the United States of America. So much has gone wrong in this country in the past two years, in my opinion. I was raised in Virginia; we're very patriotic there. And I lost a little bit of my hope and faith in this country the past few years. But I've fallen in love again with the ideals and principles of this nation from what I'm reading, and I get to take on this show that's full of so many shades of what this country actually is. I have a new emergence of pride.
CC: How do you stay healthy in the midst of these demanding productions?
KJB: I think of Broadway as being an Olympic sport. Especially doing musical theater: You're using your entire self. Your voice and body get run down. I'm vegan, and I also juice every day. And I have a lot of crazy concoctions, a lot of them involve garlic and lemon, and supplements to make sure I'm in peak physical condition in order to sustain eight 3-hour shows a week, six days a week. And Eliza sings from the beginning to the very end of the show. There's a lot of warming up, stretching and yoga. I also practice mindful meditation. It brings stillness, peace.
CC: What about a fitness regimen?
KJB: I'm obsessed with Fierce Grace in New York City. It's a hot yoga studio. I go there three or four times a week for a deep sweat and a really hard workout. It's definitely about getting some peace of mind, but they push you.