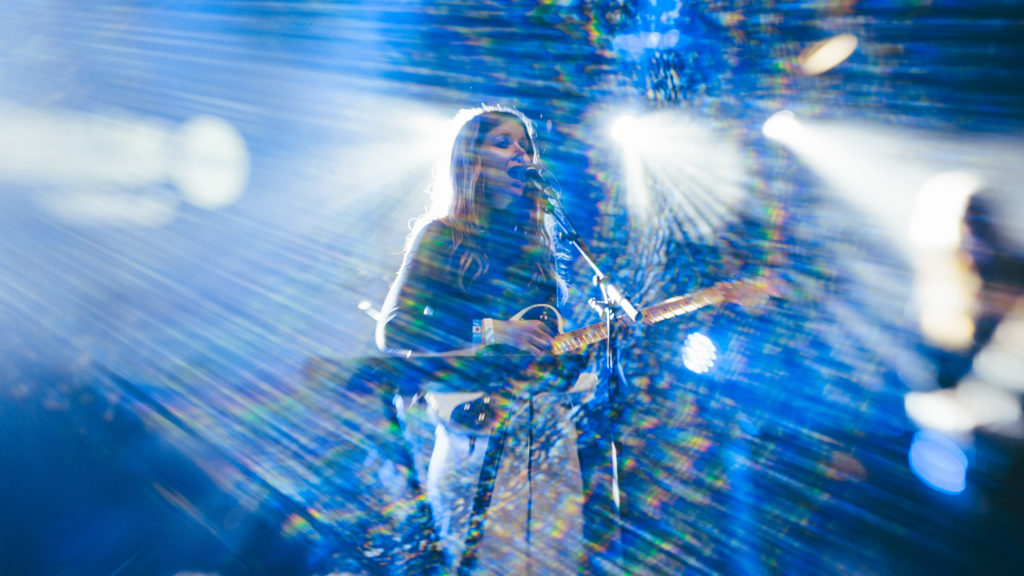 By Ray Rogers
Before even stepping foot out of my hotel in Reykjavik's marina, I stumbled upon one of the best new local bands, Between Mountains, playing its atmospheric brand of Icelandic indie folk-pop right in the lobby. Led by 18-year-old Katla Vigdís, and hailing from the remote Westfjords area of the country, Between Mountains makes music informed by the vast, natural splendor of its homeland. It's just one of many female-led acts making an impact on the four-day schedule who I couldn't wait to see.
Befitting this progressive island, Iceland Airwaves became the first major music festival to achieve gender parity in 2018, the same year equal pay for men and women was made law in Iceland. And for the second year in a row, Iceland Airwaves again booked a lineup of bands that's 50/50 female/male, meeting a Keychange initiative that over 250 other festivals also signed on for, years ahead of the projected goal date of 2022.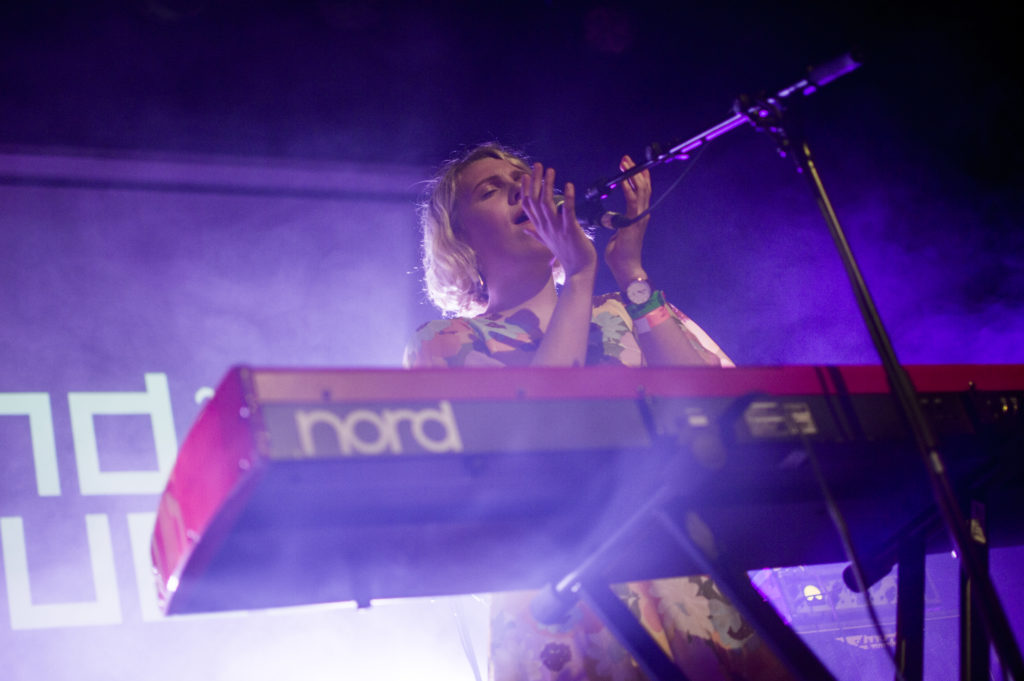 As a result, the number of powerhouse women on the lineup is noticeable, as is the diversity on stages big and small throughout the long weekend. (Iceland was also named the most accepting country in the world in 2018.) Case in point, the double whammy on Thursday night's lineup at dive bar (and vegan eatery) Gaukurinn: Hailing from Dublin, the out, loud and proud women in Pillow Queens played outrageously catchy, propulsive indie-rock to a packed house, on the same bill as the all-male dramatic death metal quintet Auðn. The latter's thrashing guitarists created a spectacular hair cyclone of epic proportions.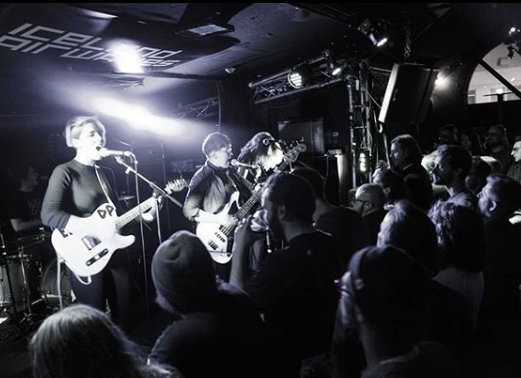 "What a blessing to be the first," notes LA-based electronic artist Madame Gandhi about the Keychange milestone, when we met for tea in the city center. The rousing firebrand, a Harvard grad who drummed for M.I.A. before forging her own musical path, played at the Hard Rock Cafe during the fest. "Most festivals are too afraid to be first; they'll make the argument that it's a business reason to not do something that they think is an affirmative-action move. The irony is that the more you intentionally offset inherent gender biases, the more you're attracting a larger array of audiences to come buy tickets to your festival."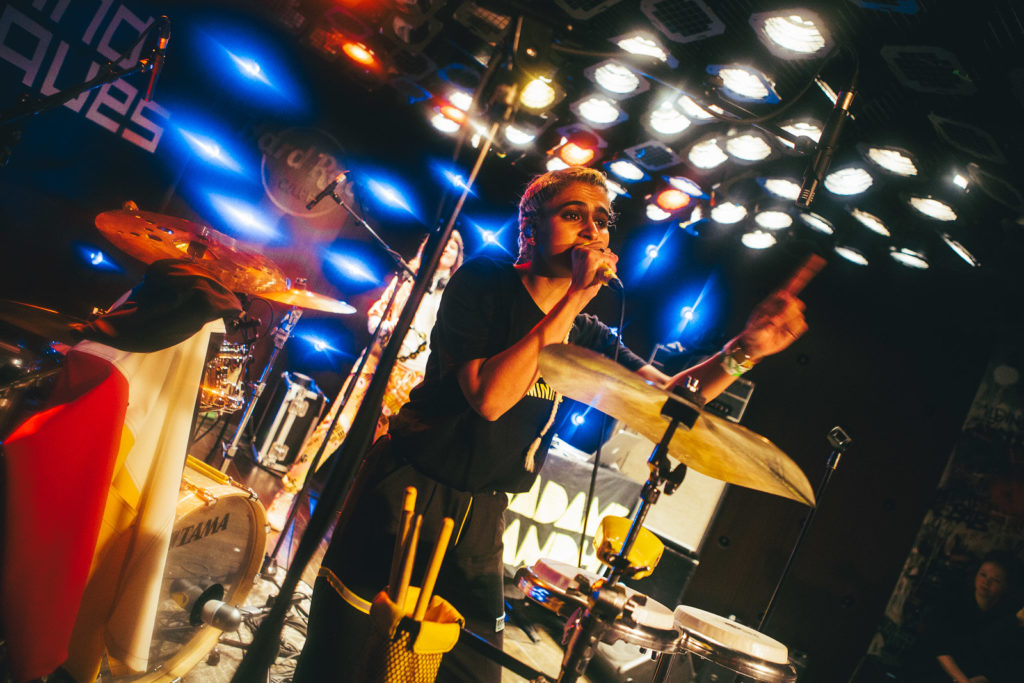 Bands from 20 countries around the world were represented at the festival, though the number of native talents dominated. One local favorite, Jófríður Ákadóttir, who now performs as JFDR, has played the festival for 10 years—and is happy it accepted and met the call for gender parity—but points to the work still needed. "We need more education, we need more dialogue with young women—and more dialogue with men and women together," she says, over tea at her compact studio space on the second floor of café and performance space Idnó. (It's here where she's putting the final touches on her exquisite forthcoming album, New Dreams, out in Feb.) "It can all be a battle we can fight with creativity, joy and coming together."
She wasn't surprised the festival enacted change swiftly. "With Iceland being a small place, change happens quickly. A small group of people can have a big effect. We do listen, and are influenced by each other… We aren't a perfect community but we are quite progressive in some ways and people's opinions are heard."
Surrounded by such astonishing natural beauty, it's no surprise that "there's a high standard when it comes to green output or design," she notes. "It's incredible that this is in our backyard," she adds, pointing to the water just outside Idnó. "I love being able to see the horizon and the ocean. And having the 'no trees' landscape is incredible—the different colors, textures. Visually, it gives you a lot. It's a very giving, very rich environment."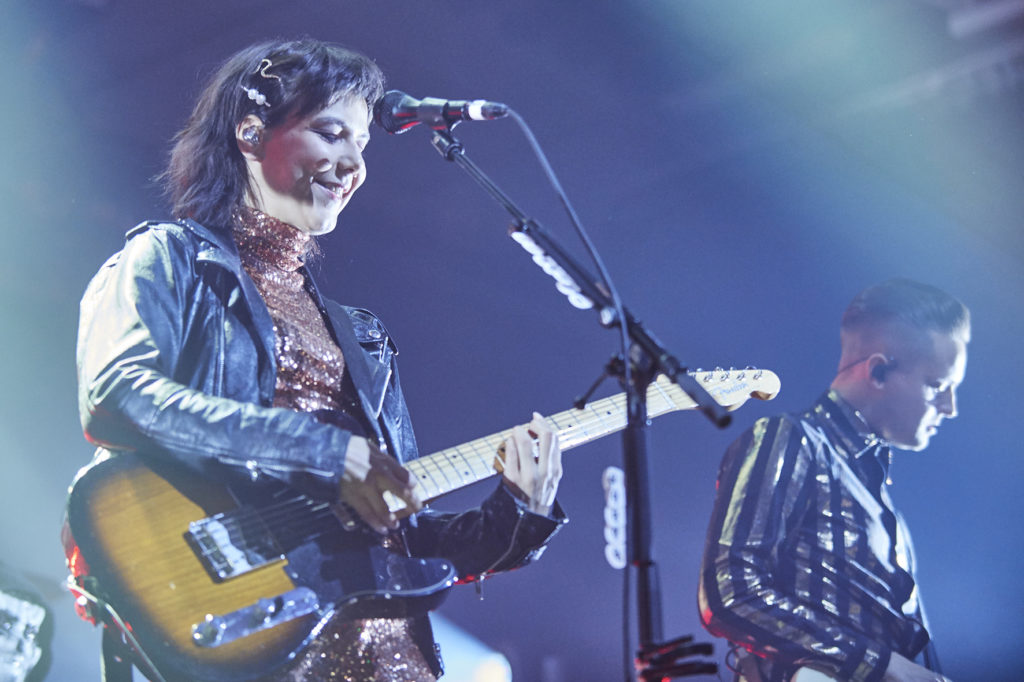 Jónsi, the frontman of one of Iceland's most iconic exports, Sigur Rós, and his three sisters honor their native environs at their chic, black-walled shop Fischer, an artful emporium featuring their sustainably packaged natural beauty products and fragrances (some perfected by Jónsi himself), crafted from locally sourced medicinal herbs and plants. The alluring scents of pine, woods and smoke hit you the moment you walk through the door. The evening I stopped by during the festival, Jónsi's sister Inga Birgis offered a generous pour of their house-made moonshine, a potent mix of "pure alcohol, watered down, and infused with birch, star anise and angelica seeds."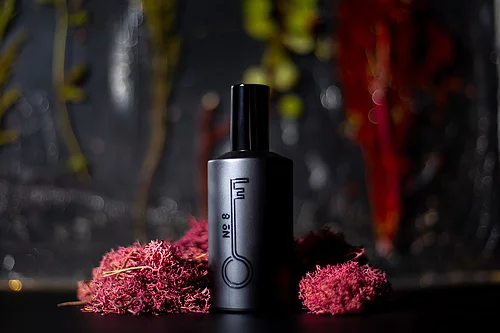 The epitome of the Iceland experience, the night was right at the nexus of art, music and nature. "We are not just one thing and this event illustrates that," noted Inga. Celebrating the release of an aromatic new scent, Fischer No. 8, the Airwaves festival, and a pair of limited-edition singles under the brand's house label, two electronic musicians played computers in the dark, cave-like environment below. You could literally feel the vibes in the floorboards overhead on the ground floor. I made a point to return for a deliciously smoky all-natural Fischer soap.
Iceland is a marvel of natural beauty everywhere you go. And venturing out during the days to see the landscapes was paramount. One day I hopped on a bus via Reykjavik Excursions to take in the famed Golden Circle, three jaw-slacking marvels in a row: the awe-inspiring Gullfoss waterfalls, Þingvellir National Park, and the active geothermal geysers spurting out of the earth at Haukadalur (a word of gentle caution: Don't get too close. I left that last stop sprayed in sulfur water, alas).
A bolder move would've been to follow in the footsteps of a trio of siblings from Seattle who make Airwaves an annual pilgrimage. I met them while waiting for the rousing closing night performance from Of Monsters and Men. They'd spent the day freediving in thick thermal wet suits via Reykjavik Excursions—"It was the purest glacial water you could imagine, but it felt like sucking on an ice Slurpee for an hour," one cracked, marveling at the experience.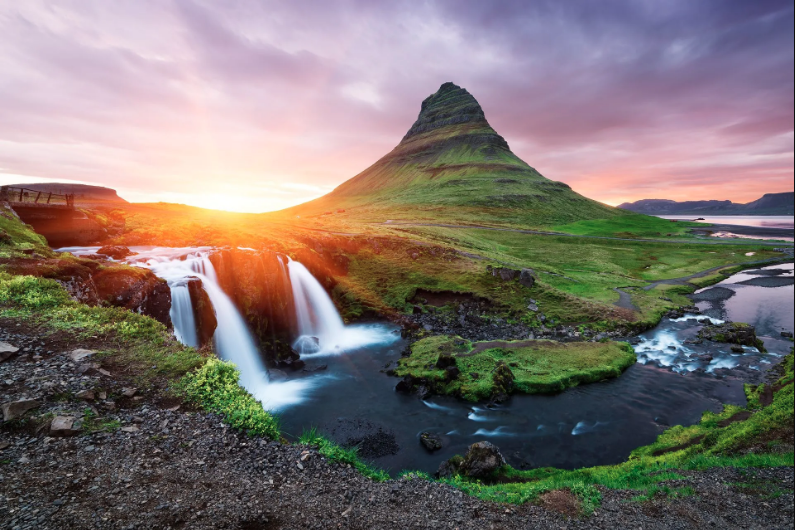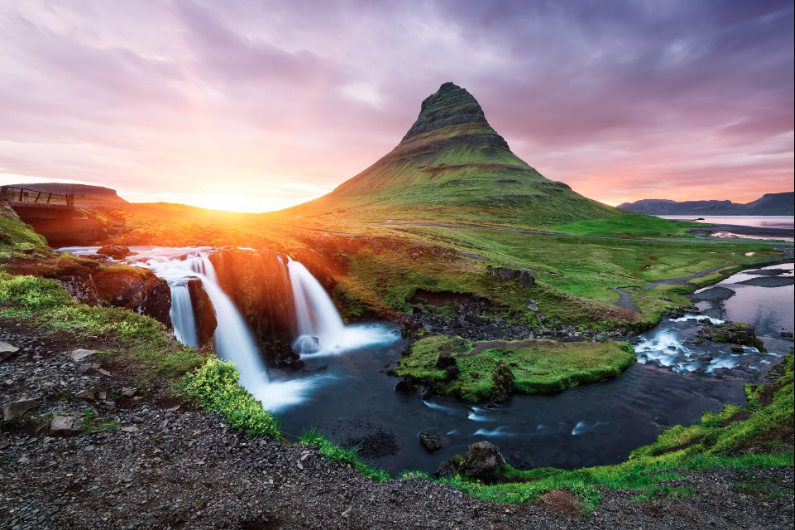 Similarly, I encountered a large group of friends from Toronto who were also back for multiple visits. They'd also ventured an hour out of town to an old lighthouse, where a special concert from Hildur and Dadi Freyr was capped off with a dunk in a geothermal pool at the edge of the ocean. Disrobing in 30-degree temps and bolting from the changing room in nothing but a swimsuit to the steamy water pool 50 feet away was daunting, but wow, was it worth it.
The soaking culture is not just for tourists; it's a way of life here. People swim their laps in outdoor heated pools and enjoy social time with one another in smaller ones. Over the course of the weekend I sampled two other local hot pools in Reykjavík—Vesturbæjarlaug and Sundhöllin—where families of all ages congregated outdoors in bodies of geothermal-heated water—a better antidote to cold, rainy, gray days or nights than I could imagine.
This was before hitting the Blue Lagoon for a rejuvenating stay at the marvelous The Retreat on the way home. There, I scrubbed, exfoliated and algae-masqued all day, in between multiple soaks in the lagoon, and went back in the evening for an after-hours midnight float, adrift in the blue waters as steam rose up into the night sky—a truly unforgettable experience. (To get an at-home dose of the supremely relaxing experience, check out their Spotify playlist.)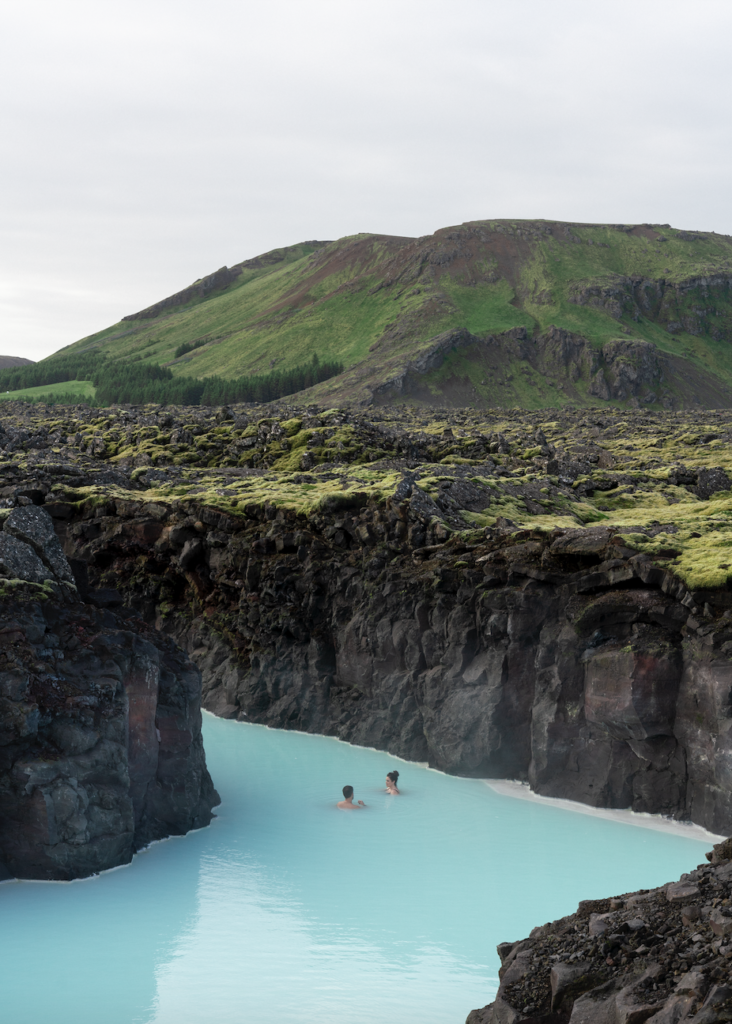 And as for Iceland's progressive culture, our hiking guide around the Blue Lagoon-adjacent moss-covered lava rock fields of Grindavik made a point to mention a recent visit from Vice President Mike Pence, who arrived in Iceland with a full-on armored security fleet and snipers in position. "Our prime minister bicycled over to greet him," he said with a laugh. Another pointed gesture: "All of the residents and businesses near where he was staying put out rainbow flags to welcome him." Rock on, Iceland.
Travel was provided for this article by festival Founding Sponsor IcelandAir. For travel packages from the UK, Europe and North America please visit https://icelandairwaves.is/trip-planning/