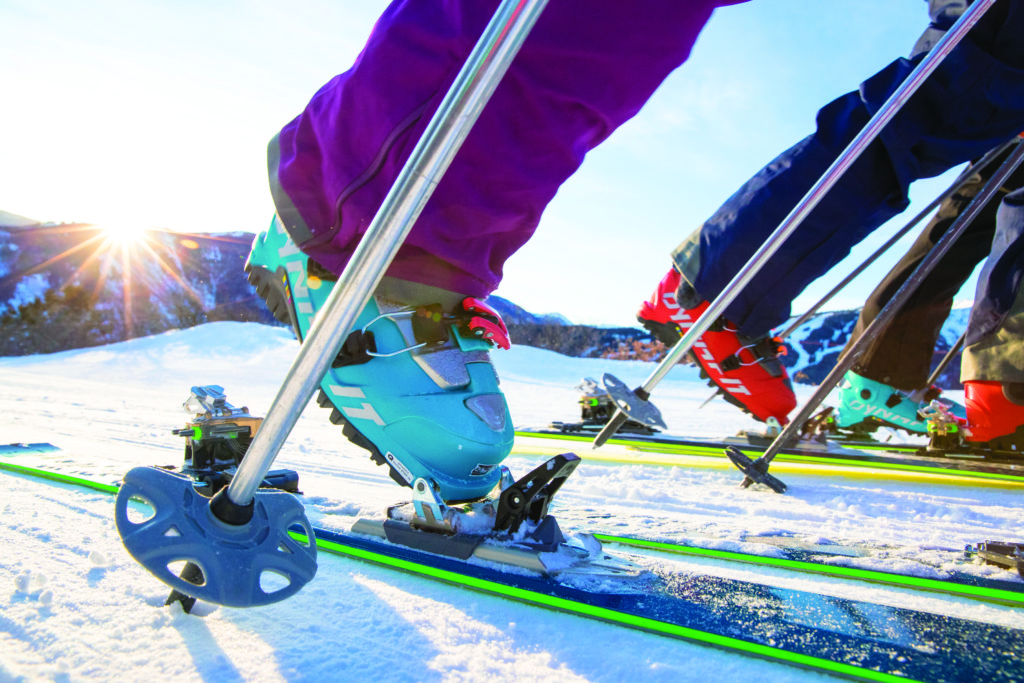 By Tess Weaver Strokes
By the time the chairlifts start spinning around 9AM, many skiers in Aspen have already taken a run, either laying first tracks on groomed corduroy or fresh powder. They earn their turns by skiing up (or "skinning") the resort with sticky skins affixed to the bases of their skis or splitboard. Alpine touring bindings allow their lightweight boots to come up and down as they walk uphill. Ski resort uphillers gain early morning turns, fitness, and some of the pleasures of backcountry skiing, without the dangers of route-finding and avalanches that lurk beyond the resort boundary. The fastest-growing uphill demographic isn't made up of hard-core athletes; rather, it's people looking for a casual winter workout—people who used to snowshoe, Nordic ski or winter hike for their daily dose of cardio and fresh air. With beginner routes, gear rentals, private lessons and plenty of local support, it's easy for visitors and locals alike to experience how fun going up can be.
"Skinning is almost like meditating," says local sports psychologist Kathleen Callahan, 60, who skins around five mornings a week. "I get lost in the rhythm of putting one foot in front of the other, and I feel a close connection to nature. I often forget I'm exercising. Other times, I can be competitive, and I'll time myself seeking a personal record. After, I feel exhilarated, peaceful, tired and ready to start my day."
High-performance, lightweight and comfortable alpine touring equipment (flexible boots that weigh less than a kilo, skinny skis and light-as-air bindings) made specifically for resort skinning is converting more alpine skiers to uphill addicts. Even the sport's latest apparel is minimal (and stylish), like the Summit Series Ski Mountaineering Collection by The North Face specifically designed for high-aerobic skinning. The high-tech, sleek-looking clothing system regulates temperature and moisture so well, it eliminates the need for outfit changes, simplifying the sport further.
All four Aspen Snowmass resorts accommodate uphill skiers with designated routes, and Snowmass and Buttermilk allow uphilling throughout operating hours. Fortunately, the sport has a quick learning curve and requires no ski pass. Much of uphilling's allure is its simplicity: Walk up a mountain. Breathe. Sweat. Ski.