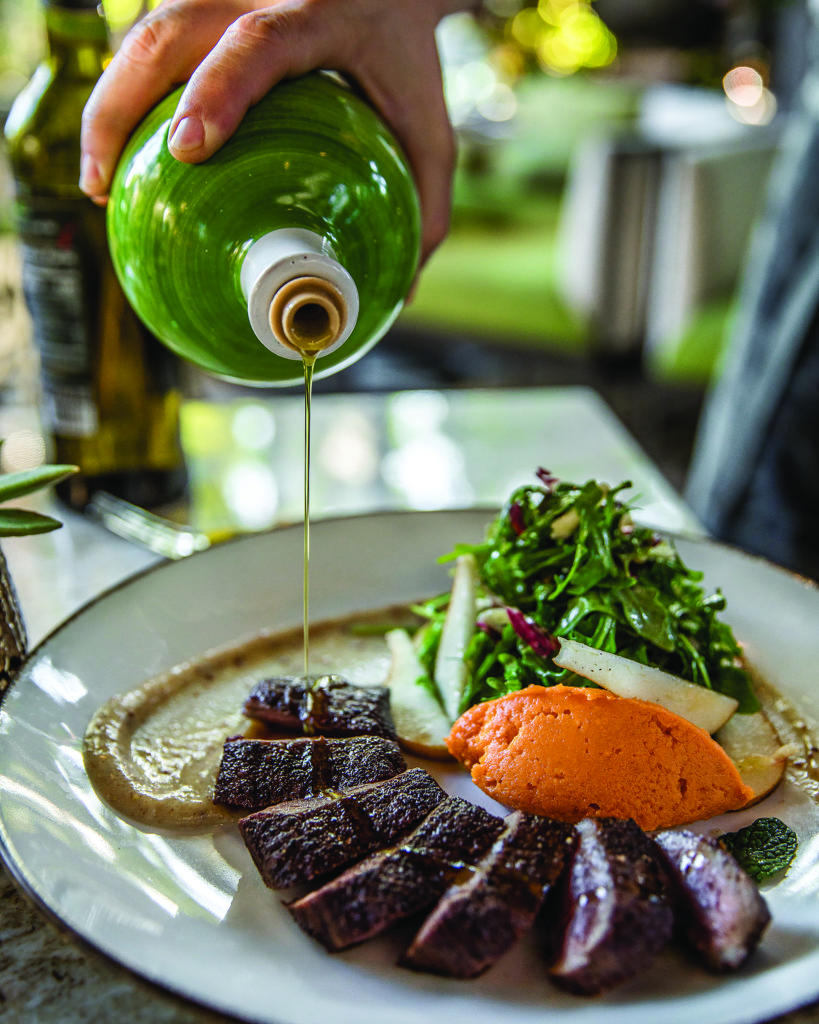 By Ray Rogers
PURIST: Tell us why this dish you are sharing with us is a good option for a healthy seasonal meal over the winter.
Luca Moriconi: Having pears in the salad helps the balance of the dish. They add sweetness to the savoriness of the very lean lamb loin, and pears are very seasonal, of course. Then I add some mint—the lamb is roasted with fresh herbs, in the Italian way.
PURIST: How does this dish speak to the way you like to cook?
LM: It's all about simplicity, being seasonal and choosing the right products. I love to go to the Santa Monica Farmers Market every week and just create by seeing what the farmers show you—it comes into your mind naturally. The quality of the ingredients has to be the top of the line. Working at the Four Seasons, the guests expect the highest quality.
PURIST: How would you describe your style?
LM: Tuscan chef, Tuscan roots, but always reborn—once you go in the market, your mind starts to think and create. I like to conceive new dishes that trace back to my roots.
PURIST: How did you get interested in cooking?
LM: It started at home. My mom cooks all day long; our whole family gathers once or twice a week for her meals. My father was a hunter who would bring home game meat, like wild boar, so I always wear a camouflage apron, and put game meat in my menu. fourseasons.com/beverlywilshire
Recipe
Agnello Arrostito: Roasted Californian Lamb Loin, Pears and Mint Salad, Soft Sweet Potato Heart, Pear Mustard
For The Lamb Loins
Ingredients for
2 portions
Two 9-10 oz. lamb loin
chops
1 tsp. Maldon sea salt
1 tsp. freshly ground black
pepper
3 Tbsp. Solaia EVOO
4 oz. butter
3 stems thyme
3 stems sage
3 stems rosemary
Method
1. First, make the Sweet Potato Hearts, Mustard and Salad (below).
2. Meanwhile, heat a cast-iron pan over medium-high heat. Season the lamb with salt, pepper and a bit of olive oil. Add more olive oil to the pan and sear the lamb on all sides until the meat is medium to rare.
3. Add the butter and the fresh herbs to the pan, basting the lamb until it is glazed.
4. Allow the lamb to rest for around 5 minutes on a room-temperature grill.
5. Slice the loins in 5-6 slices each. Transfer to plates and sprinkle with sea salt and a few drops of olive oil. Place the sweet potatoes, salad and mustard alongside the lamb.
6. It is important to choose locally raised lamb; go to a nearby farmer to learn where the lamb is sourced, and how it was fed. You'll also create connections with local farmers.
For the Mustard
Ingredients
3 Bosc pears
4 Tbsp. sugar
2 Tbsp. mustard seeds
1 tsp. black pepper
3 cups water
1 tsp. sea salt
2 stems fresh thyme
Method
Cut each pear into 6 wedges, removing seeds and central part. Place pear wedges and remaining ingredients in a casserole; simmer until pears are soft. Remove the thyme stems and puree mixture. Chill to room temperature.
For the Salad
Ingredients
White balsamic vinegar
2 Tbsp. EVOO
Sea salt
Black pepper
Leaves from 5 stems of
mint, torn into small
pieces
2 Bosc pears, thinly
sliced
3 handfuls of arugula, cut
into 2-inch pieces
1 handful frisee, cut into
2-inch pieces
1 head of radicchio, cut
into 2-inch pieces
Method
1. In a bowl, mix the vinegar, olive oil, salt and pepper. Add the mint leaves, pear slices and lettuces.
2. Toss gently; refrigerate until lamb is ready to be served.
Baked Sweet Potato Hearts
Ingredients
2 medium-size sweet
potatoes
6 Tbsp. EVOO
Sea salt
Black pepper
Method:
1. Preheat oven to 350°F. Wash sweet potatoes and place in an ovenproof pan. Roast for 1 hour.
2. Remove sweet potatoes from oven and peel. Use a potato masher to smash them. Add oil, salt and pepper; mix well. Keep warm until lamb is ready to be served.
3. The soft texture of the sweet potatoes will be the final touch of the dish to be enjoyed in every bite, mixing all the different textures, flavors, sweetness and the lean lamb.