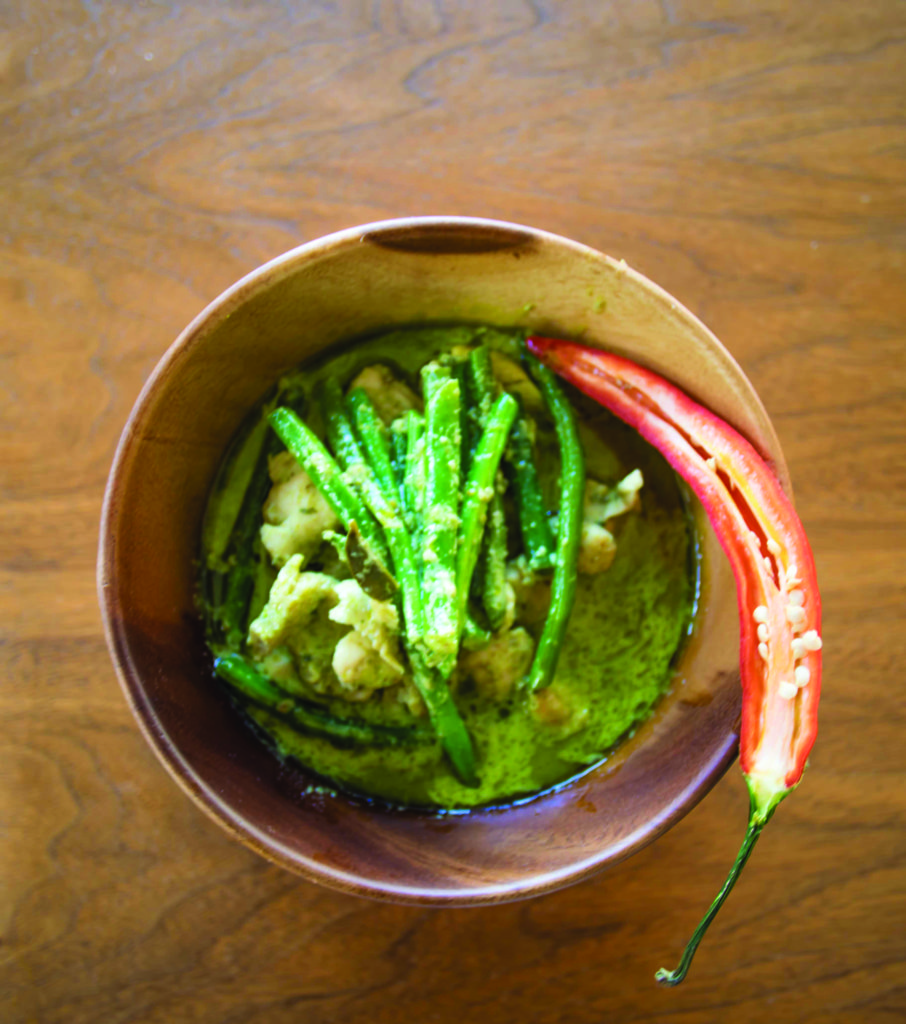 by Cristina Cuomo
With a recent trend toward the energizing and healthy 5,000-year-old tradition of Ayurvedic cooking, I decided to take classes with one of the best in New York, and a fellow mother, Saira Malhotra. Indian cuisine, she explained to me, is "noisier—snap, crackle, pop" than say, the more gentle sounds of Thai cuisine, although both cuisines are among the healthiest you can eat. Why? Because they're packed with immune-boosting, disease-fighting ingredients. Since I am partial to curry, and cumin is at the center of many curries, we decided to cook a quiet vegetable and chicken curry dish with a side of the fresh nutrient-packed superfood asparagus. We chose green curry, which gets its flavor and color from cilantro and lime leaf, as opposed to yellow curry (turmeric based) and red curry paste (made with chili powder) sisters. Here are the results of our creation.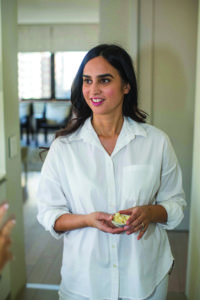 Recipe
Thai Green Curry
Ingredients for 2 portions
16g cilantro stems, cleaned well and roughly chopped
Handful fresh spinach leaves, coarsely chopped
3 ½ Tbsp. green curry paste (use Thai Kitchen (for milder taste) or Maesri)
2 Tbsp. grapeseed oil
1 can whole-fat coconut milk, preferably Chaokoh (authentic)
or Native Forest (organic), refrigerated before use so the cream rises to the top
6 kaffir lime leaves, roughly torn
1 ½ lbs. chicken tenders, sliced on the bias across the narrow width of chicken tender
½ tsp. palm sugar
Handful of green beans
1 ½ Tbsp. fish sauce (instead of salt)
3 Tbsp. fresh lime juice
Handful of cilantro for garnish
Method
1. In the bowl of a mortar and pestle, pound the cilantro stems and spinach leaves to make a coarse paste (or grind in a food processor).
2. In a pan, sauté the cilantro-spinach mixture with the green curry paste and grapeseed oil for a couple of minutes until fragrant. Spoon the solid, creamy part of the coconut milk into the pan; add lime leaves and continue cooking until the oil separates.
3. Add the chicken and sauté on medium heat until chicken is cooked through. Add remaining coconut milk, palm sugar and green beans; season with fish sauce (add more if desired).
4. Before removing from heat, add the lime juice and cilantro.
Coconut Rice
Ingredients
1 Tbsp. coconut oil
1 cup jasmine or basmati
rice, washed and drained
1 cup canned coconut
milk (shake well to
combine before opening)
1 cup boiling water
1 tsp. salt
Method
1. Heat coconut oil in a straight-
sided saucepan over medium heat. Pour rice into pan; toast for several minutes.
2. Add coconut milk, boiling water and salt to pan. Bring to a boil and then reduce to simmer. Cover; cook for about 12 minutes or until water has fully absorbed. Fluff with a fork before serving.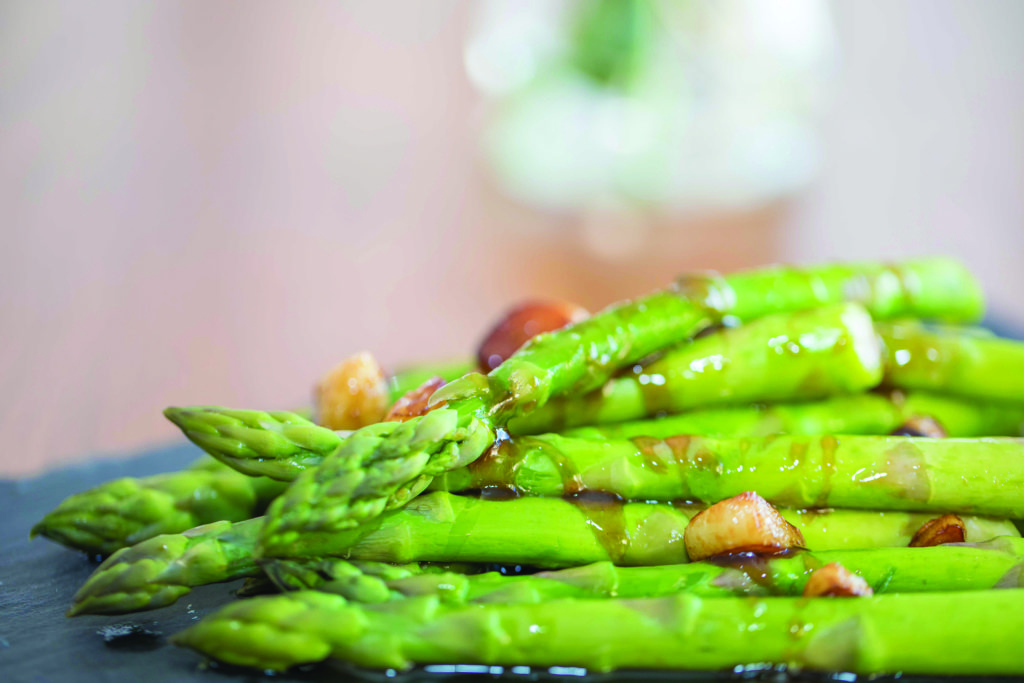 Asparagus Spears With Golden Garlic and Oyster Sauce Drizzle
1 bunch asparagus, trimmed to remove pale, fibrous ends
¼ tsp. salt
For drizzle
1 ½ Tbsp. grapeseed oil
6 cloves garlic, chunkily
chopped or left whole
1 Tbsp. sesame oil
2 Tbsp. oyster sauce
Method
1. Steam the asparagus. Season with salt. Remove from steamer; set aside and keep warm.
2. In a frying pan, mix grapeseed oil and garlic; cook until golden. Add sesame oil. Remove from heat; add oyster sauce.
3. Place asparagus on serving plate; drizzle sauce over the asparagus, scattering the garlic pieces atop and around the asparagus