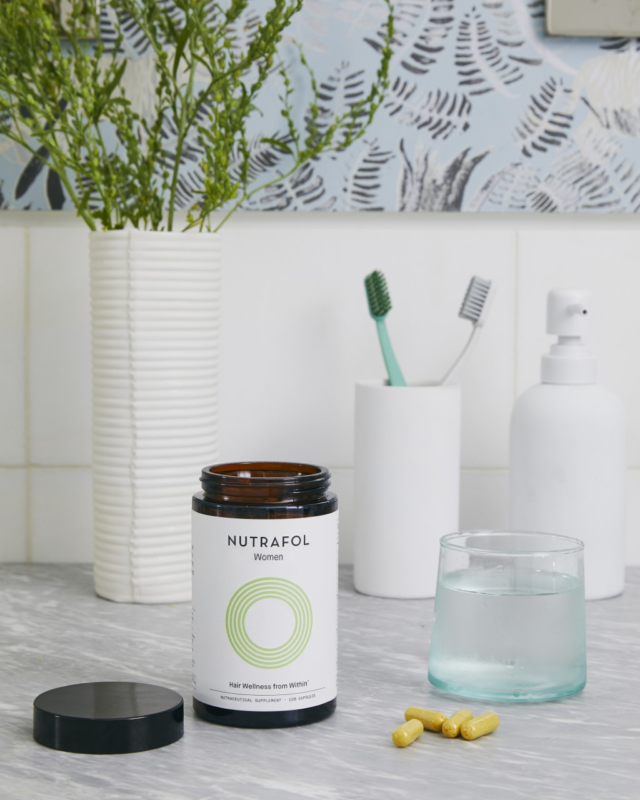 One of the first places we show signs of stress is our hair. During these concerning times, you may notice some more hair left behind on your pillow each morning, or a new patch of gray that didn't seem to be there last week. In addition to all the extra vitamins you may be popping to keep illness at bay, why not add Nutrafol's clinically effective hair supplements to your daily regimen? Your tresses will thank you!
Nutrafol's customized GrowthPlan monthly subscriptions are based on the plethora of factors that determine the condition of our hair: including hormones, stress, metabolism, gut health, and exposure to environmental toxins. Using Nutrafol's five minute Hair Wellness Evaluation, you can identify which one of Nutrafol's core solutions and targeted booster products can help you take control of your hair health.
Nutrafol offers three core formulas for women, men and women through menopause, all using 100% natural, drug-free ingredients that support whole body health. Whether your hair is a victim of overstyling, you've gone through a hormonal change (like giving birth) or just have naturally thin hair, the Nutrafol Women's formula is here to help. The targeted combination of supplements, including Marine Collagen, boosts production of amino acids, a critical building block for hair-strengthening keratin.
Women are subject to many factors that can contribute to poor hair health and in fact, forty percent of women experience visibly thinning hair by age 40. In a clinical study, 84% of women saw stronger, thicker, faster hair growth after six months of taking Nutrafol for Women.
Nutrafol Men stops thinning in its tracks with Saw Palmetto and Tocotrienol Complex, which prevents testosterone to DHT conversion and lowers oxidative stress from the environment. The men's formula can even be used in tandem with other hair restoration methods, like transplants and PRP therapy.
Women's Balance specifically targets menopause's effects on hair, improving growth, strength and thickness while reducing shedding. Featuring the Synergen Complex Plus® blend of 21 powerful ingredients, like Maca and Sensoril® Ashwagandha for hormonal balance throughout the hair growth cycle, users experienced improved hair growth and scalp coverage within nine months of use.
For even more support, take advantage of Nutrafol's hair mineral analysis, which uses an in-depth lab test conducted by a naturopathic physician to pin-point the nutrient deficiencies in your mane. All of Nutrafol's powerful tools, used in tandem with healthy lifestyle practices, can give you the best hair of your life. nutrafol.com @nutrafol