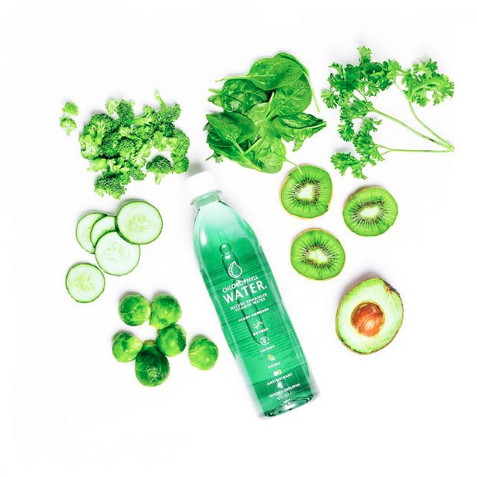 Chlorophyll is one of the building blocks of plant life, aiding cells in photosynthesis and giving plants their green hue. While chlorophyll is naturally produced by plants, we can absorb the molecule's myriad of health benefits through our diet. "There are so many amazing benefits to drinking Chlorophyll Water!, says Allie Gregg, Registered Dietician. "It helps your liver function which improves detoxification, fights carcinogens, increases energy, helps to balance hormones, aids in weight loss and also fights cravings, reduces inflammation, increases and refreshes your body's red blood cells, natural internal deodorizer, and promotes anti-aging and glowing skin." Chlorophyll Water is purified and infused with this powerful pigment, hydrating the body while delivering a dose of vitamins A and C for healthy immune function, and vitamins D and B12 which fortify our skin and hair cells.
Chlorophyll Water recognizes that full body wellness goes hand in hand with the health of our planet. The brand's bottles are landfill biodegradable, 100% recyclable and BPA free, designed to reduce GHG emissions. For every case of water sold, Chlorophyll Water plants a tree in New York City in collaboration with One Tree Planted, a 501(c) dedicated to global reforestation.
While advocacy has always been at the forefront of Chlorophyll Water's philosophy, the COVID-19 crisis has inspired them to give back in an even greater way. The brand provides monthly donations to homeless shelters across NYC, and has recently partnered with Heart of The Hamptons food bank to aid those on the East End facing food insecurity. Chlorophyll Water knows that the wellbeing of frontline healthcare workers is crucial, and has given the gift of hydration to staff in the NewYork-Presbyterian network, New York City Health + Hospitals network, NYU Langone and NorthWell Group.