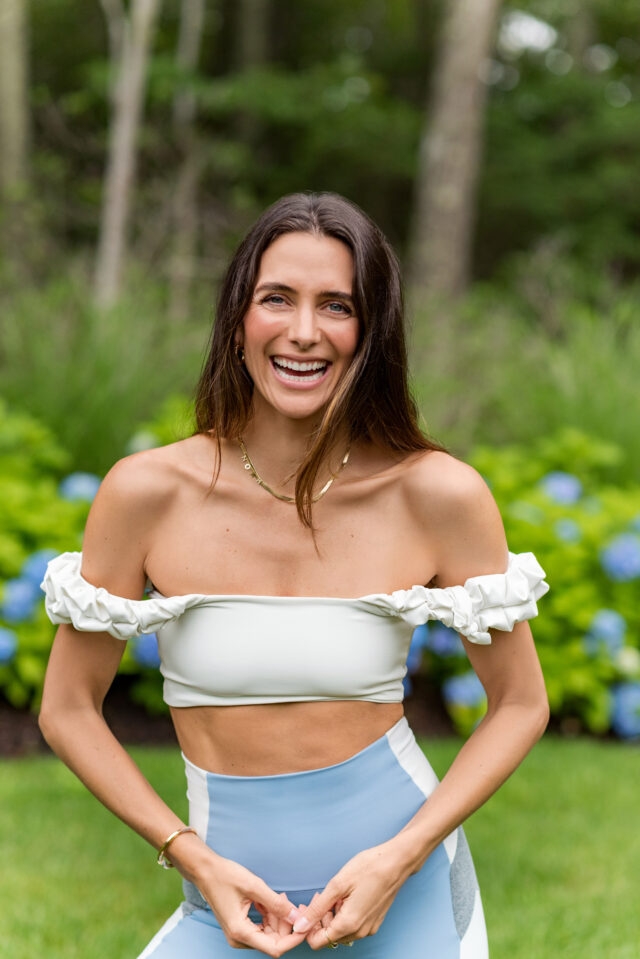 By Steve Garbarino
One doesn't necessarily muster a comparison to Richard Simmons when you look at Melissa Wood-Tepperberg. Yet the striking New York- and Hamptons-based health and wellness coach happily accepts the analogy when she is faced with it, despite the fact that she does not ownstriped Dolphin running shorts. "I couldn't agree more, and this is actually what led me to becoming a teacher," says Wood-Tepperberg, who is married to nightclub maestro Noah Tepperberg, co-founder of Strategic HospitalityGroup/TAO Group (Marquee, TAO, Avenue and LAVO, with outposts located in Manhattan, Las Vegas, Chicago and Los Angeles, as well as internationally).
As a teen, Wood-Tepperberg had chronic acne and a weight problem, which helped prompt an eating disorder. Faced with oft-sadistic trainers, she thought to herself, "Why not try a little gentleness?" Richard Simmons reference, incoming: The hyper-positive TV personality, who suffered bullying for being a chubby kid growing up in New Orleans, has always extolled building his following up, not breaking them down like a Parris Island drill sergeant." I had gone down the road of beating myself up in the gym for years…doing hours of cardio and weight training because I did not like my body," Wood-Tepperberg says from her home in Sag Harbor—where she's been mostly sequestered and making instructional videos for her sizable following—during round two of the COVID-19 pandemic.
"I spoke horribly about myself, and allowed personal trainers and instructors at the time to beat me down mentally as well, telling me I needed to lose inches off my thighs and get rid of my cellulite. I knew there had to be another way. It hit me one day leaving a class where, yet again, I had paid for someone to make me feel badly about myself; it clicked, and I realized that I wanted to become a teacher who made everyone feel incredible in their own skin."
I believe when you learn to love and accept yourself as you are, the most unimaginable transformations take place, internally and externally," she says.
As for interior versus exterior during the pandemic, Wood-Tepperberg has tried to see the positive in being stuck at home. In many ways, it works to her benefit. "The silver lining of COVID-19 is that it has brought me back to my roots when it comes to teaching and makes me appreciate how far I've come," says the 5-foot-9 Oneida, New York, native, one of six kids, who drove a U-Haul from Syracuse to New York City almost 15 years ago and never looked back. "I started sharing my workouts online five years ago in my living room, using a $24 tripod, with zero editing or lighting. Simply the raw and real me. On many occasions I remember asking Noah to be quieter on his calls, all with a baby monitor right off to the side of my mat in case my son woke from his nap. Well, fast-forward, and with staying home and social distancing in place, I came full circle…filming myself, with two kids and my husband, and all that comes with that in the background."
Wood-Tepperberg, who was married at The Plaza hotel nearly four years ago with a Page Six list of guests, says, "I love my family, and comparatively, this is a nice problem to have. As an instructor I prefer being the only person in the room when I'm filming a workout, because I connect on such a deeper level to all my members. Giving myself 'room' to visualize people following along, doing my flows with me, really fuels my practice and keeps me going."
It's been a long go of it for the 37-year-old former model. "In the past a lot of built-up anxiety would lead me to binge-eat and purge," she says. "Today I have much healthier tools to handle all that comes up—meditation, movement and mindful eating are my absolute go-tos. Having an overall healthier approach has not only made physical differences—like clearing up my acne—but more importantly, it's allowed me to be at peace with myself."
At first, there was little peace when she moved to Manhattan. She worked at Tepperberg's first Marquee club by night and modeled full-time by day. "Never did I think I would end up marrying the owner, and having two beautiful children with this incredible man."
Her trademarked MWH (Melissa Wood Health) teaching method is "all about slowing down these movements, so that you do not compromise your form, to sculpt beautiful muscle tone throughout your entire body," she says. "And the best part is that my flows can all be done by using your own body weight. So you can literally work out anytime, anywhere."
Diet plays a role, too. For her, it is all plant-focused. "I'm a true believer that eating this way helps lessen my anxiety, clears up my skin, and overall, fuels good gut health. I'm moving away from labels, however, so that I no longer feel the need to live inside a box if I decide I want to eat something other than plant-based foods now and then."Wood-Tepperberg instructs: "Listen to your body, decide what makes you feel good, and be gentle with yourself in the process." Asked what her last meal would be, she says:" The healthy vegan pizza my husband has been making me all through the quarantine." melissawoodhealth.com