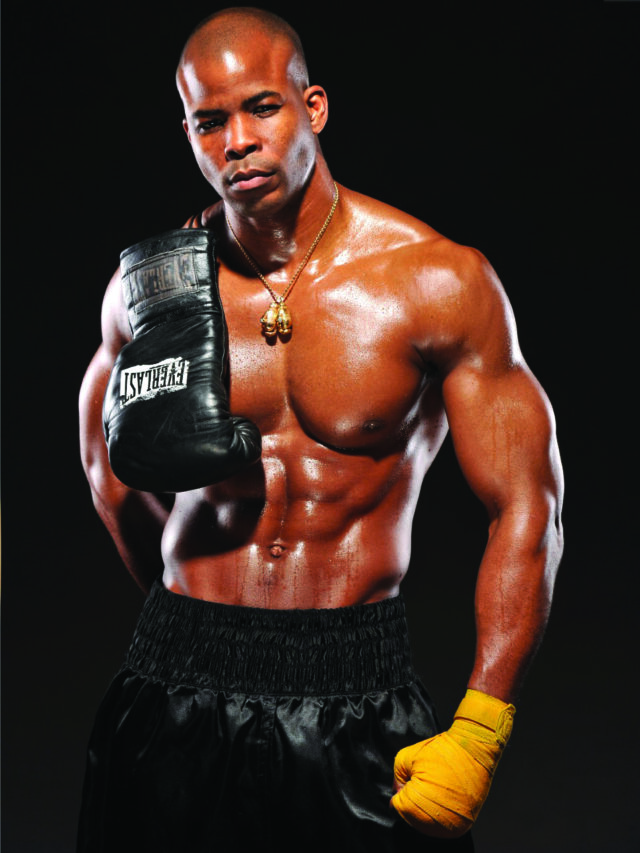 By Ray Rogers
Twenty-eight days to a new, shredded you? If it sounds too good to be true, you haven't seen the results of Ngo Okafor, one of Manhattan's top trainers, who has worked with everyone from top models to Purist's current cover star, Brooke Shields, to legions of everyday New Yorkers of all ages who are committed to serious change—and willing to put in the serious work required to achieve it.
Look no further than the man himself for inspiration: He's the ultimate living transformation story. As a child in Nigeria, Okafor was in and out of hospitals for years with asthma, respiratory issues and bouts of pneumonia. "I used to say I had 360 ribs—you could see them all around my body." When he was a teen his ailments mysteriously vanished, and he took to fitness in earnest. After working in IT throughout his 20s, he decided to take up boxing at age 31, and went on to win the Golden Gloves championship two times, launching himself into a full-time career as a fitness trainer.
"I tell all of my clients, if I can do it you can do anything," he says. "We have one life. We don't get another one. So whatever it is you want to do, or however you want to look, do it now. Don't wait till tomorrow, don't wait for approval from anyone."
His method for rapid, dramatic body transformations involves "very simple, old-school movements—squats, deadlifts, leg curls, all the stuff everyone knows about—but the difference is the pacing of it." By employing lower weights, higher reps, some cardio and very little rest in between, "your heart rate stays elevated for the entire workout, so it feels as though you were running or doing cardio for the entire hour, but you're actually lifting weights," explains the 46-year-old father of two. "So you're building muscle and burning fat at the same time." Thirty to 60 minutes of actual cardio after the daily sessions continue to burn calories—and a carb-restricted diet means the body is burning fat.
Okafor's Iconoclast Fitness facility is on Fifth Avenue in the Flatiron district, and clients can book individual sessions with a virtual at-home program that requires little to no equipment, and is customized for every level and age. "The body is a machine that you can use to build itself, with calisthenics, squats, bridges—there's so much you can do without equipment at home," Okafor says. Books in backpacks, and bottles of water or detergent also work just fine. "Because my workout is higher rep ranges (three sets of 15 reps for men; 20 for women), you don't need a lot of weight to get a great workout."
As motivating as his personal story is, Okafor finds inspiration in his clients, whether it's the 64-year-old man who underwent his rigorous program, or Brooke Shields, on whose Instagram Live workout sessions he's a familiar presence. "Brooke is showing women that they can look amazing at 55. You can be in the best shape of your life at 50 and beyond, and be represented." iconoclastfitness.com; @catchngo on Instagram